Appendix: Orson Pratt, A[n] Interesting Account of Several Remarkable Visions, 1840
Source Note

Orson Pratt

19 Sept. 1811–3 Oct. 1881. Farmer, writer, teacher, merchant, surveyor, editor, publisher. Born at Hartford, Washington Co., New York. Son of Jared Pratt and Charity Dickinson. Moved to New Lebanon, Columbia Co., New York, 1814; to Canaan, Columbia Co., fall...

View Full Bio

,

A Interesting Account of Several Remarkable Visions, and of the Late Discovery of Ancient American Records

; 1–31 pp.; Edinburgh, Scotland: Ballantyne and Hughes, 1840. The copy used for transcription is held at CHL.

Historical Introduction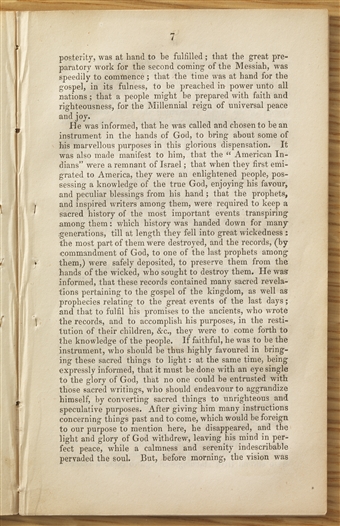 posterity, was at hand to be fulfilled; that the great pre
paratory work for the second coming of the Messiah, was
speedily to commence; that the time was at hand for the
gospel, in its fulness, to be preached in power unto all
nations; that a people might be prepared with faith and
righteousness, for the Millennial reign of universal peace
and joy.
He was informed, that he was called and chosen to be an
instrument in the hands of God, to bring about some of
his marvellous purposes in this glorious dispensation. It
was also made manifest to him, that the "American In
dians" were a remnant of Israel; that when they first emi
grated to America, they were an enlightened people, pos
sessing a knowledge of the true God, enjoying his favour,
and peculiar blessings from his hand; that the prophets,
and inspired writers among them, were required to keep a
sacred history of the most important events transpiring
among them: which history was handed down for many
generations, till at length they fell into great wickedness:
the most part of them were destroyed, and the records, (by
commandment of God, to one of the last prophets among
them,) were safely deposited, to preserve them from the
hands of the wicked, who sought to destroy them. He was
informed, that these records contained many sacred revela
tions pertaining to the gospel of the kingdom, as well as
prophecies relating to the great events of the last days;
and that to fulfil his promises to the ancients, who wrote
the records, and to accomplish his purposes, in the resti
tution of their children, &c., they were to come forth to
the knowledge of the people. If faithful, he was to be the
instrument, who should be thus highly favoured in bring
ing these sacred things to light: at the same time, being
expressly informed, that it must be done with an eye single
to the glory of God, that no one could be entrusted with
those sacred writings, who should endeavour to aggrandize
himself, by converting sacred things to unrighteous and
speculative purposes. After giving him many instructions
concerning things past and to come, which would be foreign
to our purpose to mention here, he disappeared, and the
light and glory of God withdrew, leaving his mind in per
fect peace, while a calmness and serenity indescribable
pervaded the soul. But, before morning, the vision was [p. 7]
posterity, was at hand to be fulfilled; that the great preparatory work for the second coming of the Messiah, was speedily to commence; that the time was at hand for the gospel, in its fulness, to be preached in power unto all nations; that a people might be prepared with faith and righteousness, for the Millennial reign of universal peace and joy.
He was informed, that he was called and chosen to be an instrument in the hands of God, to bring about some of his marvellous purposes in this glorious dispensation. It was also made manifest to him, that the "American Indians" were a remnant of Israel; that when they first emigrated to America, they were an enlightened people, possessing a knowledge of the true God, enjoying his favour, and peculiar blessings from his hand; that the prophets, and inspired writers among them, were required to keep a sacred history of the most important events transpiring among them: which history was handed down for many generations, till at length they fell into great wickedness: the most part of them were destroyed, and the records, (by commandment of God, to one of the last prophets among them,) were safely deposited, to preserve them from the hands of the wicked, who sought to destroy them. He was informed, that these records contained many sacred revelations pertaining to the gospel of the kingdom, as well as prophecies relating to the great events of the last days; and that to fulfil his promises to the ancients, who wrote the records, and to accomplish his purposes, in the restitution of their children, &c., they were to come forth to the knowledge of the people. If faithful, he was to be the instrument, who should be thus highly favoured in bringing these sacred things to light: at the same time, being expressly informed, that it must be done with an eye single to the glory of God, that no one could be entrusted with those sacred writings, who should endeavour to aggrandize himself, by converting sacred things to unrighteous and speculative purposes. After giving him many instructions concerning things past and to come, which would be foreign to our purpose to mention here, he disappeared, and the light and glory of God withdrew, leaving his mind in perfect peace, while a calmness and serenity indescribable pervaded the soul. But, before morning, the vision was [p. 7]