Appendix: Orson Pratt, A[n] Interesting Account of Several Remarkable Visions, 1840
Source Note

Orson Pratt

19 Sept. 1811–3 Oct. 1881. Farmer, writer, teacher, merchant, surveyor, editor, publisher. Born at Hartford, Washington Co., New York. Son of Jared Pratt and Charity Dickinson. Moved to New Lebanon, Columbia Co., New York, 1814; to Canaan, Columbia Co., fall...

View Full Bio

,

A Interesting Account of Several Remarkable Visions, and of the Late Discovery of Ancient American Records

; 1–31 pp.; Edinburgh, Scotland: Ballantyne and Hughes, 1840. The copy used for transcription is held at CHL.

Historical Introduction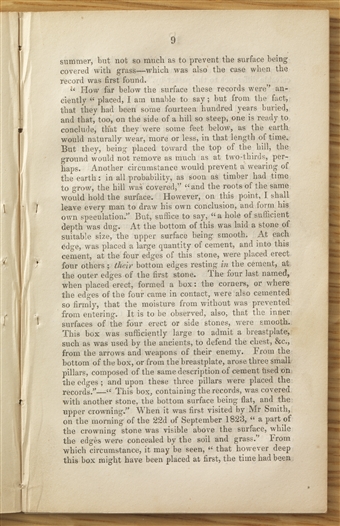 summer, but not so much as to prevent the surface being
covered with grass—which was also the case when the
record was first found.
"How far below the surface these records were" an
ciently "placed, I am unable to say; but from the fact,
that they had been some fourteen hundred years buried,
and that, too, on the side of a hill so steep, one is ready to
conclude, that they were some feet below, as the earth
would naturally wear, more or less, in that length of time.
But they, being placed toward the top of the hill, the
ground would not remove as much as at two-thirds, per
haps. Another circumstance would prevent a wearing of
the earth: in all probability, as soon as timber had time
to grow, the hill was covered," "and the roots of the same
would hold the surface. However, on this point, I shall
leave every man to draw his own conclusion, and form his
own speculation." But, suffice to say, "a hole of a sufficient
depth was dug. At the bottom of this was laid a stone of
suitable size, the upper surface being smooth. At each
edge, was placed a large quantity of cement, and into this
cement, at the four edges of this stone, were placed erect
four others;
their
bottom edges resting
in
the cement, at
the outer edges of the first stone. The four last named,
when placed erect, formed a box: the corners, or where
the edges of the four came in contact, were also cemented
so firmly, that the moisture from without was prevented
from entering. It is to be observed, also, that the inner
surfaces of the four erect or side stones, were smooth.
This box was sufficiently large to admit a breastplate,
such as was used by the ancients, to defend the chest, &c.,
from the arrows and weapons of their enemy. From the
bottom of the box, or from the breastplate, arose three small
pillars, composed of the same description of cement used on
the edges; and upon these three pillars were placed the
records."—"This box, containing the records, was covered
with another stone, the bottom surface being flat, and the
upper crowning." When it was first visited by Mr Smith,
on the morning of the 22d of September 1823, "a part of
the crowning stone was visible above the surface, while
the edges were concealed by the soil and grass." From
which circumstance, it may be seen, "that however deep
this box might have been placed at first, the time had been [p. 9]
summer, but not so much as to prevent the surface being covered with grass—which was also the case when the record was first found.
"How far below the surface these records were" anciently "placed, I am unable to say; but from the fact, that they had been some fourteen hundred years buried, and that, too, on the side of a hill so steep, one is ready to conclude, that they were some feet below, as the earth would naturally wear, more or less, in that length of time. But they, being placed toward the top of the hill, the ground would not remove as much as at two-thirds, perhaps. Another circumstance would prevent a wearing of the earth: in all probability, as soon as timber had time to grow, the hill was covered," "and the roots of the same would hold the surface. However, on this point, I shall leave every man to draw his own conclusion, and form his own speculation." But, suffice to say, "a hole of a sufficient depth was dug. At the bottom of this was laid a stone of suitable size, the upper surface being smooth. At each edge, was placed a large quantity of cement, and into this cement, at the four edges of this stone, were placed erect four others;
their
bottom edges resting
in
the cement, at the outer edges of the first stone. The four last named, when placed erect, formed a box: the corners, or where the edges of the four came in contact, were also cemented so firmly, that the moisture from without was prevented from entering. It is to be observed, also, that the inner surfaces of the four erect or side stones, were smooth. This box was sufficiently large to admit a breastplate, such as was used by the ancients, to defend the chest, &c., from the arrows and weapons of their enemy. From the bottom of the box, or from the breastplate, arose three small pillars, composed of the same description of cement used on the edges; and upon these three pillars were placed the records."—"This box, containing the records, was covered with another stone, the bottom surface being flat, and the upper crowning." When it was first visited by Mr Smith, on the morning of the 22d of September 1823, "a part of the crowning stone was visible above the surface, while the edges were concealed by the soil and grass." From which circumstance, it may be seen, "that however deep this box might have been placed at first, the time had been [p. 9]