Discourse, [21 March 1841], as Reported by William P. McIntire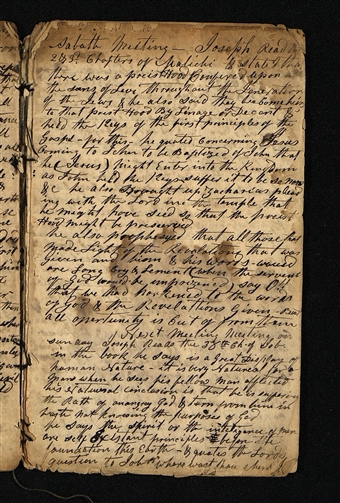 Sabath Meeting— Joseph Read the
2 & 3
d

.
Chapters of Malichi & stated that
there was a priestHood Confered upon all
the sons of Levi throughout the Jeneration
of the Jews & he also said they beCome heirs
to that pristHood By Linage or Decent &
held the Keys of the first principles of the
Gospel— for this— he quoted concerning Jesus
coming to John to be Baptized of John that
he (Jesus) might Enter into the Kingdom
as John held the Keys suffer it to be so now
&c he also Brought up Zacharias plead
ing with the Lord in the temple that
he might have seed so that the preist
Hood might be presurved
he also prophesyed that all those that
made Light of the Revelations that was
Given and him & his words— would
are [ere] Long Cry & Lement (when the servent
of God would be imprizened) say O!!
that we had harkened to the words
of God & the Revelattions Given But
all opertunity is Cut of[f] from them [p. [17]]
Sabath Meeting— Joseph Read the 2 & 3
d
. Chapters of Malichi & stated that there was a priestHood Confered upon all the sons of Levi throughout the Jeneration of the Jews & he also said they beCome heirs to that pristHood By Linage or Decent & held the Keys of the first principles of the Gospel— for this— he quoted concerning Jesus coming to John to be Baptized of John that he (Jesus) might Enter into the Kingdom as John held the Keys suffer it to be so now &c he also Brought up Zacharias pleading with the Lord in the temple that he might have seed so that the preistHood might be presurved
he also prophesyed that all those that made Light of the Revelations that was Given and him & his words— would are ere Long Cry & Lement (when the servent of God would be imprizened) say O!! that we had harkened to the words of God & the Revelattions Given But all opertunity is Cut off from them [p. [17]]