Grammar and Alphabet of the Egyptian Language, circa July–circa November 1835
Source Note

Grammar and Alphabet of the Egyptian Language, [

Kirtland

Located ten miles south of Lake Erie. Settled by 1811. Organized by 1818. Population in 1830 about 55 Latter-day Saints and 1,000 others; in 1838 about 2,000 Saints and 1,200 others; in 1839 about 100 Saints and 1,500 others. Mormon missionaries visited township...

More Info

, OH, ca. July–ca. Nov. 1835]; handwriting of

William W. Phelps

17 Feb. 1792–7 Mar. 1872. Writer, teacher, printer, newspaper editor, publisher, postmaster, lawyer. Born at Hanover, Morris Co., New Jersey. Son of Enon Phelps and Mehitabel Goldsmith. Moved to Homer, Cortland Co., New York, 1800. Married Sally Waterman,...

View Full Bio

and

Warren Parrish

10 Jan. 1803–3 Jan. 1877. Clergyman, gardener. Born in New York. Son of John Parrish and Ruth Farr. Married first Elizabeth (Betsey) Patten of Westmoreland Co., New Hampshire, ca. 1822. Lived at Alexandria, Jefferson Co., New York, 1830. Purchased land at...

View Full Bio

; 34 pages; Kirtland Egyptian Papers, CHL.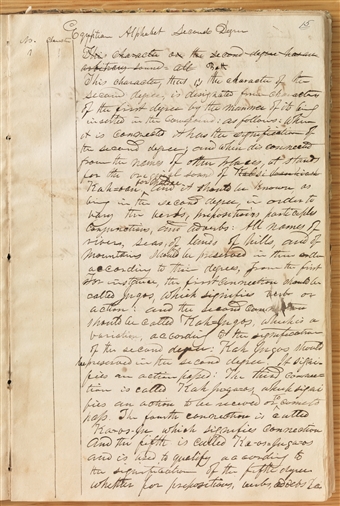 Egyptian Alphabet Second Degree
No.
Character
1

H

This

character

on

the

second

degree

has

an

arbitrary

sound

=

All

<Beth> This character, that is the character of the second degree, is designated from characters of the first degree by the manner of its being inserted in the compound: as follows: when it is connected it has the signification of the second degree; and when disconnected from the names of other places, it stands for the original sound of

Kal=si doanhiask

Kah=oan <for Chaldee> And it should be known, as being in the second degree, in order to vary the verbs, prepositioins participles conjunctions, and adverbs: All names of rivers, seas, of lands of hills, and of mountains should be preserved in their order according to their degrees, from the first For instance, the first connection should be called Jugos, which signifies verb or action: and the second conne

◊

t

◊

on should be called Ka=Jugos, which is a variation, according to the signification of the second degree: Kah Jugos sould <be> preserved in the second degree. It signifies an action passed: The third connection is called Kah pr=ga=os, which signifies an action to be receved or <to> come to pass. The fourth connection is called Ka=os-Ju which signifies connection and the fifth is called Ka-os=Juga=os and is used to qualify according to the signification of the fifth degree. whether for prepositions, verbs, adve[r]bs &c.
[p. 15]
Egyptian Alphabet Second Degree
| | | |
| --- | --- | --- |
| No. | Character | |
| 1 | | = Beth This character, that is the character of the second degree, is designated from characters of the first degree by the manner of its being inserted in the compound: as follows: when it is connected it has the signification of the second degree; and when disconnected from the names of other places, it stands for the original sound of Kah=oan for Chaldee And it should be known, as being in the second degree, in order to vary the verbs, prepositioins participles conjunctions, and adverbs: All names of rivers, seas, of lands of hills, and of mountains should be preserved in their order according to their degrees, from the first For instance, the first connection should be called Jugos, which signifies verb or action: and the second conneton should be called Ka=Jugos, which is a variation, according to the signification of the second degree: Kah Jugos sould be preserved in the second degree. It signifies an action passed: The third connection is called Kah pr=ga=os, which signifies an action to be receved or to come to pass. The fourth connection is called Ka=os-Ju which signifies connection and the fifth is called Ka-os=Juga=os and is used to qualify according to the signification of the fifth degree. whether for prepositions, verbs, adverbs &c. |
[p. 15]