History, 1838–1856, volume C-1 [2 November 1838–31 July 1842]
Source Note

JS, History, 1838–1856, vol. C-1, created 24 Feb. 1845–3 July 1845; handwriting of

Thomas Bullock

23 Dec. 1816–10 Feb. 1885. Farmer, excise officer, secretary, clerk. Born in Leek, Staffordshire, England. Son of Thomas Bullock and Mary Hall. Married Henrietta Rushton, 25 June 1838. Moved to Ardee, Co. Louth, Ireland, Nov. 1839; to Isle of Anglesey, Aug...

View Full Bio

,

Franklin D. Richards

2 Apr. 1821–9 Dec. 1899. Carpenter, businessman, newspaper editor. Born at Richmond, Berkshire Co., Massachusetts. Son of Phinehas Richards and Wealthy Dewey. Raised Congregationalist. Baptized into LDS church by Phinehas Richards, 3 June 1838, at Richmond...

View Full Bio

, Jonathan Grimshaw, and Leo Hawkins; 512 pages, plus 24 pages of addenda; CHL. This is the third volume of a six-volume manuscript history of the church. This third volume covers the period from 2 Nov. 1838 to 31 July 1842; the remaining five volumes, labeled A-1, B-1, D-1, E-1 and F-1, continue through 8 Aug. 1844.

Historical Introduction

This document, "History, 1838–1856, volume C-1 [2 November 1838–31 July 1842]," is the third of six volumes of the "Manuscript History of the Church" (in

The Joseph Smith Papers

the "Manuscript History" bears the editorial title "History, 1838–1856"). The completed six-volume collection covers the period from 23 December 1805 to 8 August 1844. The narrative in this volume commences on 2 November 1838 with JS and other church leaders being held prisoner by the "

general introduction

to this history.

Volume C-1 was created beginning on or just after 24 February 1845 and its narrative was completed by 3 May 1845, although some additional work continued on the volume through 3 July of that year (Richards, Journal, 24 and 28 Feb. 1845; Historian's Office, Journal, 3 May 1845; 3 and 4 July 1845). It is in the handwriting of

History, 1838-1856, volume C-1 Addenda

." Compilers

Deseret News.

The historical narrative recorded in volume C-1 continued the account of JS's life as prophet and president of the church. Critical events occurring within the forty-five-month period covered by this text include the

LDS Millennial Star

in England; the migration of English converts to

Times and Seasons;

publication of the JS history often referred to as the "Wentworth letter;" the organization of the Female Relief Society of Nauvoo; and the inception of Nauvoo-era temple endowment ceremonies.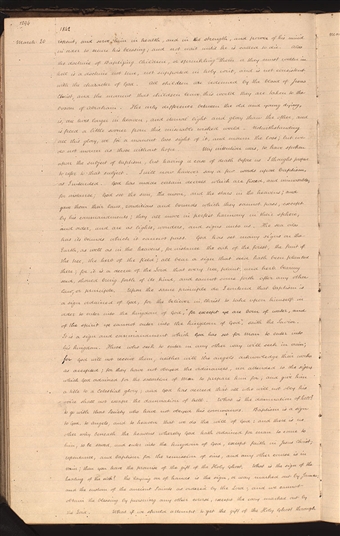 <March 20> repent, and serve him in health, and in the strength, and power of his mind
in order to secure his blessing; and not wait until he is called to die. Also
the doctrine of Baptizing Children, or sprinkling them or they must welter in
hell is a doctrine not true, not supported in holy writ, and is not consistent
with the character of God. All children are redeemed by the blood of Jesus
Christ, and the moment that children leave this world they are taken to the
bosom of Abraham. The only difference between the old and young dying,
is, one lives longer in heaven, and eternal light and glory than the other, and
is freed a little sooner from this miserable wicked world— Notwithstanding
all this glory, we for a moment lose sight of it, and mourn the loss; but we
do not mourn as those without hope. My intention was, to have spoken
upon the subject of baptism, but having a case of death before us I thought proper
to refer to that subject. I will now however say a few words upon baptism,
as I intended. God has made certain decrees which are fixed, and immovable,
for instance; God set the sun, the moon, and the stars in the heavens; and
gave them their laws, conditions and bounds which they cannot pass, except
by his commandments; they all move in perfect harmony in their sphere,
and order, and are as lights, wonders, and signs unto us. The sea also
has its bounds which it cannot pass. God has set many signs on the
Earth, as well as in the heavens, for instance the oak of the forest, the fruit of
the tree, the herb of the field; all bear a sign that seed hath been planted
there; for it is a decree of the Lord that every tree, plant, and herb bearing
seed, should bring forth of its kind, and cannot come forth after any other
law, or principle. Upon the same principle do I contend that baptism is
a sign ordained of God, for the believer in Christ to take upon himself in
order to enter into the kingdom of God, "for except ye are born of water, and
of the spirit ye cannot enter into the kingdom of God," saith the Savior.
It is a sign and commandment which God has set for Man to enter into
his kingdom. Those who seek to enter in any other way will seek in vain;
<for> God will not receive them, neither will the angels acknowledge their works
as accepted; for they have not obeyed the ordinances, nor attended to the signs
which God ordained for the salvation of Man to prepare him for, and give him
a title to a Celestial glory; and God has decreed that all who will not obey his
voice shall not escape the damnation of hell. What is the damnation of hell?
to go with that Society who have not obeyed his commands. Baptism is a sign
to God, to Angels, and to heaven that we do the will of God: and there is no
other way beneath the heavens whereby God hath ordained for Man to come to
him, to be saved, and enter into the kingdom of God, except faith in Jesus Christ;
repentance and baptism for the remission of sins, and any other course is in
vain; then you have the promise of the gift of the Holy Ghost. What is the sign of the
healing of the sick? the laying on of hands is the sign, or way marked out by James;
and the custom of the ancient Saints as ordered by the Lord; and we cannot
obtain the blessing by pursuing any other course, except the way marked out by
the Lord. What if we should attempt to get the gift of the Holy Ghost through [p. 1296]
March 20 repent, and serve him in health, and in the strength, and power of his mind in order to secure his blessing; and not wait until he is called to die. Also the doctrine of Baptizing Children, or sprinkling them or they must welter in hell is a doctrine not true, not supported in holy writ, and is not consistent with the character of God. All children are redeemed by the blood of Jesus Christ, and the moment that children leave this world they are taken to the bosom of Abraham. The only difference between the old and young dying, is, one lives longer in heaven, and eternal light and glory than the other, and is freed a little sooner from this miserable wicked world— Notwithstanding all this glory, we for a moment lose sight of it, and mourn the loss; but we do not mourn as those without hope. My intention was, to have spoken upon the subject of baptism, but having a case of death before us I thought proper to refer to that subject. I will now however say a few words upon baptism, as I intended. God has made certain decrees which are fixed, and immovable, for instance; God set the sun, the moon, and the stars in the heavens; and gave them their laws, conditions and bounds which they cannot pass, except by his commandments; they all move in perfect harmony in their sphere, and order, and are as lights, wonders, and signs unto us. The sea also has its bounds which it cannot pass. God has set many signs on the Earth, as well as in the heavens, for instance the oak of the forest, the fruit of the tree, the herb of the field; all bear a sign that seed hath been planted there; for it is a decree of the Lord that every tree, plant, and herb bearing seed, should bring forth of its kind, and cannot come forth after any other law, or principle. Upon the same principle do I contend that baptism is a sign ordained of God, for the believer in Christ to take upon himself in order to enter into the kingdom of God, "for except ye are born of water, and of the spirit ye cannot enter into the kingdom of God," saith the Savior. It is a sign and commandment which God has set for Man to enter into his kingdom. Those who seek to enter in any other way will seek in vain; for God will not receive them, neither will the angels acknowledge their works as accepted; for they have not obeyed the ordinances, nor attended to the signs which God ordained for the salvation of Man to prepare him for, and give him a title to a Celestial glory; and God has decreed that all who will not obey his voice shall not escape the damnation of hell. What is the damnation of hell? to go with that Society who have not obeyed his commands. Baptism is a sign to God, to Angels, and to heaven that we do the will of God: and there is no other way beneath the heavens whereby God hath ordained for Man to come to him, to be saved, and enter into the kingdom of God, except faith in Jesus Christ; repentance and baptism for the remission of sins, and any other course is in vain; then you have the promise of the gift of the Holy Ghost. What is the sign of the healing of the sick? the laying on of hands is the sign, or way marked out by James; and the custom of the ancient Saints as ordered by the Lord; and we cannot obtain the blessing by pursuing any other course, except the way marked out by the Lord. What if we should attempt to get the gift of the Holy Ghost through [p. 1296]
Facts

Editorial Title

History, 1838–1856, volume C-1 [2 November 1838–31 July 1842]

ID #

7513

Total Pages

562