History, 1838–1856, volume C-1 [2 November 1838–31 July 1842]
Source Note

JS, History, 1838–1856, vol. C-1, created 24 Feb. 1845–3 July 1845; handwriting of

Thomas Bullock

23 Dec. 1816–10 Feb. 1885. Farmer, excise officer, secretary, clerk. Born in Leek, Staffordshire, England. Son of Thomas Bullock and Mary Hall. Married Henrietta Rushton, 25 June 1838. Moved to Ardee, Co. Louth, Ireland, Nov. 1839; to Isle of Anglesey, Aug...

View Full Bio

,

Franklin D. Richards

2 Apr. 1821–9 Dec. 1899. Carpenter, businessman, newspaper editor. Born at Richmond, Berkshire Co., Massachusetts. Son of Phinehas Richards and Wealthy Dewey. Raised Congregationalist. Baptized into LDS church by Phinehas Richards, 3 June 1838, at Richmond...

View Full Bio

, Jonathan Grimshaw, and Leo Hawkins; 512 pages, plus 24 pages of addenda; CHL. This is the third volume of a six-volume manuscript history of the church. This third volume covers the period from 2 Nov. 1838 to 31 July 1842; the remaining five volumes, labeled A-1, B-1, D-1, E-1 and F-1, continue through 8 Aug. 1844.

Historical Introduction

This document, "History, 1838–1856, volume C-1 [2 November 1838–31 July 1842]," is the third of six volumes of the "Manuscript History of the Church" (in

The Joseph Smith Papers

the "Manuscript History" bears the editorial title "History, 1838–1856"). The completed six-volume collection covers the period from 23 December 1805 to 8 August 1844. The narrative in this volume commences on 2 November 1838 with JS and other church leaders being held prisoner by the "

general introduction

to this history.

Volume C-1 was created beginning on or just after 24 February 1845 and its narrative was completed by 3 May 1845, although some additional work continued on the volume through 3 July of that year (Richards, Journal, 24 and 28 Feb. 1845; Historian's Office, Journal, 3 May 1845; 3 and 4 July 1845). It is in the handwriting of

History, 1838-1856, volume C-1 Addenda

." Compilers

Deseret News.

The historical narrative recorded in volume C-1 continued the account of JS's life as prophet and president of the church. Critical events occurring within the forty-five-month period covered by this text include the

LDS Millennial Star

in England; the migration of English converts to

Times and Seasons;

publication of the JS history often referred to as the "Wentworth letter;" the organization of the Female Relief Society of Nauvoo; and the inception of Nauvoo-era temple endowment ceremonies.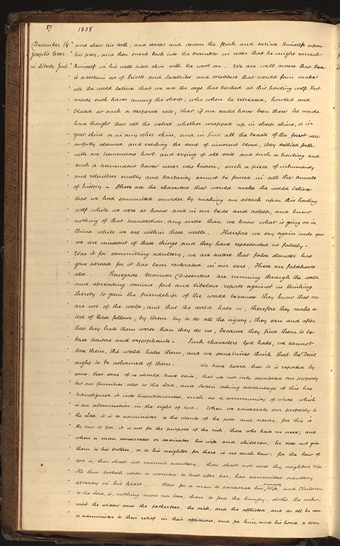 <December 16
Joseph's letter
in Liberty Jail> and shew his teeth, and scatter and devour the flock and satiate himself upon
his prey, and then sneak back into the bramble in order that he might conceal
himself in his well tried skin with the wool on. We are well aware that there
is a certain set of Priests and Satellites and Mobbers that would fain make
all the world believe that we are the dogs that barked at this howling wolf that
made such havoc among the sheep, who when he retreated, howled and
blated at such a desperate rate, that if one could have been there he would
have thought that all the wolves whether wrapped up in sheep skins, or in
goat skins or in any other skins, and in fine all the beasts of the forest were
awfully alarmed and catching the scent of innocent blood, they sallied forth
with one tremendous howl and crying of all sorts and such a howling and
such a tremendous havoc never was known, such a piece of inhumanity
and relentless cruelty and barbarity cannot be found in all the Annals
of history— These are the characters that would make the world believe
that we had committed murder by making an attack upon this howling
wolf while we were at home and in our beds and asleep, and knew
nothing of that transaction, any more than we know what is going on in
China while we are within these walls. Therefore we say again unto you
we are innocent of these things and they have represented us falsely.
Was it for committing adultery, we are aware that false slander has
gone abroad for it has been reiterated in our ears. These are falsehoods
also. Renegade Mormon Dissenters are running through the world
and spreading various foul and libelous reports against us thinking
thereby to gain the friendship of the world because they know that we
are not of the world, and that the world hates us, therefore they make a
tool of these fellows, by them try to do all the injury, they can and after
that they hate them worse than they do us, because they find them to be
base traitors and sycophants— Such characters God hates, we cannot
love them, the world hates them, and we sometimes think that the Devil
ought to be ashamed of them. We have heard that it is reported by
some, that some of us should have said, that we not only dedicated our property
but our families also to the Lord, and Satan taking advantage of this has
transfigured it into licentiousness, such as a community of wives which
is an abomination in the sight of God. When we consecrate our property to
the Lord it is to administer to the wants of the poor and needy, for this is
the law of God, it is not for the purpose of the rich, those who have no need; and
when a man consecrates or dedicates his wife and children, he does not give
them to his brother, or to his neighbor for there is no such law: for the law of
God is, thou shalt not commit adultery, thou shalt not covet they neighbor's Wife
He that looketh upon a woman to lust after her, has committed adultery
already in his heart. Now for a man to consecrate his <property> Wife, and Children
to the Lord, is, nothing more nor less, than to feed the hungry, clothe the naked,
visit the widow and the fatherless, the sick, and the afflicted, and do all he can
to administer to their relief in their afflictions, and for him, and his house to serve [p. 871]
December 16 Joseph's letter in Liberty Jail and shew his teeth, and scatter and devour the flock and satiate himself upon his prey, and then sneak back into the bramble in order that he might conceal himself in his well tried skin with the wool on. We are well aware that there is a certain set of Priests and Satellites and Mobbers that would fain make all the world believe that we are the dogs that barked at this howling wolf that made such havoc among the sheep, who when he retreated, howled and blated at such a desperate rate, that if one could have been there he would have thought that all the wolves whether wrapped up in sheep skins, or in goat skins or in any other skins, and in fine all the beasts of the forest were awfully alarmed and catching the scent of innocent blood, they sallied forth with one tremendous howl and crying of all sorts and such a howling and such a tremendous havoc never was known, such a piece of inhumanity and relentless cruelty and barbarity cannot be found in all the Annals of history— These are the characters that would make the world believe that we had committed murder by making an attack upon this howling wolf while we were at home and in our beds and asleep, and knew nothing of that transaction, any more than we know what is going on in China while we are within these walls. Therefore we say again unto you we are innocent of these things and they have represented us falsely. Was it for committing adultery, we are aware that false slander has gone abroad for it has been reiterated in our ears. These are falsehoods also. Renegade Mormon Dissenters are running through the world and spreading various foul and libelous reports against us thinking thereby to gain the friendship of the world because they know that we are not of the world, and that the world hates us, therefore they make a tool of these fellows, by them try to do all the injury, they can and after that they hate them worse than they do us, because they find them to be base traitors and sycophants— Such characters God hates, we cannot love them, the world hates them, and we sometimes think that the Devil ought to be ashamed of them. We have heard that it is reported by some, that some of us should have said, that we not only dedicated our property but our families also to the Lord, and Satan taking advantage of this has transfigured it into licentiousness, such as a community of wives which is an abomination in the sight of God. When we consecrate our property to the Lord it is to administer to the wants of the poor and needy, for this is the law of God, it is not for the purpose of the rich, those who have no need; and when a man consecrates or dedicates his wife and children, he does not give them to his brother, or to his neighbor for there is no such law: for the law of God is, thou shalt not commit adultery, thou shalt not covet they neighbor's Wife He that looketh upon a woman to lust after her, has committed adultery already in his heart. Now for a man to consecrate his property Wife, and Children to the Lord, is, nothing more nor less, than to feed the hungry, clothe the naked, visit the widow and the fatherless, the sick, and the afflicted, and do all he can to administer to their relief in their afflictions, and for him, and his house to serve [p. 871]
Facts

Editorial Title

History, 1838–1856, volume C-1 [2 November 1838–31 July 1842]

ID #

7513

Total Pages

562