History, circa 1841, draft [Draft 3]
Source Note

JS, History, [ca. 1841], draft; handwriting of

Howard Coray

6 May 1817–16 Jan. 1908. Bookkeeper, clerk, teacher, farmer. Born in Dansville, Steuben Co., New York. Son of Silas Coray and Mary Stephens. Moved to Providence, Luzerne Co., Pennsylvania, ca. 1827; to Williams, Northampton Co., Pennsylvania, by 1830; and...

View Full Bio

; 102 pages and one attached slip; CHL.

Footnotes

Historical Introduction

Howard Coray

6 May 1817–16 Jan. 1908. Bookkeeper, clerk, teacher, farmer. Born in Dansville, Steuben Co., New York. Son of Silas Coray and Mary Stephens. Moved to Providence, Luzerne Co., Pennsylvania, ca. 1827; to Williams, Northampton Co., Pennsylvania, by 1830; and...

View Full Bio

, a recent convert to Mormonism from Perry, Illinois, met JS while visiting

The Prophet, after looking at me a little and asking me some questions, wished to know whether it would be convenient for me to come to

I finished the job of copying letters. I was then requested by bro. Joseph to undertake, in connection with

E[dwin] D. Woolley

27 June 1807–14 Oct. 1881. Farmer, coal miner, cattleman, builder, merchant. Born in East Bradford Township, Chester Co., Pennsylvania. Son of John Woolley and Rachel Dilworth. Raised in Quaker faith. Married Mary Wickersham, 24 Mar. 1831, in Columbiana Co...

View Full Bio

, the compilation of the Church History. This I felt to decline, as writing books was something, in which I had had no experience. But bro. Joseph insisted on my undertaking it, saying, if I would do so, it would prove a blessing to me as long as I should live. His persuasive arguments prevailed; and accordingly in a short time, bro. Woolley and myself, were busily engaged in compiling the church history. The Prophet was to furnish all the materials; and our business, was not only to combine, and arrange in cronological order, but to spread out or amplify not a little, in as good historical style as may be. Bro. Woolley's education, not being equal to mine, he was to get the matter furnished him in as good shape as he could; and my part was to go after him, and fix his up as well as I could, making such improvement and such corrections in his grammar and style as I might deem necessary. On seeing his work, I at once discovered, that I had no small job on my hands, as he knew nothing whatever of grammar; however, I concluded to make the best I could of a bad job, and thus went to work upsetting and recasting; as well a[s] casting out not a little. Seeing how his work was handled, he became considerably discouraged; and rather took offence at the way and manner in which I was doing things, and consequently soon withdrew from the business.

Immediately after

bro. Woolley

27 June 1807–14 Oct. 1881. Farmer, coal miner, cattleman, builder, merchant. Born in East Bradford Township, Chester Co., Pennsylvania. Son of John Woolley and Rachel Dilworth. Raised in Quaker faith. Married Mary Wickersham, 24 Mar. 1831, in Columbiana Co...

View Full Bio

left, I succeeded in obtaining the services of Dr. Miller, who had written for the press, and was considerably accustomed to this kind of business. Now I got on much better. I continued until we used up all the historical matter furnished us by the Prophet. And, as peculiar circumstances prevented his giving attention to his part of the business we of necessity discontinued our labors, and never resumed this kind of business again.

1

Coray, Reminiscences, 17, 19–20.  

---

Coray, Howard. Reminiscences, ca. 1883. BYU.

Although

letterbook

and other records has long been noted,

fair copy

that incorporated the revisions Coray made in his earlier draft.

However,

Draft 1

and those later prepared by

In 1869

Coray

6 May 1817–16 Jan. 1908. Bookkeeper, clerk, teacher, farmer. Born in Dansville, Steuben Co., New York. Son of Silas Coray and Mary Stephens. Moved to Providence, Luzerne Co., Pennsylvania, ca. 1827; to Williams, Northampton Co., Pennsylvania, by 1830; and...

View Full Bio

signed a statement that was later attached to the paper wrapper that enclosed his two drafts: "These hundred pages of History were written by me, under Joseph the Prophet's dictation. Dr Miller helped me a little in writing the same. (Historians office, 1869)."

4

The identity of "Dr. Miller," mentioned in this note and in Coray's autobiography, is unknown. It is possible Coray misidentified the "doctor" who assisted in writing the history. (Coray, Reminiscences, 19.)  

---

Coray, Howard. Reminiscences, ca. 1883. BYU.

If by "dictation" Coray meant that he transcribed as JS spoke, it seems more likely to be a description of JS's involvement in the history draft presented here than of the role JS played in the compilation project Coray described in his autobiography. In the latter project, according to Coray, JS only supplied materials and gave general instructions. If the statement was accurate in that sense, it suggests that JS read aloud from

Draft 2

in the large manuscript volume, directing editorial changes as he read. Several passages of Draft 3 contain evidence of dictation, but the history itself includes no indication of who was dictating the text.

Draft 2

. Also, whereas the latter specifies that Methodists and Presbyterians treated JS and other Saints without respect, Coray's draft avoided naming the denominations. Additionally, Draft 3 employs more moderate language in describing opposition to JS in

The document presented in this volume is the first of two manuscripts

Coray

6 May 1817–16 Jan. 1908. Bookkeeper, clerk, teacher, farmer. Born in Dansville, Steuben Co., New York. Son of Silas Coray and Mary Stephens. Moved to Providence, Luzerne Co., Pennsylvania, ca. 1827; to Williams, Northampton Co., Pennsylvania, by 1830; and...

View Full Bio

completed. This earlier draft shows the original creation as well as revisions Coray made before inscribing the

second, cleaner copy

. A four-page partial copy, corresponding to text on pages 13–16 of the draft and the fair copy, is also extant.

5

See Revelation, July 1828, in Revelations Collection, CHL [D&C 3]. The four-page fragment implements corrections made to both the draft and fair copies, but the punctuation more closely matches the latter. Unlike page endings in the fair copy, the page endings in the fragment do not match those of the draft copy.  

---

Revelations Collection, 1831–ca. 1844, 1847, 1861, ca. 1876. CHL.

The Coray manuscripts exhibit notable variations in handwriting style. A careful comparison of the style shifts, spelling idiosyncrasies, and letter formations, however, reveal that both the earlier draft and fair copy are entirely in Coray's handwriting. His work is clearly based on

Draft 2

; Coray's versions could not have been written before Draft 2 because he incorporated emendations made in the latter.

6

Examples of emendations made in the large history volume that also appear in Coray's adaptation include revisions regarding JS's marriage to Emma Hale; Martin Harris's explanation to Anthon that the plates were sealed and that he was forbidden to bring them, and Mulholland's loose note, later pinned into the large history volume, giving JS's description of the hill where the gold plates were obtained.  

---

The

fair copy

of Coray's work includes few changes other than those Coray marked in his rough draft, and none are of a substantive nature.

Footnotes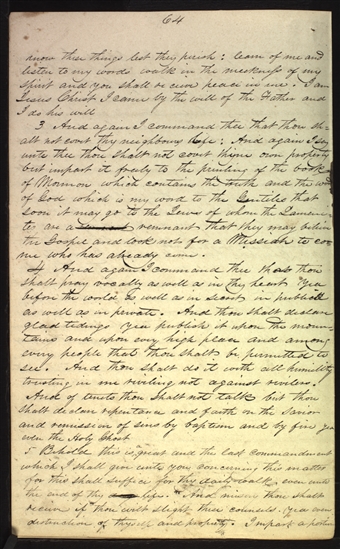 know these things lest they perish: learn of me and
listen to my words walk in the meekness of my
spirit and you shall receive peace in me. I am
Jesus Christ I came by the will of the Father and
I do his will
3 And again I command thee that thou sh
alt not covet thy neighbour's
wife
life: And again I say
unto thee thou shalt not covet
thy
thine own property
but impart it freely to the printing of the book
of Mormon which contains the truth and the word
of God which is my word to the Gentiles that
soon it may go to the Jews of whom the Lameni
tes are a
remnant
remnant that they may beleive
the Gospel and look not for a Messiah to co
me who has already come.
4 And again I command thee
thou
that thou
shalt pray vocally as well as in thy heart yea
before the world as well as in secret in publick
as well as in private. And thou shalt declare
glad tidings yea publish it upon the moun
tains and upon eve[r]y high place and among
every people that thou shalt be permitted to
see. And thou shalt do it with all humility
trusting in me reviling not against revilers.
And of tenets thou shalt not talk but thou
shalt declare repentance and faith on the Savior
and remission of sins by baptism and by fire yea
even the Holy Ghost
5 Behold this is <a> great and the last commandment
which I shall give unto you concerning this matter
for this shall suffice for thy daily walk, even unto
the end of thy
days
life. And misery thou shalt
recieve if thou wilt slight these counsels. yea even
destruction of thyself and property. Impart a portion [p. 64]
know these things lest they perish: learn of me and listen to my words walk in the meekness of my spirit and you shall receive peace in me. I am Jesus Christ I came by the will of the Father and I do his will
3 And again I command thee that thou shalt not covet thy neighbour's life: And again I say unto thee thou shalt not covet thine own property but impart it freely to the printing of the book of Mormon which contains the truth and the word of God which is my word to the Gentiles that soon it may go to the Jews of whom the Lamenites are a remnant that they may beleive the Gospel and look not for a Messiah to come who has already come.
4 And again I command thee that thou shalt pray vocally as well as in thy heart yea before the world as well as in secret in publick as well as in private. And thou shalt declare glad tidings yea publish it upon the mountains and upon every high place and among every people that thou shalt be permitted to see. And thou shalt do it with all humility trusting in me reviling not against revilers. And of tenets thou shalt not talk but thou shalt declare repentance and faith on the Savior and remission of sins by baptism and by fire yea even the Holy Ghost
5 Behold this is a great and the last commandment which I shall give unto you concerning this matter for this shall suffice for thy daily walk, even unto the end of thy life. And misery thou shalt recieve if thou wilt slight these counsels. yea even destruction of thyself and property. Impart a portion [p. 64]