John Corrill, A Brief History of the Church of Christ of Latter Day Saints, 1839
Source Note

John Corrill

17 Sept. 1794–26 Sept. 1842. Surveyor, politician, author. Born at Worcester Co., Massachusetts. Married Margaret Lyndiff, ca. 1830. Lived at Harpersfield, Ashtabula Co., Ohio, 1830. Baptized into LDS church, 10 Jan. 1831, at Kirtland, Geauga Co., Ohio. Ordained...

View Full Bio

,

A Brief History of the Church of Christ of Latter Day Saints, (Commonly Called Mormons;) Including an Account of Their Doctrine and Discipline; with the Reasons of the Author for Leaving the Church,

St. Louis, MO: "Printed for the Author," 1839; two preliminary leaves, 7–50 pp.; includes typeset signature marks. The copy used for transcription is held at CHL; includes handwritten underscoring, notes, and other marks, as well as archival stamps.

This booklet was printed in octavo format on three sheets cut and folded into seven gatherings. The interior gatherings were made from half sheets folded into four leaves, and the initial and final gatherings were made from quarter sheets folded into two leaves, making a total of twenty-four leaves in the booklet. The text block measures 8½ x 5½ x ⅛ inches (22 x 14 x 0.3 cm). Examination of the copies at CHL and BYU, as well as images of a third copy,

1

John Corrill, A Brief History of the Church of Christ of Latter-day Saints, microfilm (New Haven, CT: Research Publications, 1967).  

---

indicate that the booklet was originally side stitched. The binding of the copy at CHL has been altered.

2

Needle holes along the center folds suggest that the CHL copy of the booklet was once bound with other similar-size works. The first page of the booklet bears the faded and now faint pencil notation "No 2." on the upper right corner, a possible indication of the booklet's arrangement in a collection of tracts. The first page of the booklet also bears a handwritten "20" in ink below the title. A photocopy made in 1971 or earlier shows that the CHL copy was not intact at that time. The copy at CHL is currently sewn through a new set of holes in the center folds. (Corrill, Brief History, photocopy, ca. 1971, CHL.)  

---

Corrill, John. A Brief History of the Church of Christ of Latter Day Saints. . . . Photocopy, ca. 1971. CHL.

It appears to have been in church custody since at least the early 1880s.

3

A circa 1881–1884 inventory of printed works at the Church Historian's Office includes Corrill's booklet. The copy held at CHL bears the extremely faded inscription "Historian's Office" and includes purple Historian's Office stamps, which were in use as early as the late nineteenth century. A circa 1971 photocopy shows a "Historian's Office Library" adhesive label (since removed) on page 2 of the CHL copy. These archival records and marks indicate continuous church custody since the early 1880s. ("Church Works, Periodicals, and Pamphlets, Alphabetically Arranged," 22, Historian's Office, Catalogs and Inventories, 1846–1904, CHL; Corrill, Brief History, photocopy, ca. 1971, CHL.)  

---

Historian's Office. Catalogs and Inventories, 1846–1904. CHL. CR 100 130.

Corrill, John. A Brief History of the Church of Christ of Latter Day Saints. . . . Photocopy, ca. 1971. CHL.

Footnotes

1

John Corrill, A Brief History of the Church of Christ of Latter-day Saints, microfilm (New Haven, CT: Research Publications, 1967).  

2

Needle holes along the center folds suggest that the CHL copy of the booklet was once bound with other similar-size works. The first page of the booklet bears the faded and now faint pencil notation "No 2." on the upper right corner, a possible indication of the booklet's arrangement in a collection of tracts. The first page of the booklet also bears a handwritten "20" in ink below the title. A photocopy made in 1971 or earlier shows that the CHL copy was not intact at that time. The copy at CHL is currently sewn through a new set of holes in the center folds. (Corrill, Brief History, photocopy, ca. 1971, CHL.)  

Corrill, John. A Brief History of the Church of Christ of Latter Day Saints. . . . Photocopy, ca. 1971. CHL.

3

A circa 1881–1884 inventory of printed works at the Church Historian's Office includes Corrill's booklet. The copy held at CHL bears the extremely faded inscription "Historian's Office" and includes purple Historian's Office stamps, which were in use as early as the late nineteenth century. A circa 1971 photocopy shows a "Historian's Office Library" adhesive label (since removed) on page 2 of the CHL copy. These archival records and marks indicate continuous church custody since the early 1880s. ("Church Works, Periodicals, and Pamphlets, Alphabetically Arranged," 22, Historian's Office, Catalogs and Inventories, 1846–1904, CHL; Corrill, Brief History, photocopy, ca. 1971, CHL.)  

Historian's Office. Catalogs and Inventories, 1846–1904. CHL. CR 100 130.

Corrill, John. A Brief History of the Church of Christ of Latter Day Saints. . . . Photocopy, ca. 1971. CHL.

Historical Introduction

Br. Corril

17 Sept. 1794–26 Sept. 1842. Surveyor, politician, author. Born at Worcester Co., Massachusetts. Married Margaret Lyndiff, ca. 1830. Lived at Harpersfield, Ashtabula Co., Ohio, 1830. Baptized into LDS church, 10 Jan. 1831, at Kirtland, Geauga Co., Ohio. Ordained...

View Full Bio

s.

conduct for some time past, has been verry unbecoming indeed especially a man in whoom so much confidence has been placed, He has been diffculted to keep track and walk step, by step, with the great wheal which is propelled by the arm of the great Jehovah, he says he will not yeald his Judgement, to any thing proposed by the Church, or any individuals of the Church, or even the voice of the great (I am,) given through the appointed organ, as revelation, but will always act upon his Judgement let him believe in whatever religion he may, he says he will always say what he pleases, for he says he is a republican, and as such he will do, say, act, and believe, what he pleases.

14

JS, Journal, 31 Aug. 1838; compare Oliver Cowdery's statements in connection with Cowdery's own 12 April 1838 excommunication, as recorded in Minute Book 2, 12 Apr. 1838; see also JS, Journal, 12 Apr. 1838.  

---

Minute Book 2 / "The Conference Minutes and Record Book of Christ's Church of Latter Day Saints," 1838, 1842, 1844. CHL. Also available at josephsmithpapers.org.

In fact, as indicated in his own history, Corrill came to disapprove of the church's course even before this time. He especially resented the emphasis placed on conformity, the organization of an extralegal military society known as the Danites, and actions taken to intimidate dissenters.

Footnotes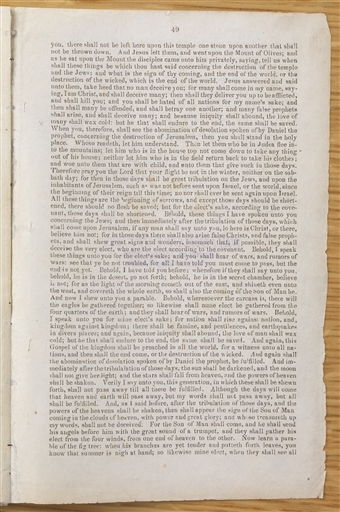 you, there shall not be left here upon this temple one stone upon another that shall
not be thrown down. And Jesus left them, and went upon the Mount of Olives; and
as he sat upon the Mount the disciples came unto him privately, saying, tell us when
shall these things be which thou hast said concerning the destruction of the temple
and the Jews; and what is the sign of thy coming, and the end of the world, or the
destruction of the wicked, which is the end of the world. Jesus answered and said
unto them, take heed that no man deceive you; for many shall come in my name, say
ing, I am Christ, and shall deceive many; then shall they deliver you up to be afflicted,
and shall kill you; and you shall be hated of all nations for my name's sake; and
then shall many be offended, and shall betray one another; and many false prophets
shall arise, and shall deceive many; and because iniquity shall abound, the love of
many shall wax cold: but he that shall endure to the end, the same shall be saved.
When you, therefore, shall see the abomination of desolation spoken of by Daniel the
prophet, concerning the destruction of Jerusalem, then you shall stand in the holy
place. Whoso readeth, let him understand. Then let them who be in Judea flee in
to the mountains; let him who is in the house top not come down to take any thing
out of his house; neither let him who is in the field return back to take his clothes;
and woe unto them that are with child, and unto them that give suck in those days.
Therefore pray you the Lord that your flight be not in the winter, neither on the sab
bath day; for then in those days shall be great tribulation on the Jews, and upon the
inhabitants of Jerusalem, such as was not before sent upon Israel, or the world, since
the beginning of their reign till this time; no nor shall ever be sent again upon Israel.
All these things are the beginning of sorrows, and except those days should be short
ened, there should no flesh be saved; but for the elect's sake, according to the cove
nant, those days shall be shortened. Behold, these things I have spoken unto you
concerning the Jews; and then immediately after the tribulation of those days, which
shall come upon Jerusalem, if any man shall say unto you, lo here is Christ, or there,
believe him not; for in those days there shall also arise false Christs, and false proph
ets, and shall shew great signs and wonders, insomuch that, if possible, they shall
deceive the very elect, who are the elect according to the covenant. Behold, I speak
these things unto you for the elect's sake; and you shall hear of wars, and rumors of
wars: see that ye be not troubled, for all I have told you must come to pass, but the
end is not yet. Behold, I have told you before; wherefore if they shall say unto you,
behold, he is in the desert, go not forth; behold, he is in the secret chamber, believe
it not; for as the light of the morning cometh out of the east, and shineth even unto
the west, and covereth the whole earth, so shall also the coming of the Son of Man be.
And now I shew unto you a parable. Behold, wheresoever the carcass is, there will
the eagles be gathered together; so likewise shall mine elect be gathered from the
four quarters of the earth; and they shall hear of wars, and rumors of wars. Behold,
I speak unto you for mine elect's sake; for nation shall rise against nation, and,
kingdom against kingdom; there shall be famine, and pestilences, and earthquakes
in divers places; and again, because iniquity shall abound, the love of man shall wax
cold; but he that shall endure to the end, the same shall be saved. And again, this
Gospel of the kingdom shall be preached in all the world, for a witness unto all na
tions, and then shall the end come, or the destruction of the wicked. And again shall
the abomination of desolation spoken of by Daniel the prophet, be fulfilled. And im
mediately after the tribulalation of those days, the sun shall be darkened, and the moon
shall not give her light; and the stars shall fall from heaven, and the powers of heaven
shall be shaken. Verily I say unto you, this generation, in which these shall be shewn
forth, shall not pass away till all these be fulfilled. Although the days will come
that heaven and earth will pass away, but my words shall not pass away, but all
shall be fulfilled. And, as I said before, after the tribulation of those days, and the
powers of the heavens shall be shaken, then shall appear the sign of the Son of Man
coming in the clouds of heaven, with power and great glory; and whoso treasureth up
my words, shall not be deceived. For the Son of Man shall come, and he shall send
his angels before him with the great sound of a trumpet, and they shall gather his
elect from the four winds, from one end of heaven to the other. Now learn a para
ble of the fig tree: when his branches are yet tender and putteth forth leaves, you
know that summer is nigh at hand; so likewise mine elect, when they shall see all [p. 49]
you, there shall not be left here upon this temple one stone upon another that shall not be thrown down. And Jesus left them, and went upon the Mount of Olives; and as he sat upon the Mount the disciples came unto him privately, saying, tell us when shall these things be which thou hast said concerning the destruction of the temple and the Jews; and what is the sign of thy coming, and the end of the world, or the destruction of the wicked, which is the end of the world. Jesus answered and said unto them, take heed that no man deceive you; for many shall come in my name, saying, I am Christ, and shall deceive many; then shall they deliver you up to be afflicted, and shall kill you; and you shall be hated of all nations for my name's sake; and then shall many be offended, and shall betray one another; and many false prophets shall arise, and shall deceive many; and because iniquity shall abound, the love of many shall wax cold: but he that shall endure to the end, the same shall be saved. When you, therefore, shall see the abomination of desolation spoken of by Daniel the prophet, concerning the destruction of Jerusalem, then you shall stand in the holy place. Whoso readeth, let him understand. Then let them who be in Judea flee into the mountains; let him who is in the house top not come down to take any thing out of his house; neither let him who is in the field return back to take his clothes; and woe unto them that are with child, and unto them that give suck in those days. Therefore pray you the Lord that your flight be not in the winter, neither on the sabbath day; for then in those days shall be great tribulation on the Jews, and upon the inhabitants of Jerusalem, such as was not before sent upon Israel, or the world, since the beginning of their reign till this time; no nor shall ever be sent again upon Israel. All these things are the beginning of sorrows, and except those days should be shortened, there should no flesh be saved; but for the elect's sake, according to the covenant, those days shall be shortened. Behold, these things I have spoken unto you concerning the Jews; and then immediately after the tribulation of those days, which shall come upon Jerusalem, if any man shall say unto you, lo here is Christ, or there, believe him not; for in those days there shall also arise false Christs, and false prophets, and shall shew great signs and wonders, insomuch that, if possible, they shall deceive the very elect, who are the elect according to the covenant. Behold, I speak these things unto you for the elect's sake; and you shall hear of wars, and rumors of wars: see that ye be not troubled, for all I have told you must come to pass, but the end is not yet. Behold, I have told you before; wherefore if they shall say unto you, behold, he is in the desert, go not forth; behold, he is in the secret chamber, believe it not; for as the light of the morning cometh out of the east, and shineth even unto the west, and covereth the whole earth, so shall also the coming of the Son of Man be. And now I shew unto you a parable. Behold, wheresoever the carcass is, there will the eagles be gathered together; so likewise shall mine elect be gathered from the four quarters of the earth; and they shall hear of wars, and rumors of wars. Behold, I speak unto you for mine elect's sake; for nation shall rise against nation, and, kingdom against kingdom; there shall be famine, and pestilences, and earthquakes in divers places; and again, because iniquity shall abound, the love of man shall wax cold; but he that shall endure to the end, the same shall be saved. And again, this Gospel of the kingdom shall be preached in all the world, for a witness unto all nations, and then shall the end come, or the destruction of the wicked. And again shall the abomination of desolation spoken of by Daniel the prophet, be fulfilled. And immediately after the tribulalation of those days, the sun shall be darkened, and the moon shall not give her light; and the stars shall fall from heaven, and the powers of heaven shall be shaken. Verily I say unto you, this generation, in which these shall be shewn forth, shall not pass away till all these be fulfilled. Although the days will come that heaven and earth will pass away, but my words shall not pass away, but all shall be fulfilled. And, as I said before, after the tribulation of those days, and the powers of the heavens shall be shaken, then shall appear the sign of the Son of Man coming in the clouds of heaven, with power and great glory; and whoso treasureth up my words, shall not be deceived. For the Son of Man shall come, and he shall send his angels before him with the great sound of a trumpet, and they shall gather his elect from the four winds, from one end of heaven to the other. Now learn a parable of the fig tree: when his branches are yet tender and putteth forth leaves, you know that summer is nigh at hand; so likewise mine elect, when they shall see all [p. 49]