Letter from Orson Hyde, 17 April 1841
Source Note

Orson Hyde

8 Jan. 1805–28 Nov. 1878. Laborer, clerk, storekeeper, teacher, editor, businessman, lawyer, judge. Born at Oxford, New Haven Co., Connecticut. Son of Nathan Hyde and Sally Thorpe. Moved to Derby, New Haven Co., 1812. Moved to Kirtland, Geauga Co., Ohio, ...

View Full Bio

, Letter, Manchester, England, to JS,

Nauvoo

Principal gathering place for Saints following expulsion from Missouri. Beginning in 1839, LDS church purchased lands in earlier settlement of Commerce and planned settlement of Commerce City, as well as surrounding areas. Served as church headquarters, 1839...

More Info

, IL, 17 Apr. 1841; in

Times and Seasons,

15 July 1841, 2:482–483.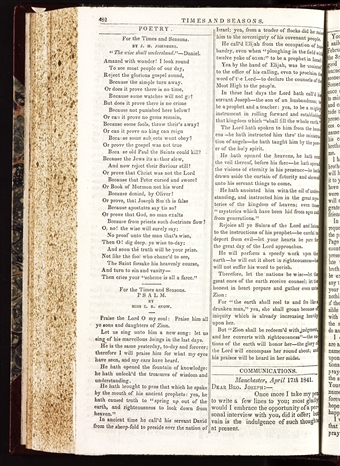 Manchester
,
April
17
th
1841.
Once more I take my pen to write a few lines to you; most gladly would I embrace the opportunity of a personal interview with you, did it offer; but vain is the indulgence of such thoughts at present. [p. 482]
Manchester
,
April
17
th
1841.
Once more I take my pen to write a few lines to you; most gladly would I embrace the opportunity of a personal interview with you, did it offer; but vain is the indulgence of such thoughts at present. [p. 482]