Letter from Thomas Shaw, 21 April 1835
Source Note

Thomas Shaw, Letter, Barnsley, England, to the Saints,

United States

North American constitutional republic. Constitution ratified, 17 Sept. 1787. Population in 1805 about 6,000,000; in 1830 about 13,000,000; and in 1844 about 20,000,000. Louisiana Purchase, 1803, doubled size of U.S. Consisted of seventeen states at time ...

More Info

, 21 Apr. 1835; presumably handwriting of Thomas Shaw; two pages; CHL. Includes endorsements.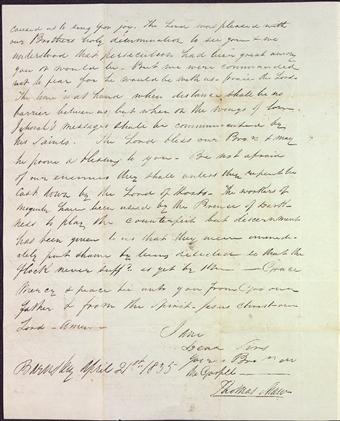 caused us to sing for joy. The Lord was pleased with
our Brothers holy determination to see you & we
understood that persecution had been great among
you or would be. But we were commanded
not to fear for he would be with us. praise the Lord.
The time is at hand when distance shall be no
barrier between us: but when on the wings of love
Jehovah's messages shall be communicated by
his Saints. The Lord bless our Bro
n
& may
he prove a blessing to you. Be not afraid
of our enemies they shall unless they repent be
cast down by the Lord of Hosts. The workers of
iniquity have been used by the Prince of Dark
ness to play the counterfeit but discernment
has been given to us that they were immedi
ately put [to] shame by being detected so that the
flock never suff
d
as yet by them
——
Grace
Mercy & peace be unto you from God our
father & from the Spirit. Jesus Christ our
Lord. Amen—
I am
Dear Sirs
Barnsley April 21
st
1835 [p. [2]]
caused us to sing for joy. The Lord was pleased with our Brothers holy determination to see you & we understood that persecution had been great among you or would be. But we were commanded not to fear for he would be with us. praise the Lord. The time is at hand when distance shall be no barrier between us: but when on the wings of love Jehovah's messages shall be communicated by his Saints. The Lord bless our Bron & may he prove a blessing to you. Be not afraid of our enemies they shall unless they repent be cast down by the Lord of Hosts. The workers of iniquity have been used by the Prince of Darkness to play the counterfeit but discernment has been given to us that they were immediately put [to] shame by being detected so that the flock never suffd as yet by them
——
Grace Mercy & peace be unto you from God our father & from the Spirit. Jesus Christ our Lord. Amen—
I am
Dear Sirs
Your Bron in
Barnsley April 21st 1835 [p. [2]]