Letter to Emma Smith, 31 March 1842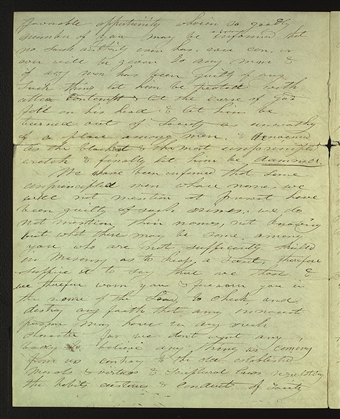 favorable opportunity wherein so goodly
number of you may be informed that
no such authority ever has, ever can, or
ever will be given. to any man &
if any man has been guilty of any
such thing let him be treated with
utter contempt & let the curse of God
fall on his head, & let him be
turned out of Society as unworthy
of a place among men, & denounced
as the blackest & the most unprincipled
wretch & finally let him be
damned
.
We have been informed that some
unprincipled men whose names we
will not mention at present have
been guilty of such crimes, we do
not mention their names, not knowing
but what there may be some among
you who are not sufficiently skilled
in Masonry as to keep a secret, therefore
suffice it to say there are those &
we therefore warn you & forewarn you in
the name of the Lord to check and
destroy any faith that any innocent
person may have in any such
character for we don't want any
body to believe any thing as coming
from us contrary to the old established
morals & virtues & scriptural laws regulating
the habits customs & conduct of Faith [p. [2]]
favorable opportunity wherein so goodly number of you may be informed that no such authority ever has, ever can, or ever will be given. to any man & if any man has been guilty of any such thing let him be treated with utter contempt & let the curse of God fall on his head, & let him be turned out of Society as unworthy of a place among men, & denounced as the blackest & the most unprincipled wretch & finally let him be
damned
.
We have been informed that some unprincipled men whose names we will not mention at present have been guilty of such crimes, we do not mention their names, not knowing but what there may be some among you who are not sufficiently skilled in Masonry as to keep a secret, therefore suffice it to say there are those & we therefore warn you & forewarn you in the name of the Lord to check and destroy any faith that any innocent person may have in any such character for we don't want any body to believe any thing as coming from us contrary to the old established morals & virtues & scriptural laws regulating the habits customs & conduct of Faith [p. [2]]