Revelation, 6 August 1836 [D&C 111]
Source Note

Revelation,

Salem

Port city located northeast of Boston. Population in 1830 about 14,000. Population in 1840 about 15,000. JS visited city as a young boy while recovering from leg surgery to remove diseased bone. JS, Hyrum Smith, Oliver Cowdery, and Sidney Rigdon visited city...

More Info

, MA, 6 Aug. 1836; in William W. Phelps, Journal, pp. 35–37; handwriting of

William W. Phelps

17 Feb. 1792–7 Mar. 1872. Writer, teacher, printer, newspaper editor, publisher, postmaster, lawyer. Born at Hanover, Morris Co., New Jersey. Son of Enon Phelps and Mehitabel Goldsmith. Moved to Homer, Cortland Co., New York, 1800. Married Sally Waterman,...

View Full Bio

; CHL.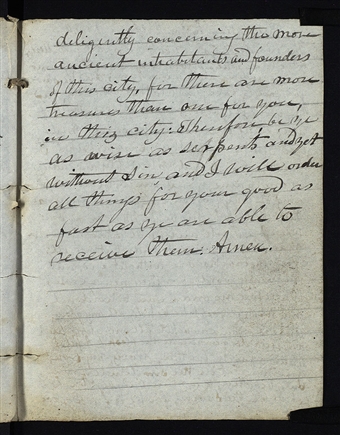 diligently concerning the more ancient inhabitants and founders of this city, for there are more treasures than one for you, in this city: Therefore be ye as wise as serpents and yet without sin, and I will order all things for your good as fast as ye are able to receive them. Amen. [p. [37]]
diligently concerning the more ancient inhabitants and founders of this city, for there are more treasures than one for you, in this city: Therefore be ye as wise as serpents and yet without sin, and I will order all things for your good as fast as ye are able to receive them. Amen. [p. [37]]