Revelation Book 2
Source Note

"Book of Revelations," Revelation Book 2, [ca. Feb. 1832–ca. Nov. 1834]; handwriting of

This volume consists of 152 leaves—including three flyleaves in the front, three flyleaves in the back, and two pastedowns—measuring 11

15/16

x 7⅝ inches (30 x 19 cm). There are twelve gatherings of twelve leaves each. All but the pastedowns and flyleaves are ruled paper with thirty-four horizontal lines in faded blue-green ink. The text block is sewn all along over recessed cords, and the front and back covers of the volume are pasteboard. The book has a tight-back case binding with a brown calfskin quarter-leather binding. The outside covers are adorned in shell marbled paper, with red and black body and veins of green. The bound volume measures 12¼ x 7⅞ x

15/16

inches (31 x 19 x 2 cm). The front cover of the book is labeled "Book of Revelatio[ns] | <A> | <B>" in black ink. An "A" was written over the inserted "A". The inserted "B" is written in a formal style that matches the covers of other manuscript volumes in the Church History Library's holdings.

The inside front cover has "c c/i | pep" or "c c/i | pe/=" written in graphite pencil. Although this notation was written at an unknown time, similar markings appear in at least three other extant volumes.

2

See JS Letterbook 1; Minute Book 1; and Quorum of the Twelve Apostles, Record.  

---

Quorum of the Twelve Apostles, Record / Quorum of the Twelve Apostles. "A Record of the Transactions of the Twelve Apostles of the Church of the Latter Day Saints from the Time of Their Call to the Apostleship Which Was on the 14th Day of Feby. AD 1835," Feb.–Aug. 1835. In Patriarchal Blessings, 1833–, vol. 2. CHL. CR 500 2.

These may be merchandising notations. A slip of white paper pasted on the spine reads "KIRTLAND REVELATIONS".

Affixed to the inside front cover is a half-page sheet containing an index of the volume's contents through manuscript page 47. The partial index, written on cut ruled paper measuring 7¾ × 7⅝ inches (20 × 19 cm), was attached to the inside front cover with an adhesive wafer on each corner. The two upper wafers are now detached. On the verso of the index, "FGW" is written in the upper left-hand corner and a "J", "I", or "T" is centered along the top. What appears to be an "L" is written close to the bottom of the page. The index, which was inscribed by

Frederick G. Williams

28 Oct. 1787–10 Oct. 1842. Ship's pilot, teacher, physician, justice of the peace. Born at Suffield, Hartford Co., Connecticut. Son of William Wheeler Williams and Ruth Granger. Moved to Newburg, Cuyahoga Co., Ohio, 1799. Practiced Thomsonian botanical system...

View Full Bio

, was likely begun before the revelation that begins at the bottom of manuscript page 13 was inscribed. All seven index entries up to that point appear to have been written in one sitting in the same ink flow, while the remaining entries indicate a continually updated index rather than a retrospective index. Williams interlineated the final three index entries (two for manuscript page 33 and one for manuscript page 37) where there was space in the existing text of the index, likely because no space remained at the bottom of the page. Three blank flyleaves follow the index.

The first fifteen pages contain six revelations, one vision, and one journal-like note, all of which were copied into the book as early as February 1832. These eight items are dated circa March 1831–March 1832 and do not appear in chronological order. Manuscript pages 15–83 contain twenty-two revelations and one song, dated March 1832–December 1833, which are largely in chronological order. Manuscript pages 83–97 contain ten items, dated October 1830–April 1832, which were copied into the volume out of chronological order sometime before summer 1834. Manuscript pages 97–116 contain six items, dated February 1834–November 1834, which are out of chronological order. Manuscript pages 117–120 contain three items dated 1830, 23 February 1831, and June 1829. The first two of these items were copied into the manuscript book at the same time. The final copied revelation is followed by eighty-one blank leaves, three leaves of historical notes, three blank flyleaves, and one final pastedown.

Revelation Book 2 was used for the preparation of the 1835 Doctrine and Covenants circa 1834–1835 in

Revelation Book 2 is a manuscript book of revelations and other texts copied into the book over a period of almost three years, from as early as February 1832 to late 1834. The February and March 1832 revelations, as well as other documents transcribed on pages 1–19 of Revelation Book 2, were likely copied before JS left

Ten items within the book (manuscript pages 83–97) are dated between October 1830 and the end of April 1832. While three of the ten had been published previously,

5

Revelation, 4 Feb. 1831, in Book of Commandments 43 [D&C 41]; Revelation, 30 Oct. 1831, in "A Revelation on Prayer, Given October 30, 1831," The Evening and the Morning Star, Sept. 1832, [2] [D&C 65]; Revelation, 30 Apr. 1832, in "Items in Addition to the Laws for the Government of the Church of Christ, Given April, 1832," The Evening and the Morning Star, Jan. 1833, [6] [D&C 83].  

---

the presence of the other seven items appears to be the result of an effort to collect revelations that were not in print by 1834. All are dated several years before they were copied into Revelation Book 2, and four of them were not included in the Book of Commandments although they were available for publication. Of these ten items, nine were later published in the 1835 Doctrine and Covenants.

Note:

At present, the transcript of Revelation Book 2 on this website includes only the original inscriptions, not the later redactions made to the manuscript book to prepare the revelations for publication. A transcript showing the later redactions will eventually be added to this site. Until that time, readers will notice many discrepancies between the images and the transcript. For a transcript that includes the redactions, consult

Revelations and Translations: Manuscript Revelation Books,

facsimile ed. (Salt Lake City: Church Historian's Press, 2009) or

Revelations and Translations, Volume 1: Manuscript Revelation Books

(Salt Lake City: Church Historian's Press, 2011).

Except as described in this note, Revelation Book 2 is presented here electronically as a complete record. In contrast, the

Documents series

presents each revelation separately, placed in chronological order with other documents of various genres. That series includes the earliest and best extant version of each revelation, providing contextual annotation and a historical introduction for each. Readers should consult the Documents series for information about the setting and significance of individual revelations.

Footnotes

Historical Introduction

Revelation Book 2, also known as "Book of Revelations" or "Kirtland Revelation Book," is a manuscript book of revelations and other items. Some of these items, such as a revelation to

Some items within Revelation Book 2 contain ink or graphite editing marks made to prepare them for printing in publications such as the 1835–1836 reprint of

The Evening and the Morning Star

and the 1835 Doctrine and Covenants.

The first item in the manuscript book, titled "The Vision" and dated 16 February 1832, commands JS and

The first two items in Revelation Book 2 (manuscript pages 1–10) were most likely copied between 16 February 1832, the date the first item bears, and 8 March 1832, the date the third item bears. The revelations on manuscript pages 11–19 were likely copied before JS left

Hiram

Area settled by immigrants from Pennsylvania and New England, ca. 1802. Located in northeastern Ohio about twenty-five miles southeast of Kirtland. Population in 1830 about 500. Population in 1840 about 1,100. JS lived in township at home of John and Alice...

More Info

, Ohio, on 1 April 1832 to journey to

Missouri

Area acquired by U.S. in Louisiana Purchase, 1803, and established as territory, 1812. Missouri Compromise, 1820, admitted Missouri as slave state, 1821. Population in 1830 about 140,000; in 1836 about 240,000; and in 1840 about 380,000. Mormon missionaries...

More Info

, as commanded in a revelation in this portion of the manuscript book. JS dictated several revelations while in Missouri, but his scribes did not copy them into the manuscript book when he returned to

The next two revelations in the manuscript book (manuscript pages 19–31) are dated August and September 1832, and both are signed by

Frederick G. Williams

28 Oct. 1787–10 Oct. 1842. Ship's pilot, teacher, physician, justice of the peace. Born at Suffield, Hartford Co., Connecticut. Son of William Wheeler Williams and Ruth Granger. Moved to Newburg, Cuyahoga Co., Ohio, 1799. Practiced Thomsonian botanical system...

View Full Bio

, who served as a scribe for JS during this period. He likely copied these revelations into Revelation Book 2 shortly after they were initially recorded. The next four revelations (manuscript pages 31–48), the first of which was signed by Williams as both scribe and counselor to JS, were likely copied after Williams was appointed as counselor, which occurred by 22 January 1833.

9

Minute Book 1, 22 Jan. 1833.  

---

Minute Book 1 / "Conference A," 1832–1837. CHL. Also available at josephsmithpapers.org.

The next five items (manuscript pages 48–55) were likely copied soon after the dates they bear—late winter and early spring 1833.

The next ten revelations (manuscript pages 83–97) are dated between October 1830 and the end of April 1832 and are not in chronological order. While three of the ten had been published previously (one in the 1833 Book of Commandments

and two in

The Evening and the Morning Star

), the presence of the other seven appears to be the result of an effort to collect revelations that were not in print by 1834. All are dated several years before they were copied into Revelation Book 2, and four of them were not included in the Book of Commandments although they were available for publication. Of these ten revelations, nine were later published in the 1835 Doctrine and Covenants.

While

Though space remained, scribes copied no additional revelations into Revelation Book 2. It is unknown why later revelations were not copied or who possessed the book from 1834 to 1843. Revelations of that period were recorded in other places, such as JS's journals. When working on JS's history in

Nauvoo

Principal gathering place for Saints following expulsion from Missouri. Beginning in 1839, LDS church purchased lands in earlier settlement of Commerce and planned settlement of Commerce City, as well as surrounding areas. Served as church headquarters, 1839...

More Info

, Illinois, in 1843,

William W. Phelps

17 Feb. 1792–7 Mar. 1872. Writer, teacher, printer, newspaper editor, publisher, postmaster, lawyer. Born at Hanover, Morris Co., New Jersey. Son of Enon Phelps and Mehitabel Goldsmith. Moved to Homer, Cortland Co., New York, 1800. Married Sally Waterman,...

View Full Bio

and

Willard Richards

24 June 1804–11 Mar. 1854. Teacher, lecturer, doctor, clerk, printer, editor, postmaster. Born at Hopkinton, Middlesex Co., Massachusetts. Son of Joseph Richards and Rhoda Howe. Moved to Richmond, Berkshire Co., Massachusetts, 1813. Moved to Chatham, Columbia...

View Full Bio

used three blank leaves in the back of Revelation Book 2 to record information not incorporated into the history, often citing sources for the new material.

In addition to marking corrections, those preparing the items in Revelation Book 2 for publication pinned into the manuscript book slips of paper that contained additions or clarifications to the original text. Two such slips are extant in Revelation Book 2, and they are transcribed as separate leaves where they appear in the manuscript book. Elsewhere in Revelation Book 2, visible pinholes likely mark where additional slips were fastened to the page as texts were copied or prepared for publication.

21

See here for an example of a slip of paper that was pinned to the page. A series of pinholes is also visible on manuscript page 69.  

---

These marks, which suggest how the manuscript book was created, are identified in the textual annotation.

The leaf containing pages 54–55 of JS's March–September 1838 journal, entitled "Scriptory Book," was torn from that journal and inserted into Revelation Book 2, probably in the late nineteenth or early twentieth century when revelations from different locations in the Church Historian's Office were assembled into one collection. That leaf is no longer in Revelation Book 2; it remains separated from the journal and is in the Revelations Collection. The leaf includes two revelations dated 8 July 1838 and is transcribed in its original location in the first volume of the Journals series. A document related to the history-writing effort in

Note:

At present, the transcript of Revelation Book 2 on this website includes only the original inscriptions, not the later redactions made to the manuscript book to prepare the revelations for publication. A transcript showing the later redactions will eventually be added to this site. Until that time, readers will notice many discrepancies between the images and the transcript. For a transcript that includes the redactions, consult

Revelations and Translations: Manuscript Revelation Books,

facsimile ed. (Salt Lake City: Church Historian's Press, 2009) or

Revelations and Translations, Volume 1: Manuscript Revelation Books

(Salt Lake City: Church Historian's Press, 2011).

Except as described in this note, Revelation Book 2 is presented here electronically as a complete record. In contrast, the

Documents series

presents each revelation separately, placed in chronological order with other documents of various genres. That series includes the earliest and best extant version of each revelation, providing contextual annotation and a historical introduction for each. Readers should consult the Documents series for information about the setting and significance of individual revelations.

Footnotes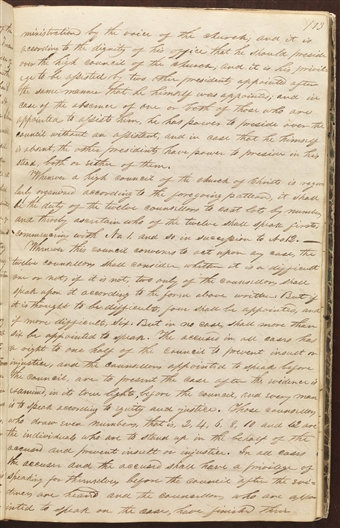 ministration by the voice of the church; and it is
according to the dignity of his office that he should preside
over the high council of the church; and it is his privil
ege to be assisted by two other presidents appointed after
the same manner that he himself was appointed; and in
case of the abscence of one or both of those who are
appointed to assist him, he has power to preside over the
council without an assistant, and in case that he himself
is absent, the other presidints have power to preside in his
stead, both or either of them.
Whenever a high council of the church of Christ is regu
larly organized according to the foregoing pattern, it shall
be the duty of the twelve counsellors to cast lots by numbers
and thereby ascertain who of the twelve shall speak first;
commenceing with No. 1. and so in succession to No. 12.—
Whenever this council convenes to act upon any case, the
twelve counsellors shall consider whether it is a difficult
one or not; if it is not, two only of the counsellors shall
speak upon it according to the form above written: But if
it is thought to be difficult, four shall be appointed, and
if more difficult, six: But in no case, shall more than
six be appointed to speak. The accused in all cases has
a right to one half of the council to prevent insult or
injustice; and the counsellors appointed to speak before
the council, are to present the case after the evidence is
examined, in its true light, before the council, and every man
is to speak according to equity and justice. Those counsellors
who draw even numbers, that is, 2, 4, 6, 8, 10 and 12 are
the individuals who are to stand up in the behalf of the
accused and prevent insult or injustice. In all cases
the accuser and the accused shall have a privilege of
speaking for themselves before the council after the evi
dences are heard and the counsellors who are appo
inted to speak on the case, have finished their [p. 113]
ministration by the voice of the church; and it is according to the dignity of his office that he should preside over the high council of the church; and it is his privilege to be assisted by two other presidents appointed after the same manner that he himself was appointed; and in case of the abscence of one or both of those who are appointed to assist him, he has power to preside over the council without an assistant, and in case that he himself is absent, the other presidints have power to preside in his stead, both or either of them.
Whenever a high council of the church of Christ is regularly organized according to the foregoing pattern, it shall be the duty of the twelve counsellors to cast lots by numbers and thereby ascertain who of the twelve shall speak first; commenceing with No. 1. and so in succession to No. 12.—
Whenever this council convenes to act upon any case, the twelve counsellors shall consider whether it is a difficult one or not; if it is not, two only of the counsellors shall speak upon it according to the form above written: But if it is thought to be difficult, four shall be appointed, and if more difficult, six: But in no case, shall more than six be appointed to speak. The accused in all cases has a right to one half of the council to prevent insult or injustice; and the counsellors appointed to speak before the council, are to present the case after the evidence is examined, in its true light, before the council, and every man is to speak according to equity and justice. Those counsellors who draw even numbers, that is, 2, 4, 6, 8, 10 and 12 are the individuals who are to stand up in the behalf of the accused and prevent insult or injustice. In all cases the accuser and the accused shall have a privilege of speaking for themselves before the council after the evidences are heard and the counsellors who are appointed to speak on the case, have finished their [p. 113]