Copy of Evidence, circa Late 1838–circa Early 1839 [State of Missouri v. Gates et al. for Treason]
Source Note

Copy of Evidence, , Ray Co., MO, ca. late 1838–ca. early 1839; unidentified handwriting; fifty-seven pages; Mormon War Papers, MSA.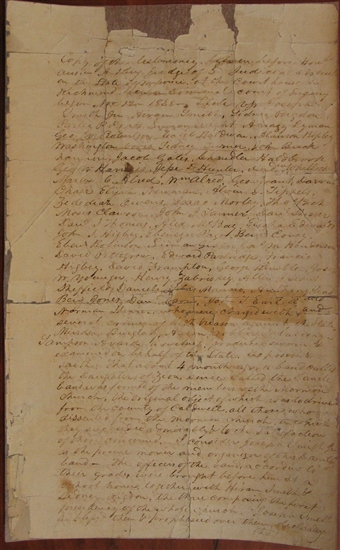 Copy of the testimoney
before
given before Hon
le
Judge of 5
th
Judicial circuit in the State of . at the Court house in . by a criminal court of Enquiry begun Nov 12— 1838— State vs Joseph Smith Jr, , , , , , , Washington Voris Sidney Turner, JohnBuckhannon, Jacob Gates, Chandler Haldbrook , Jesse D Hunter, And
w
Whitlock Martin C. Al[l]red, W
m
Al[l]red, , Elijah Newman, , Zedediah Owens, , Tho
s
Beck Moses Clawson, John J Tanner, Dan
l
Shearer Dan
l
J Thomas, , Elisha Edwards John S. Higbey [Higbee], Ebenezer Page, Benj
a
Covey, , Ja
s
M Henderson , , , David Frampton, George Kimble, Joseph W. Younger, Henry Zabriskey Allen J Stout Sheffield Daniels, Silas Manard, Anthony Head Benj Jones, Dan
l.
Carn, John T. Earl and Norman Shearer who were charged with and
[illegible]
several crimes of High treason against the State, Murder, Burglary, Arson, robbery & larceny—
a witness, produced sworn & examined on behalf of the State. Deposeth & saith:
That about 4 months ago, a band called the Daughters of Zion, since called the Danite band was formed of the members of the Mormon church, the original object of which was to drive from the county of , all those who dissented from the the mormon church, in which they succeeded admirably & to the satisfaction of the concerned. I consider Joseph Smith Jun as the prime mover and organizer of this Danite band— The officers of the band, according to their grades were brought before him at a school house, together with & , the three composing the first presidency of the whole church. Joseph Smith Jr blessed them & prophesied over them, declaring that [p. [1]]
Copy of the testimoney given before Honle Judge of 5th Judicial circuit in the State of . at the Court house in . by a criminal court of Enquiry begun Nov 12— 1838— State vs Joseph Smith Jr, , , , , , , Washington Voris Sidney Turner, JohnBuckhannon, Jacob Gates, Chandler Haldbrook , Jesse D Hunter, Andw Whitlock Martin C. Allred, Wm Allred, , Elijah Newman, , Zedediah Owens, , Thos Beck Moses Clawson, John J Tanner, Danl Shearer Danl J Thomas, , Elisha Edwards John S. Higbey Higbee, Ebenezer Page, Benja Covey, , Jas M Henderson , , , David Frampton, George Kimble, Joseph W. Younger, Henry Zabriskey Allen J Stout Sheffield Daniels, Silas Manard, Anthony Head Benj Jones, Danl. Carn, John T. Earl and Norman Shearer who were charged with and several crimes of High treason against the State, Murder, Burglary, Arson, robbery & larceny—
a witness, produced sworn & examined on behalf of the State. Deposeth & saith:
That about 4 months ago, a band called the Daughters of Zion, since called the Danite band was formed of the members of the Mormon church, the original object of which was to drive from the county of , all those who dissented from the the mormon church, in which they succeeded admirably & to the satisfaction of the concerned. I consider Joseph Smith Jun as the prime mover and organizer of this Danite band— The officers of the band, according to their grades were brought before him at a school house, together with & , the three composing the first presidency of the whole church. Joseph Smith Jr blessed them & prophesied over them, declaring that [p. [1]]