Home

>
Editorial, 15 July 1842–A
Source Note

JS, Editorial, "The Government of God," , Hancock Co., IL, 15 July 1842; in

Times and Seasons,

15 July 1842, 3:855–858.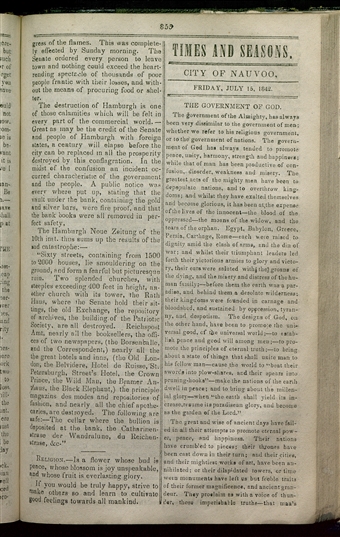 THE GOVERNMENT OF GOD.
The government of the Almighty, has always been very dissimilar to the government of men; whether we refer to his religious government, or to the government of nations. The government of God has always tended to promote peace, unity, harmony, strength and happiness; while that of man has been productive of confusion, disorder, weakness and misery. The greatest acts of the mighty men have been to depopulate nations, and to overthrow kingdoms; and whilst they have exalted themselves and become glorious, it has been at the expense of the lives of the innocent—the blood of the oppressed—the moans of the widow, and the tears of the orphan. Egypt, Babylon, Greece, Persia, Carthage, Rome—each were raised to dignity amid the clash of arms, and the din of war; and whilst their triumphant leaders led forth their victorious armies to glory and victory, their ears were saluted with the groans of the dying, and the misery and distress of the human family;—before them the earth was a paradise, and behind them a desolate wilderness; their kingdoms were founded in carnage and bloodshed, and sustained by oppression, tyranny, and despotism. The designs of God, on the other hand, have been to promote the universal good, of the universal world;—to establish peace and good will among men;—to promote the principles of eternal truth;—to bring about a state of things that shall unite man to his fellow man—cause the world to "beat their swords into plow-shares, and their spears into pruning-hooks"—make the nations of the earth dwell in peace; and to bring about the millenial glory—when "the earth shall yield its increase, resume its paradisean glory, and become as the garden of the Lord."
The great and wise of ancient days have failed in all their attempts to promote eternal power, peace, and happiness. Their nations have crumbled to pieces; their thrones have been cast down in their turn; and their cities, and their mightiest works of art have been annihilated; or their dilapidated towers, or time worn monuments have left us but feeble traits of their former magnificence, and ancient grandeur. They proclaim as with a voice of thunder, those imperishable truths—that man's [p. 855]
THE GOVERNMENT OF GOD.
The government of the Almighty, has always been very dissimilar to the government of men; whether we refer to his religious government, or to the government of nations. The government of God has always tended to promote peace, unity, harmony, strength and happiness; while that of man has been productive of confusion, disorder, weakness and misery. The greatest acts of the mighty men have been to depopulate nations, and to overthrow kingdoms; and whilst they have exalted themselves and become glorious, it has been at the expense of the lives of the innocent—the blood of the oppressed—the moans of the widow, and the tears of the orphan. Egypt, Babylon, Greece, Persia, Carthage, Rome—each were raised to dignity amid the clash of arms, and the din of war; and whilst their triumphant leaders led forth their victorious armies to glory and victory, their ears were saluted with the groans of the dying, and the misery and distress of the human family;—before them the earth was a paradise, and behind them a desolate wilderness; their kingdoms were founded in carnage and bloodshed, and sustained by oppression, tyranny, and despotism. The designs of God, on the other hand, have been to promote the universal good, of the universal world;—to establish peace and good will among men;—to promote the principles of eternal truth;—to bring about a state of things that shall unite man to his fellow man—cause the world to "beat their swords into plow-shares, and their spears into pruning-hooks"—make the nations of the earth dwell in peace; and to bring about the millenial glory—when "the earth shall yield its increase, resume its paradisean glory, and become as the garden of the Lord."
The great and wise of ancient days have failed in all their attempts to promote eternal power, peace, and happiness. Their nations have crumbled to pieces; their thrones have been cast down in their turn; and their cities, and their mightiest works of art have been annihilated; or their dilapidated towers, or time worn monuments have left us but feeble traits of their former magnificence, and ancient grandeur. They proclaim as with a voice of thunder, those imperishable truths—that man's [p. 855]