Home

>
Editorial, 15 July 1842–A
Source Note

JS, Editorial, "The Government of God," , Hancock Co., IL, 15 July 1842; in

Times and Seasons,

15 July 1842, 3:855–858.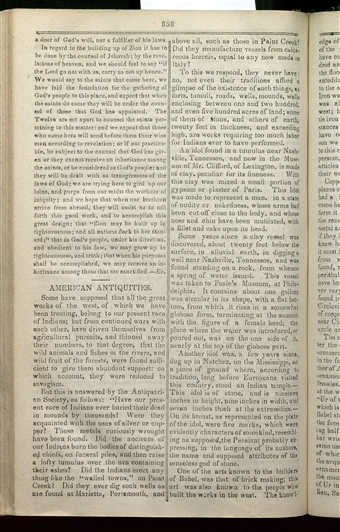 a doer of God's will, nor a fulfiller of his laws.
In regard to the building up of Zion it has to be done by the counsel of Jehovah; by the revelations of heaven, and we should feel to say "if the Lord go not with us, carry us not up hence." We would say to the saints that come here, we have laid the foundation for the gathering of God's people to this place, and expect that when the saints do come they will be under the counsel of those that God has appointed. The Twelve are set apart to counsel the saints pertaining to this matter: and we expect that those who come here will send before them their wise men according to revelation; or if not practicable, be subject to the counsel that God has given or they cannot receive an inheritance among the saints, or be considered as God's people; and they will be dealt with as transgressors of the laws of God; we are trying here to gird up our loins, and purge from our midst the workers of iniquity; and we hope that when our brethren arrive from abroad, they will assist us to roll forth this good work, and to accomplish this great design; that "Zion may be built up in righteousness; and all nations flock to her stan[d]ard;" that as God's people, under his direction, and obedient to his law, we may grow up in righteousness, and truth; that when his purposes shall be accomplished, we may receive an inheritance among those that are sanctified.—
Ed
. [p. 858]
a doer of God's will, nor a fulfiller of his laws.
In regard to the building up of Zion it has to be done by the counsel of Jehovah; by the revelations of heaven, and we should feel to say "if the Lord go not with us, carry us not up hence." We would say to the saints that come here, we have laid the foundation for the gathering of God's people to this place, and expect that when the saints do come they will be under the counsel of those that God has appointed. The Twelve are set apart to counsel the saints pertaining to this matter: and we expect that those who come here will send before them their wise men according to revelation; or if not practicable, be subject to the counsel that God has given or they cannot receive an inheritance among the saints, or be considered as God's people; and they will be dealt with as transgressors of the laws of God; we are trying here to gird up our loins, and purge from our midst the workers of iniquity; and we hope that when our brethren arrive from abroad, they will assist us to roll forth this good work, and to accomplish this great design; that "Zion may be built up in righteousness; and all nations flock to her standard;" that as God's people, under his direction, and obedient to his law, we may grow up in righteousness, and truth; that when his purposes shall be accomplished, we may receive an inheritance among those that are sanctified.—
Ed
. [p. 858]