Home

>
Minutes and Discourses, 6–9 April 1844, as Reported by Thomas Bullock
Source Note

General conference of the church, Minutes, and JS, Discourses, Nauvoo, Hancock Co., IL, 6–9 Apr. 1844; handwriting of ; dockets in handwriting of ; forty-one pages; General Church Minutes, CHL.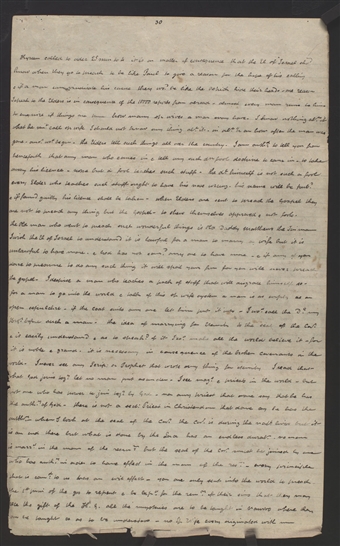 called to order 25 min to 4 it is a matter of consequence that the El[ders] of Israel sho
d
know when they go to preach to be like Paul to give a reason for the hope of his calling & if a man can<​not​> vindicate his cause they wo
d.
be like the Ostrich hide their heads— one reason I speak to the Elders is in consequence of the 10000 reports from abroad— almost every man runs to him— to enquire if things are true how many sp[iritual] wives a man may have— I know nothing ab
t.
it What he mi[gh]
t.
call sp wife I should not know any thing ab
t.
it— in ab
t.
½ an hour after the man was gone— ano
r.
wo
d.
begin— the Elders tell such things all over the country. I am auth[orize]
d

.
to tell you from henceforth that any man who comes in & tell any such d
n
fool doctrine to come in— to take away his licence— none but a fool teaches such stuff— the d[evi]
l.
himself is not such a fool every Elder who teaches such stuff ought to have his nose wrung— his name will be pub[lishe]
d.
& if found guilty his licence shall be taken— when Elders are sent to preach the Gospel they are not to preach any thing but the Gospel— to shew themselves approved & not fools. the Old man who went to preach such wonderful things is old Daddy Matthews the Tin man— I wish the El of Israel to understand it is lawful for a man to marry a wife but it is unlawful to have more. & God has not com[mande]
d.
any one to have more— & if any of you dare to presume to do any such thing it will spoil your fun for you will never preach the gospel— I despise a man who teaches a pack of stuff that will disgrace himself so— for a man to go into the world & talk of this sp wife system a man is as empty as an open sepulchre— if the coat suits any one let him put it into— I wo
d.
call the D
l.
my Bro
r.
before such a man— the idea of marrying for Eternity is the seal of the Cov[enan]
t.
& is easily understand & as to speak[in]
g.
of it I co
d.
make all the world believe it— for it is noble & grand. it is necessary in conequence of the broken covenants in the world— I never see any Scrip[ture]: or Prophet that wrote every thing for eternity I read that what God joins tog
r.
let no man put asunder— I see mag[istrate]
s.
& priests in the world— but not one who has power to join tog
r.
by God— nor any priest that dare say he has the auth[orit]
y.
of God— there is not a sect[arian]: Priest in Christendom that dare say he has the auth
y

.
— when I look at the seal of the Cov
t.
the Cov
t.
is during the nat[ura]
l.
lives but it is an end there but what is done by the Lord has an endless durat[io]
n.
. No man is marr[ie]
d.
in the morn of the resur[rectio]
n

.
but the seal of the Cov
t.
must be joined by one who has auth
y.
in order to have effect in the morn of the res
n.
— every principle that is com[mande]
d
to us has an evil effect— you are only sent into the world to preach— the 1
st
prin[ciples] of the gos[pel] to repent & be bap[tize]
d.
for the rem[issio]
n.
of their sins that they may rece[eive] the gift of the H. G. [Holy Ghost] all the mysteries are to be taught in where they can be taught so as to be understood— no Sp Wife every originated with me [p. 30]
called to order 25 min to 4 it is a matter of consequence that the Elders of Israel shod know when they go to preach to be like Paul to give a reason for the hope of his calling & if a man cannot vindicate his cause they wod. be like the Ostrich hide their heads— one reason I speak to the Elders is in consequence of the 10000 reports from abroad— almost every man runs to him— to enquire if things are true how many spiritual wives a man may have— I know nothing abt. it What he might. call sp wife I should not know any thing abt. it— in abt. ½ an hour after the man was gone— anor. wod. begin— the Elders tell such things all over the country. I am authorize
d
. to tell you from henceforth that any man who comes in & tell any such dn fool doctrine to come in— to take away his licence— none but a fool teaches such stuff— the devil. himself is not such a fool every Elder who teaches such stuff ought to have his nose wrung— his name will be published. & if found guilty his licence shall be taken— when Elders are sent to preach the Gospel they are not to preach any thing but the Gospel— to shew themselves approved & not fools. the Old man who went to preach such wonderful things is old Daddy Matthews the Tin man— I wish the El of Israel to understand it is lawful for a man to marry a wife but it is unlawful to have more. & God has not commanded. any one to have more— & if any of you dare to presume to do any such thing it will spoil your fun for you will never preach the gospel— I despise a man who teaches a pack of stuff that will disgrace himself so— for a man to go into the world & talk of this sp wife system a man is as empty as an open sepulchre— if the coat suits any one let him put it into— I wod. call the Dl. my Bror. before such a man— the idea of marrying for Eternity is the seal of the Covenant. & is easily understand & as to speaking. of it I cod. make all the world believe it— for it is noble & grand. it is necessary in conequence of the broken covenants in the world— I never see any Scripture: or Prophet that wrote every thing for eternity I read that what God joins togr. let no man put asunder— I see magistrates. & priests in the world— but not one who has power to join togr. by God— nor any priest that dare say he has the authority. of God— there is not a sectarian: Priest in Christendom that dare say he has the auth
y
.— when I look at the seal of the Covt. the Covt. is during the natural. lives but it is an end there but what is done by the Lord has an endless duration.. No man is married. in the morn of the resurrectio
n
. but the seal of the Covt. must be joined by one who has authy. in order to have effect in the morn of the resn.— every principle that is commande
d
to us has an evil effect— you are only sent into the world to preach— the 1st principles of the gospel to repent & be baptized. for the remission. of their sins that they may receeive the gift of the H. G. [Holy Ghost] all the mysteries are to be taught in where they can be taught so as to be understood— no Sp Wife every originated with me [p. 30]