Minutes and Discourses, 6–9 April 1844, as Reported by Thomas Bullock
Source Note

General conference of the church, Minutes, and JS, Discourses, Nauvoo, Hancock Co., IL, 6–9 Apr. 1844; handwriting of ; dockets in handwriting of ; forty-one pages; General Church Minutes, CHL.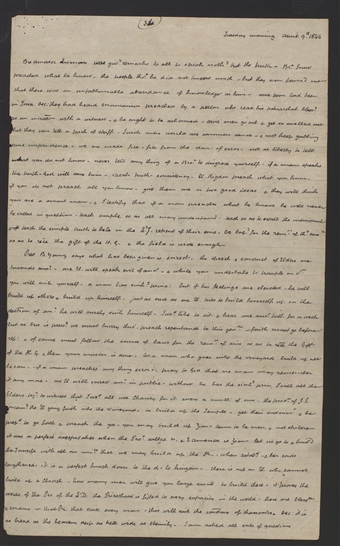 Tuesday morning april 9
th.
1844
Bro was giv[in]
g.
remarks to all to speak noth[in]
g
but the truth— Br
o.
Snow preached what he knew— the people tho
t.
he did not know much— but they soon found out that there was an unfathomable abundance of knowledge in him— some p[er]son had been in bec[ause]: they had heard Mormonism preached by a person who read his patriarchal bless[in]
g.
as an introd[ucti]on with a witness— & he ought to be ashamed— some men go out & get so swelled out [t]hat they can tell a pack of stuff— I wish men would use common sense— & not keep gabbing some imprudence— we are made free— free from the dan: of error— not at liberty to tell what you do not know— never tell any thing of a Bro
r.
to disgrace yourself— if a man speaks the truth— God will save him— speak truth— consistency— preach what you know— if you do not preach all you know— give them one or two good ideas & they will think you are a smart man— & I testify that if a man preaches what he knows he will never be called in question— teach simple so as all may understand— teach so as to exalt the individual
& if
teach the simple truth to bel[iev]e in the L[or]
d.
G[od]— repent of their sins— be bap[tize]
d.
for the rem[issio]
n.
of th[ei]
r.
sins so as to rece[ive] the gift of the H. G. [Holy Ghost] & the field is wide enough—
Pres says what has been given is correct. the speech & conduct of Elders one towards ano
r.
— one El. will speak evil of ano
r.
— & while you undertake to trample ano
r.
you will sink yourself— a man has sink
g.
princ: but if his feelings are elevated— he will build up others & build up himself— just as sure as one El. tries to build himsself up on the destr[ucti]on of an
r.
he will surely sink himself— I wo
d.
like to sit & hear one ano
r.
talk for a week but as bus[iness] is press[in]
g.
we must hurry thro'— preach repentance to this gen[erati]
on.
— faith must go before rep[entance]: & of course must follow the course of laws for the rem
n.
of sins so as to rece the Gift of the H. G. & then your mission is done. let a man who goes into the vineyard build up all he can
——
if a man preaches any thing error— pray to God that no man may remember it any more— no El will correct an
r.
in public— without he has the sink
g.
prin I call all the Elders tog
r.
to witness that I wo
d.
all use Charity for it covers a mult[itude]: of sins— the proc[lamatio]
n.
of J. S. [c]oncern
g.
the El going forth into the Vineyard— to build up the — get their endowm[en]
t.
& be prep[are]
d.
to go forth & preach the gos[pel]— you may build up Zion— learn to be men. & not children it was a perfect sweepstakes when the Pro
t.
called N. & S. America is Zion— let us go to & build the with all our mi[gh]
ts.
that we may build up the K[ingdom]
——
when estab
d

.
— & her cords lengthened— it is a perfect knock down to the d—ls kingdom— there is not an El. who cannot build up a Church— how many men will give you large sums to build there— it proves the words of the Pro of the L. D. [latter days] the Priesthood is filled to every capacity in the world— there are bless
gs
& cond[iti]ons in that Pri[esthood] that suits every man— this will suit the cond[iti]ons of thousands. & bec: it is as broad as the heavens deep as hell wide as eternity— I am asked all sorts of questions [p. 34]
Tuesday morning april 9th. 1844
Bro was giving. remarks to all to speak nothing but the truth— Bro. Snow preached what he knew— the people thot. he did not know much— but they soon found out that there was an unfathomable abundance of knowledge in him— some person had been in because: they had heard Mormonism preached by a person who read his patriarchal blessing. as an introduction with a witness— & he ought to be ashamed— some men go out & get so swelled out that they can tell a pack of stuff— I wish men would use common sense— & not keep gabbing some imprudence— we are made free— free from the dan: of error— not at liberty to tell what you do not know— never tell any thing of a Bror. to disgrace yourself— if a man speaks the truth— God will save him— speak truth— consistency— preach what you know— if you do not preach all you know— give them one or two good ideas & they will think you are a smart man— & I testify that if a man preaches what he knows he will never be called in question— teach simple so as all may understand— teach so as to exalt the individual teach the simple truth to believe in the Lord. God— repent of their sins— be baptized. for the remission. of their. sins so as to receive the gift of the H. G. Holy Ghost & the field is wide enough—
Pres says what has been given is correct. the speech & conduct of Elders one towards anor.— one El. will speak evil of anor.— & while you undertake to trample anor. you will sink yourself— a man has sinkg. princ: but if his feelings are elevated— he will build up others & build up himself— just as sure as one El. tries to build himsself up on the destruction of anr. he will surely sink himself— I wod. like to sit & hear one anor. talk for a week but as business is pressing. we must hurry thro'— preach repentance to this generation.— faith must go before repentance: & of course must follow the course of laws for the remn. of sins so as to rece the Gift of the H. G. & then your mission is done. let a man who goes into the vineyard build up all he can
——
if a man preaches any thing error— pray to God that no man may remember it any more— no El will correct anr. in public— without he has the sinkg. prin I call all the Elders togr. to witness that I wod. all use Charity for it covers a multitude: of sins— the proclamation. of J. S. concerng. the El going forth into the Vineyard— to build up the — get their endowment. & be prepared. to go forth & preach the gospel— you may build up Zion— learn to be men. & not children it was a perfect sweepstakes when the Prot. called N. & S. America is Zion— let us go to & build the with all our mights. that we may build up the Kingdom
——
when estab
d
.— & her cords lengthened— it is a perfect knock down to the d—ls kingdom— there is not an El. who cannot build up a Church— how many men will give you large sums to build there— it proves the words of the Pro of the L. D. latter days the Priesthood is filled to every capacity in the world— there are blessgs & conditions in that Priesthood that suits every man— this will suit the conditions of thousands. & bec: it is as broad as the heavens deep as hell wide as eternity— I am asked all sorts of questions [p. 34]