Home

>
Minutes and Discourses, 6–9 April 1844, as Reported by Thomas Bullock
Source Note

General conference of the church, Minutes, and JS, Discourses, Nauvoo, Hancock Co., IL, 6–9 Apr. 1844; handwriting of ; dockets in handwriting of ; forty-one pages; General Church Minutes, CHL.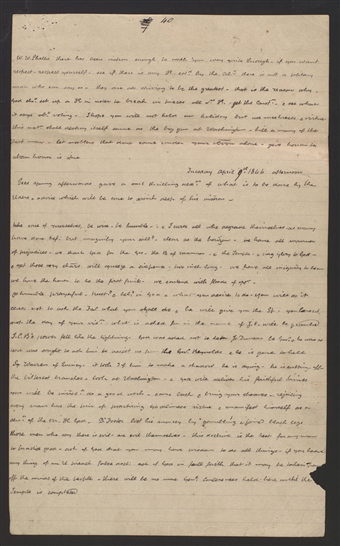 there has been instr[ucti]on enough to walk you[r] way quite through— if you want respect— respect yourself— see if there is any K[ingdom] est[ablishe]
d.
by the Al:
y
there is not a solitary man who can say so— they are all striving to be the greatest— that is the reason why God sho
d.
set up a K in order to break in pieces all o[the]
rs.
K.— get the Const[itutio]
n.
— & see what it says ab[ou]
t.
voting— I hope you will not hold an holiday but use meekness & virtue this nat[io]
n.
shall destroy itself same as the big gun at — kill a many of the best men— let matters that dont come under your obs[ervati]on alone— give honor to whom honor is due
Tuesday April 9
th.
1844 afternoon
afterwards gave a soul thrilling desc[riptio]
n.
of what is to be done by the Elders & advice which will be sure to drink deep of his instr[ucti]on—
take care of yourselves, be wise— be humble
——
& I curse all who degrade themselves as many have done bef[ore]: but magnify your call[in]
g.
— clear as the horizon— we have all manner of prejudices— we thank God for the Gos[pel]— the B. of Mormon— & the — & sing Glory to God— & yet those very chars will squeeze a sixpence— two inch long— we have all iniquity to bear we have the honor to be the first fruits— we contend with floods of opp[ressio]
n.
—
go humble prayerful— trust[in]
g.
& bel[ievi]
g.
in God & what you desire to do— you will do it cease not to ask the Fa[the]
r.
what you shall do & he will give you the Sp[irit]. you know not the day of your vis
n.
— what is asked for in the name of J. C. [Jesus Christ] will be granted power fell like the lightning— God was asked not to let be Gov[erno]
r.
& he was so God was sought to ask him to assist us from the & he is gone to hell Sq Warren of — it took 3 of him to make a shadow he is dying— he is cutting off the bitterest branches— look at — & God will deliver his faithful Saints you will be innoc[en]
t.
do a good work— come back & bring your sheaves— rejoicing every man has the prin[ciple] of practicing Godliness virtue & manifest himself as a serv
n.
[servant] of the M. H God— lost his money by gambling & joined black legs those men who say there is evil— are evil themselves— this doctrine is the best for any man to practice good— ask of God that you may have wisdom to do all things— if you heard any thing of an El[der] preach false doct[rine]: ask of God in full faith that it may be taken from off the minds of the people— there will be no more Gen[era]
l.
Conferences held here until the is completed [p. 40]
there has been instruction enough to walk your way quite through— if you want respect— respect yourself— see if there is any Kingdom established. by the Al:
y
there is not a solitary man who can say so— they are all striving to be the greatest— that is the reason why God shod. set up a K in order to break in pieces all others. K.— get the Constitution.— & see what it says about. voting— I hope you will not hold an holiday but use meekness & virtue this nation. shall destroy itself same as the big gun at — kill a many of the best men— let matters that dont come under your observation alone— give honor to whom honor is due
Tuesday April 9th. 1844 afternoon
afterwards gave a soul thrilling description. of what is to be done by the Elders & advice which will be sure to drink deep of his instruction—
take care of yourselves, be wise— be humble
——
& I curse all who degrade themselves as many have done before: but magnify your calling.— clear as the horizon— we have all manner of prejudices— we thank God for the Gospel— the B. of Mormon— & the — & sing Glory to God— & yet those very chars will squeeze a sixpence— two inch long— we have all iniquity to bear we have the honor to be the first fruits— we contend with floods of oppression.—
go humble prayerful— trusting. & believig. in God & what you desire to do— you will do it cease not to ask the Father. what you shall do & he will give you the Spirit. you know not the day of your visn.— what is asked for in the name of J. C. [Jesus Christ] will be granted power fell like the lightning— God was asked not to let be Governor. & he was so God was sought to ask him to assist us from the & he is gone to hell Sq Warren of — it took 3 of him to make a shadow he is dying— he is cutting off the bitterest branches— look at — & God will deliver his faithful Saints you will be innocent. do a good work— come back & bring your sheaves— rejoicing every man has the principle of practicing Godliness virtue & manifest himself as a servn. [servant] of the M. H God— lost his money by gambling & joined black legs those men who say there is evil— are evil themselves— this doctrine is the best for any man to practice good— ask of God that you may have wisdom to do all things— if you heard any thing of an Elder preach false doctrine: ask of God in full faith that it may be taken from off the minds of the people— there will be no more General. Conferences held here until the is completed [p. 40]