Home

>
Warrant, 1 April 1844 [State of Illinois v. Greene et al. on Habeas Corpus]
Source Note

, Warrant, to sheriff, coroner, or constable, for , , and , [], Hancock Co., IL, 1 Apr. 1844,

State of IL v. Greene et al. on

(Nauvoo, IL, Municipal Court 1844). Copied [ca. 2 Apr. 1844]; handwriting of ; certified by , 1 Apr. 1844; docket and notation by , [, Hancock Co., IL], ca. 2 Apr. 1844; two pages; Nauvoo, IL, Records, CHL. Includes seal.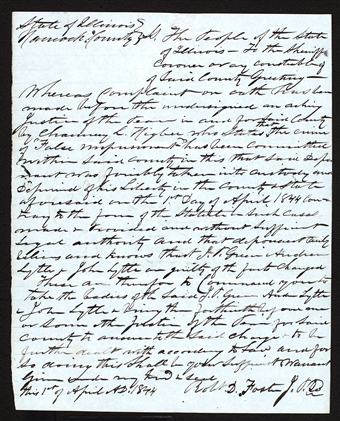 State of Illinois)
SS. [scilicet]
)
The People of the State of — To the Sherriff
s
coroner or any constable of of Said Greeting—
Whereas Complaint on oath has been made before the undersigned an acting Justice of the Peace in and for said by who states <​that​> the crime of "False imprisonment" has been committed within said in this that said was foriably [forcibly] taken into custody and Deprived of his Liberty in the & aforesaid on the 1
st.
Day of April 1844 contrary to the form of the Statute in such cases made & Provided and without sufficient Legal authority and that verily believes and knows that & are guilty of the facts charged
These are therefore to Command you to take the bodies of the Said & & bring them forthwith before me or some other Justice of the Peace for said to answer to the said charge & to be furthr dealt with according to Law and for so doing this Shall be your sufficient Warrant
Given under my hand & seal this 1
st
of April A.D. 1844
State of Illinois)
SS. [scilicet]
)
The People of the State of — To the Sherriff coroner or any constable of of Said Greeting—
Whereas Complaint on oath has been made before the undersigned an acting Justice of the Peace in and for said by who states that the crime of "False imprisonment" has been committed within said in this that said was foriably [forcibly] taken into custody and Deprived of his Liberty in the & aforesaid on the 1st. Day of April 1844 contrary to the form of the Statute in such cases made & Provided and without sufficient Legal authority and that verily believes and knows that & are guilty of the facts charged
These are therefore to Command you to take the bodies of the Said & & bring them forthwith before me or some other Justice of the Peace for said to answer to the said charge & to be furthr dealt with according to Law and for so doing this Shall be your sufficient Warrant
Given under my hand & seal this 1st of April A.D. 1844
J. P. [p. [1]]