Histories, Volume 1: Joseph Smith Histories, 1832–1844
Histories, Volume 1: Joseph Smith Histories, 1832–1844

Purchase: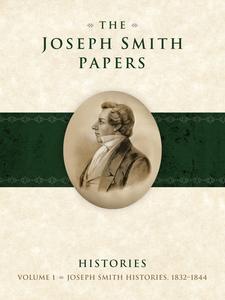 Volume 1 of the Histories series, published in 2012, presents the six personal and church histories written, dictated, or closely supervised by Joseph Smith. This volume includes accounts of Joseph Smith's foundational spiritual experiences, including his first vision of Deity, the ministering of the angel Moroni to him, the discovery of the gold plates and translation of the Book of Mormon, and the bestowal of priesthood authority. Other histories in this volume give a day-by-day account of the mid-1830s in Kirtland, Ohio, and Joseph Smith's narration of the "Mormon War" and the events leading up his imprisonment in Missouri. Also included is Joseph Smith's original summary of church beliefs and practices, later known as the Articles of Faith. ISBN-13: 978-1-60641-196-4
Volume Editors
Karen Lynn Davidson is a former member of the English faculty and director of the honors program at Brigham Young University. David J. Whittaker is curator of nineteenth-century western and Mormon manuscripts, L. Tom Perry Special Collections, Harold B. Lee Library; and associate professor of history, Brigham Young University. Mark Ashurst-McGee and Richard L. Jensen are historians for the Church History Department, The Church of Jesus Christ of Latter-day Saints.
Additional Content
Media
About This Volume
In November of 1843, when Willard Richards and William W. Phelps were compiling the "History of Joseph Smith," they reported that noise from a nearby school "disturbed the history & prevent[e]d its progress." Joseph Smith immediately instructed that the class be relocated. "The History must continue, and not be disturbed," he declared; "there are but few subjects that I have felt a greater anxiety about than my History." On another occasion he told Phelps of a message that had come to him in a dream: "the history must go ahead before any thing."
Though lawsuits, financial problems, violent opposition, and other impediments often interfered with Joseph Smith's attempts to write and oversee the creation of church history, sustained interest and repeated efforts yielded significant results, including several important narrative histories. Presented in this first volume of the Histories series are the six histories that Joseph Smith personally wrote, dictated, or supervised.
With the assistance of Frederick G. Williams, Joseph Smith first set about recording his own history in the summer of 1832. In it he recounted for the first time in writing his first vision of Deity and the discovery of the gold plates. Two years later a more ambitious project, the 1834–1836 history, was initiated. This history drew largely on existing records, including Oliver Cowdery's account of the translation of the Book of Mormon and the conferral of priesthood authority. Like the 1832 history, this manuscript remained unfinished.
In April 1838, Joseph Smith began work on a new "history of this Church from the earliest perio[d]," the work that would eventually become the multivolume History of the Church. This volume of The Joseph Smith Papers presents in parallel columns for convenient comparison the three earliest surviving manuscripts of that history: an 1839 draft covering the period from May 1829 to September 1830; a sixty-one-page excerpt (from the volume later known as A-1) drafted from 1839 to about 1841 that covers the time from Smith's birth through late 1830; and a close parallel to the A-1 excerpt, a circa 1841 adaptation by scribe Howard Coray. A portion of the A-1 account was later canonized as "Joseph Smith—History" in the volume of Latter-day Saint scripture known as the Pearl of Great Price, thereby becoming the most widely known church history for the period it covers.
The fourth narrative history in this volume, "Extract, from the Private Journal of Joseph Smith Jr.," is not in fact taken from any journal but was based largely on Smith's 1839 petition for legal redress. It is his personal, and sometimes highly emotional, response to the injustices and depredations he and his family suffered in Missouri. "Church History" (familiarly known as the "Wentworth Letter") and its near-twin document "Latter Day Saints," both of which Joseph Smith signed as author, are important declarations to the non-Mormon world of the history and beliefs of the church. They include the statement of beliefs now known as the Articles of Faith.
Four additional histories, assigned by Joseph Smith but not dictated or supervised by him, will form the content of Histories, Volume 2. The balance of the Histories series, published electronically at the Joseph Smith Papers website, will present the entirety of the massive multivolume history initiated in 1838.
Reviews
"The editors of H1 have produced an exemplary documentary edition. Their work typifies the kind of outstanding research and analysis that distinguishes good scholarly and documentary editions of historical texts. Their comprehensive proofreading plan, rules for transcription, introductions, explanatory annotations, text-specific source notes, and historical essays provide readers with an experience comparable to reading the original documents."
—Diana Dial Reynolds, Mormon Historical Studies 14 no. 2 (Fall 2013): 213–215
"Importantly, Volume 1: Joseph Smith Histories subtly educates its readers about the craft of history and the many perplexities that surrounded the creation of early Mormonism's story. The volume editors skillfully address the questions of authorship and Joseph Smith's use of scribes/collaborators/co-authors like Warren Parrish, Howard Coray, and W.W. Phelps. . . .The volume's detailed notes and commentaries provide readers with the tools to understand the meaning and significance of these documents. It is a volume that will benefit both serious historians and casual students of Mormon history."
—Brett D. Dowdle and Samuel Morris Brown, Journal of Mormon History 39 no. 2 (Spring 2013): 255–258
"The result is a volume that is absolutely necessary to any serious study of the period, but also a volume that should be used far outside the discipline. It presents consummate material for studies in textual criticism, memory, and narrative studies. H1 maintains the strict and high standards of document editing that continue to push all publishers and scholars interested in Mormonism to increased excellence."
—J. Stapley, "Review: JSPP, Histories, Volume 1: Joseph Smith Histories, 1832–1844," By Common Consent (blog), 13 July 2012, http://bycommonconsent.com/2012/07/13/review-joseph-smith-papars-histories-volume-1-joseph-smith-histories-1832-1844
"As readers of previous JSP volumes know, the introductory and contextual matter is a hallmark of the project. The editors have done an excellent job of noting the complexity of the earliest histories. . . . Having happily dug into the wealth of detail in the introductions in previous volumes, I was pleased to see this standard of excellence continued. The editors are meticulous in supporting their conclusions and broad in their reading."
—Bryan Buchanan, "Review: The Joseph Smith Papers: Histories, vol. 1 (Joseph Smith Histories: 1832–1844)," Association for Mormon Letters Discussion Board, 16 May 2012.
"This new volume presents 'the six personal and church histories written, dictated, or closely supervised by Joseph Smith' prior to his death. Early Latter-day Saints sought to give explicit narrative shape to their experiences as they understood them. . . . More and more records are being meticulously transcribed and published for the Joseph Smith Papers Project, giving us easier, more intimate, and unprecedented access to our early church history. . . . The Joseph Smith Papers Project, that remarkable product of our official Church History department, seeks to place all the cards we have on the table."
—BHodges, "What Has the 'Joseph Smith Papers Project' to Do with Islam?," By Common Consent (blog), 20 Mar. 2012, http://bycommonconsent.com/2012/03/20/what-has-the-joseph-smith-papers-project-to-do-with-islam.
Excerpts
First Recorded Account of His First Vision of Deity
Joseph Smith History, circa Summer 1832
"I cried unto the Lord for mercy for there was none else to whom I could go and to obtain mercy and the Lord heard my cry in the wilderness and while in the attitude of calling upon the Lord in the 16th year of my age a piller of fire light above the brightness of the sun at noon day come down from above and rested upon me and I was filled with the spirit of god and the Lord opened the heavens upon me and I saw the Lord and he spake unto me saying Joseph my son thy sins are forgiven thee. go thy way walk in my statutes and keep my commandments behold I am the Lord of glory I was crucifyed for the world that all those who believe on my name may have Eternal life behold the world lieth in sin and at this time and none doeth good no not one they have turned asside from the gospel and keep not my commandments they draw near to me with their lips while their hearts are far from me and mine anger is kindling against the inhabitants of the earth to visit them acording to thir ungodliness and to bring to pass that which hath been spoken by the mouth of the prophets and Ap[o]stles behold and lo I come quickly as it [is] written of me in the cloud clothed in the glory of my Father[.]"
Account of His Escape from Custody in Missouri
Joseph Smith, "Extract, from the Private Journal," 1839
"While there [in Daviess County, Missouri], we got a change of venue to Boon[e] county, and were conducted on our way to that place by a strong guard. The second evening after our departure the guard got intoxicated[.] [W]e thought it a favorable opportunity to make our escape. . . . We thought that it was necessary for us, inasmuch as we loved our lives, and did not wish to die by the hand of murderers and assasins; and inasmuch, as we loved our families and friends, to deliver ourselves from our enemies, and from that land of tyrany and oppression. . . . Accordingly we took the advantage of the situation of our guard and took our departure, and that night [16 April 1839] we travelled a cons[i]derable distance. We continued on our journey both by night and by day, and after suffering much fatigue and hunger, I arrived in Quincy Illinois, amidst the congratulations of my friends and the embraces of my family."