History, circa 1841, fair copy
Source Note

JS, History, [ca. 1841], fair copy; handwriting of

Howard Coray

6 May 1817–16 Jan. 1908. Bookkeeper, clerk, teacher, farmer. Born in Dansville, Steuben Co., New York. Son of Silas Coray and Mary Stephens. Moved to Providence, Luzerne Co., Pennsylvania, ca. 1827; to Williams, Northampton Co., Pennsylvania, by 1830; and...

View Full Bio

; 100 pages; CHL.

See also source note for JS History, circa 1841,

draft

.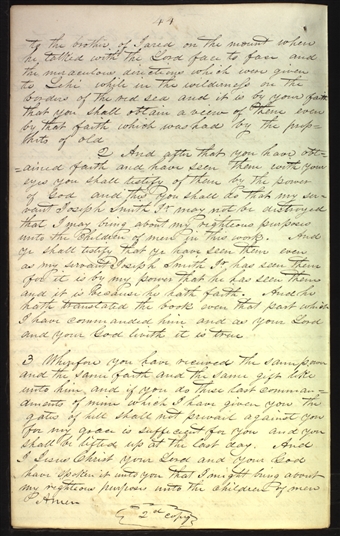 to the brother of Jared on the mount when he talked with the Lord face to face and the miraculous directions which were given to Lehi while in the wilderness on the borders of the red sea and it is by your faith that you shall obtain a view of them even by that faith which was had by the prophets of old
2 And after that you have obtained faith and have seen them with your eyes you shall testify of them by the power of God and this you shall do that my servant Joseph Smith J
r.
may not be destroyed that I may bring about my righteous purposes unto the children of men in this work. And ye shall testify that ye have seen them even as my servant Joseph Smith J
r.
has seen them for it is by my power that he has seen them and it is because he hath faith. And he hath translated the book even that part which I have commanded him and as your Lord and your God liveth it is true
3 Wherefore you have received the same power and the same faith and the same gift like unto him and if you do these last commandments of mine which I have given you the gates of hell shall not prevail against you for my grace is sufficient for you and you shall be lifted up at the last day. And I Jesus Christ your Lord and your God have spoken it unto you that I might bring about my righteous purposes unto the children of men Amen [p. 44]
to the brother of Jared on the mount when he talked with the Lord face to face and the miraculous directions which were given to Lehi while in the wilderness on the borders of the red sea and it is by your faith that you shall obtain a view of them even by that faith which was had by the prophets of old
2 And after that you have obtained faith and have seen them with your eyes you shall testify of them by the power of God and this you shall do that my servant Joseph Smith Jr. may not be destroyed that I may bring about my righteous purposes unto the children of men in this work. And ye shall testify that ye have seen them even as my servant Joseph Smith Jr. has seen them for it is by my power that he has seen them and it is because he hath faith. And he hath translated the book even that part which I have commanded him and as your Lord and your God liveth it is true
3 Wherefore you have received the same power and the same faith and the same gift like unto him and if you do these last commandments of mine which I have given you the gates of hell shall not prevail against you for my grace is sufficient for you and you shall be lifted up at the last day. And I Jesus Christ your Lord and your God have spoken it unto you that I might bring about my righteous purposes unto the children of men Amen [p. 44]