History, circa 1841, fair copy
Source Note

JS, History, [ca. 1841], fair copy; handwriting of

Howard Coray

6 May 1817–16 Jan. 1908. Bookkeeper, clerk, teacher, farmer. Born in Dansville, Steuben Co., New York. Son of Silas Coray and Mary Stephens. Moved to Providence, Luzerne Co., Pennsylvania, ca. 1827; to Williams, Northampton Co., Pennsylvania, by 1830; and...

View Full Bio

; 100 pages; CHL.

See also source note for JS History, circa 1841,

draft

.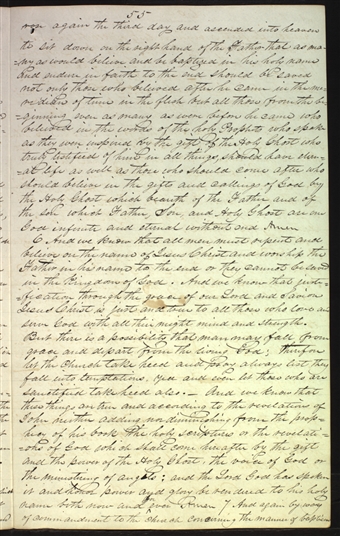 rose again the third day and ascended into heaven
to sit down on the right hand of the Father that as ma
ny as would believe and be baptized in his holy name
and endure in faith to the end should be saved
not only those who believed after he came in the me
ridian of time in the flesh but all those from the be
ginning even as many as were before he came who
believed in the words of the holy Prophets who spake
as they were inspired by the gift of the Holy Ghost who
truly testified of him in all things, should have etern
al life as well as those who should come after who
should believe in the gifts and callings of God by
the Holy Ghost which beareth [record] of the Father and of
the son which Father, Son, and Holy Ghost are one
God infinite and eternal without end Amen
6 And we know that all men must repent and
believe on the name of Jesus Christ and worship the
Father in his name to the end or they cannot be saved
in the kingdom of God. And we know that justi
fication through the grace of our Lord and Savior
Jesus Christ is just and true to all those who love and
serve God with all their might mind and strength.
But there is a possibility that man may fall from
grace and depart from the living God; therefore
let the Church take heed and pray always lest they
fall into temptations, yea and even let those who are
sanctified take heed also.— And we know that
these things are true and according to the revelations of
John neither adding nor diminishing from the prop
hecy of his book the holy scriptures or the revelati
ons of God which shall come hereafter by the gift
and the power of the Holy Ghost, the voice of God or
the minestering of angels; and the Lord God has spoken
it and honor power and glory be rendered to his holy
name both now and <for> ever Amen 7 And again by way
of commandment to the church concerning the manner of baptism [p. 55]
rose again the third day and ascended into heaven to sit down on the right hand of the Father that as many as would believe and be baptized in his holy name and endure in faith to the end should be saved not only those who believed after he came in the meridian of time in the flesh but all those from the beginning even as many as were before he came who believed in the words of the holy Prophets who spake as they were inspired by the gift of the Holy Ghost who truly testified of him in all things, should have eternal life as well as those who should come after who should believe in the gifts and callings of God by the Holy Ghost which beareth record of the Father and of the son which Father, Son, and Holy Ghost are one God infinite and eternal without end Amen
6 And we know that all men must repent and believe on the name of Jesus Christ and worship the Father in his name to the end or they cannot be saved in the kingdom of God. And we know that justification through the grace of our Lord and Savior Jesus Christ is just and true to all those who love and serve God with all their might mind and strength. But there is a possibility that man may fall from grace and depart from the living God; therefore let the Church take heed and pray always lest they fall into temptations, yea and even let those who are sanctified take heed also.— And we know that these things are true and according to the revelations of John neither adding nor diminishing from the prophecy of his book the holy scriptures or the revelations of God which shall come hereafter by the gift and the power of the Holy Ghost, the voice of God or the minestering of angels; and the Lord God has spoken it and honor power and glory be rendered to his holy name both now and for ever Amen 7 And again by way of commandment to the church concerning the manner of baptism [p. 55]