Book of Commandments, 1833
Source Note

A Book of Commandments, for the Government of the Church of Christ, Organized according to Law, on the 6th of April, 1830;

Zion [

Independence

Located twelve miles from western Missouri border. Permanently settled, platted, and designated county seat, 1827. Hub for steamboat travel on Missouri River. Point of departure for Santa Fe Trail. Population in 1831 about 300. Mormon population by summer...

More Info

], MO: W. W. Phelps & Co., 1833; incomplete (printing interrupted); [1]–160 pp.; includes typeset signature marks and copyright notice. The copy presented herein is held at CHL; includes twenty-two pages of handwritten texts; also includes early and later marginalia as well as archival stamps and notations.

This book was printed in sextodecimo format on five sheets. The sheets were probably printed using a work-and-turn technique, yielding two copies of the same gathering for each sheet. The sheets were folded into five gatherings of sixteen leaves each, making a text block of 160 pages. In the copy of the book featured herein, three nonprinted gatherings were also bound with the printed gatherings: two folio gatherings of two leaves each, and an octavo gathering of eight leaves, which includes the back pastedown. The pages of the book featured herein measure 4½ × 3⅛ inches (11 × 8 cm), but these dimensions vary somewhat in other extant copies of the volume. The book's final printed gathering ends on page 160, partway through the revelation labeled "CHAPTER LXV." That at least one more gathering was intended is evident from several sources, including editing marks made in Revelation Book 1, which was the source text for much of the Book of Commandments.

1

See "Proposed Sixth Gathering of the Book of Commandments;" see also Phelps, "Short History," [3]; and Frederick G. Williams, Kirtland, OH, to John Murdock, 10 Oct. 1833, in JS Letterbook 1, pp. 61–62.  

---

Phelps, William W. "A Short History of W. W. Phelps' Stay in Missouri," 1864. Information concerning Persons Driven from Jackson County, Missouri in 1833, 1863–1868. CHL. MS 6019, fd. 7.

JS Letterbook 1 / Smith, Joseph. "Letter Book A," 1832–1835. Joseph Smith Collection. CHL. MS 155, box 2, fd. 1.

Changes made during printing resulted in variations among known copies of the Book of Commandments, the most obvious of which are the differences found on the title page.

2

The title page of the Book of Commandments appears in two different formats, the first without a decorative border. Sometime during the printing, a border was inserted, forcing the compositor to compress the spaces between and within the lines of text. For photographs of the two iterations, see JSP, R2:13, 600. A systematic analysis of printing variants among extant copies of the Book of Commandments is beyond the scope of this edition.  

---

JSP, R2 / Jensen, Robin Scott, Richard E. Turley Jr, and Riley M. Lorimer, eds. Revelations and Translations, Volume 2: Published Revelations. Vol. 2 of the Revelations and Translations series of The Joseph Smith Papers, edited by Dean C. Jessee, Ronald K. Esplin, and Richard Lyman Bushman. Salt Lake City: Church Historian's Press, 2011.

Because destruction of the print shop halted printing and destroyed most of the stock before any books were bound, the bindings of the surviving copies vary. The copy presented herein, which belonged to early church member and leader

revelation

, and several

hymns

.

Woodruff

1 Mar. 1807–2 Sept. 1898. Farmer, miller. Born at Farmington, Hartford Co., Connecticut. Son of Aphek Woodruff and Beulah Thompson. Moved to Richland, Oswego Co., New York, 1832. Baptized into LDS church by Zera Pulsipher, 31 Dec. 1833, near Richland. Ordained...

View Full Bio

likely acquired this copy of the Book of Commandments on 12 August 1834.

5

Whitmer, Daybook, 12 Aug. 1834.  

---

Whitmer, John. Daybook, 1832–1878. CHL. MS 1159.

He appears to have retained this volume until he donated it to the Church Historian's Office on 19 July 1854. Library markings indicate the volume has remained in continuous church custody.

6

"1303" is written in black ink on the bottom of page [3]. This number corresponds to an entry made sometime after 1930 in an early Church Historian's Office catalog book. In addition, the Church Historian's Office stamp used to mark several pages of the volume appears to have been in use in the late nineteenth century and possibly in the early twentieth century. ("Library Record," book no. 1303.)  

---

"Library Record for the Listing or Cataloguing of Books." In Historian's Office, Library Accession Records, ca. 1890–ca. 1930. CHL. CR 100 429.

Footnotes

Historical Introduction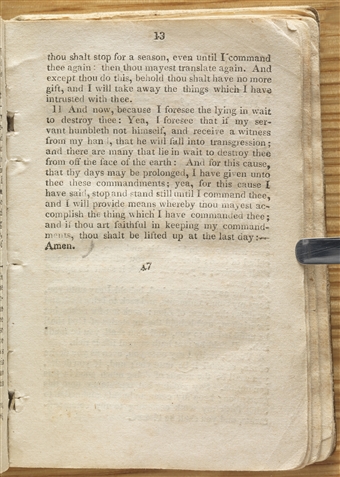 thou shalt stop for a season, even until I command
thee again: then thou mayest translate again. And
except thou do this, behold thou shalt have no more
gift, and I will take away the things which I have
intrusted with thee.
11 And now, because I foresee the lying in wait
to destroy thee: Yea, I foresee that if my ser
vant humbleth not himself, and receive a witness
from my hand, that he will fall into transgression;
and there are many that lie in wait to destroy thee
from off the face of the earth: And for this cause,
that thy days may be prolonged, I have given unto
thee these commandments; yea, for this cause I
have said, stop and stand still until I command thee,
and I will provide means whereby thou mayest ac
complish the thing which I have commanded thee;
and if thou art faithful in keeping my command
ments, thou shalt be lifted up at the last day:—
Amen. [p. 13]
thou shalt stop for a season, even until I command thee again: then thou mayest translate again. And except thou do this, behold thou shalt have no more gift, and I will take away the things which I have intrusted with thee.
11 And now, because I foresee the lying in wait to destroy thee: Yea, I foresee that if my servant humbleth not himself, and receive a witness from my hand, that he will fall into transgression; and there are many that lie in wait to destroy thee from off the face of the earth: And for this cause, that thy days may be prolonged, I have given unto thee these commandments; yea, for this cause I have said, stop and stand still until I command thee, and I will provide means whereby thou mayest accomplish the thing which I have commanded thee; and if thou art faithful in keeping my commandments, thou shalt be lifted up at the last day:— Amen. [p. 13]