Collection of Sacred Hymns, 1835
Source Note

Emma Smith

10 July 1804–30 Apr. 1879. Scribe, editor, boardinghouse operator, clothier. Born at Willingborough Township (later in Harmony), Susquehanna Co., Pennsylvania. Daughter of Isaac Hale and Elizabeth Lewis. Member of Methodist church at Harmony (later in Oakland...

View Full Bio

, comp.,

A Collection of Sacred Hymns for the Church of the Latter Day Saints,

Kirtland, OH: F. G. Williams & Co., 1835, [i]–iv, 5–122, 5 pages of index paginated i–v. The copy used herein is held at CHL.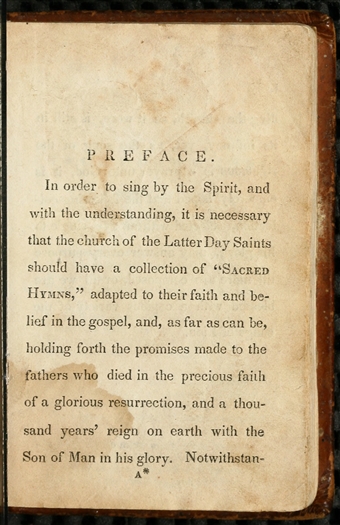 PREFACE.
In order to sing by the Spirit, and with the understanding, it is necessary that the church of the Latter Day Saints should have a collection of "
Sacred Hymns
," adapted to their faith and belief in the gospel, and, as far as can be, holding forth the promises made to the fathers who died in the precious faith of a glorious resurrection, and a thousand years' reign on earth with the Son of Man in his glory. Notwithstan [p. [iii]]
PREFACE.
In order to sing by the Spirit, and with the understanding, it is necessary that the church of the Latter Day Saints should have a collection of "
Sacred Hymns
," adapted to their faith and belief in the gospel, and, as far as can be, holding forth the promises made to the fathers who died in the precious faith of a glorious resurrection, and a thousand years' reign on earth with the Son of Man in his glory. Notwithstan [p. [iii]]