Letter from Brigham Young and Willard Richards, 5 September 1840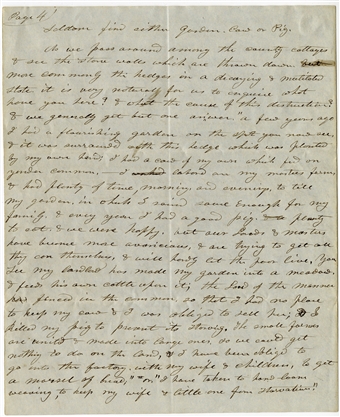 seldom find either garden. cow or Pig.
As we pass around among the country cottages & see the stone walls which are thrown down,
& the
but more commonly the hedges in a decaying & mutilated state, it is very natural for us to enquire what have you here? & what the cause of this destruction? & we generally get but one answer, "a few years ago I had a flourishing garden on the spot you now see, & it was surrounded with this hedge which was planted by my own hand; I had a cow of my own which fed on yonder common,— I
worked
labord on my masters farm, & had plenty of time, morning, and evenings, to till my garden, in which I raised sauce enough for my family, & evry year I had a good pig,
& a
plenty to eat, & we were happy, but our Lords & masters have become more avaricious, & are trying to get all they can themselves, & will hardly let the poor live, you see my landlord has made my garden into a meadow, & feeds his own cattle upon it; the Lord of the manner
has
fenced in the common, so that I had no place to keep my cow & I was obliged to sell her;
I
I killed my pig to prevent its starving. The small farmes are united & made into large ones, so we could get nothing to do on the land, I have been oblige to go into the factory, with my wife & children, to get a morsel of bread;" "or, "I have taken to hand-loom weaving, to keep my wife & little one from starvation." [p. 4]
seldom find either garden. cow or Pig.
As we pass around among the country cottages & see the stone walls which are thrown down, but more commonly the hedges in a decaying & mutilated state, it is very natural for us to enquire what have you here? & what the cause of this destruction? & we generally get but one answer, "a few years ago I had a flourishing garden on the spot you now see, & it was surrounded with this hedge which was planted by my own hand; I had a cow of my own which fed on yonder common,— I labord on my masters farm, & had plenty of time, morning, and evenings, to till my garden, in which I raised sauce enough for my family, & evry year I had a good pig, plenty to eat, & we were happy, but our Lords & masters have become more avaricious, & are trying to get all they can themselves, & will hardly let the poor live, you see my landlord has made my garden into a meadow, & feeds his own cattle upon it; the Lord of the manner fenced in the common, so that I had no place to keep my cow & I was obliged to sell her; I killed my pig to prevent its starving. The small farmes are united & made into large ones, so we could get nothing to do on the land, I have been oblige to go into the factory, with my wife & children, to get a morsel of bread;" "or, "I have taken to hand-loom weaving, to keep my wife & little one from starvation." [p. 4]