Doctrine and Covenants, 1844
Source Note

The Doctrine and Covenants of the Church of Jesus Christ of Latter Day Saints; Carefully Selected from the Revelations of God. By Joseph Smith, President of Said Church.

2nd ed. Nauvoo, IL: John Taylor, 1844; 3–448; includes typeset signature marks and copyright notice. The copy presented herein is held at CHL; includes marginalia and archival markings.

All but the final gathering of this book was printed in octodecimo format on thirteen sheets that were cut and folded into thirteen gatherings of eighteen leaves (thirty-six pages) each. The final gathering comprises eight leaves (sixteen pages). The text block measures 5⅞ × 3⅝ inches (15 × 9 cm).

The copy of the book presented herein is in a presentation binding of red sheepskin with gilt edges. The volume measures 6 × 3⅞ × 1 inches (15 × 10 × 3 cm). The spine is stamped with gilt ornamental panels and "Doctrine | and | Covenants" and "J. Glenn." in gilt. The front and back pastedowns, the front flyleaf, and the back flyleaf are single-sided marbled leaves featuring a shell pattern with brown body and veins of red and white. In this copy, the first leaf of the first gathering, which is blank in other extant copies, is missing. The verso of the front flyleaf has two inscriptions, the first in graphite and the second in ink: "RN 69025 | Vault | Book Area | M223.1 | D632 | 1844" and "Jane Glenn | from her friend | Leonora Taylor | Nauvoo Oct 27th | 1844". The handwriting of the first inscription is unknown; Leonora Taylor inscribed the second.

As the aforementioned ink inscription indicates, Leonora Taylor, wife of early church leader and printer

John Taylor

1 Nov. 1808–25 July 1887. Preacher, editor, publisher, politician. Born at Milnthorpe, Westmoreland, England. Son of James Taylor and Agnes Taylor, members of Church of England. Around age sixteen, joined Methodists and was local preacher. Migrated from England...

View Full Bio

, presented this book to Jane Glenn. The book came into the possession of the Historical Department of The Church of Jesus Christ of Latter-day Saints circa 1983.

Historical Introduction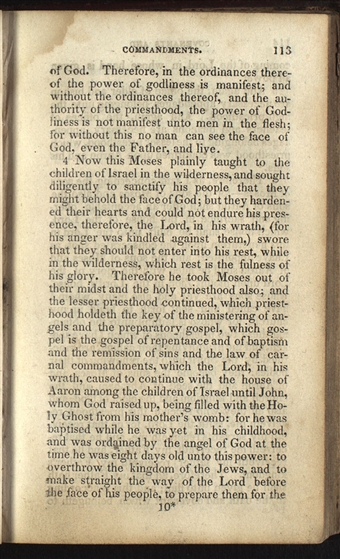 of God. Therefore, in the ordinances there
of the power of godliness is manifest; and
without the ordinances thereof, and the au
thority of the priesthood, the power of God
liness is not manifest unto men in the flesh;
for without this no man can see the face of
God, even the Father, and live.
4 Now this Moses plainly taught to the
children of Israel in the wilderness, and sought
diligently to sanctify his people that they
might behold the face of God; but they harden
ed their hearts and could not endure his pres
ence, therefore, the Lord, in his wrath, (for
his anger was kindled against them,) swore
that they should not enter into his rest, while
in the wilderness, which rest is the fulness of
his glory. Therefore he took Moses out of
their midst and the holy priesthood also; and
the lesser priesthood continued, which priest
hood holdeth the key of the ministering of an
gels and the preparatory gospel, which gos
pel is the gospel of repentance and of baptism
and the remission of sins and the law of car
nal commandments, which the Lord, in his
wrath, caused to continue with the house of
Aaron among the children of Israel until John,
whom God raised up, being filled with the Ho
ly Ghost from his mother's womb: for he was
baptised while he was yet in his childhood,
and was ordained by the angel of God at the
time he was eight days old unto this power: to
overthrow the kingdom of the Jews, and to
make straight the way of the Lord before
the face of his people, to prepare them for the [p. 113]
of God. Therefore, in the ordinances thereof the power of godliness is manifest; and without the ordinances thereof, and the authority of the priesthood, the power of Godliness is not manifest unto men in the flesh; for without this no man can see the face of God, even the Father, and live.
4 Now this Moses plainly taught to the children of Israel in the wilderness, and sought diligently to sanctify his people that they might behold the face of God; but they hardened their hearts and could not endure his presence, therefore, the Lord, in his wrath, (for his anger was kindled against them,) swore that they should not enter into his rest, while in the wilderness, which rest is the fulness of his glory. Therefore he took Moses out of their midst and the holy priesthood also; and the lesser priesthood continued, which priesthood holdeth the key of the ministering of angels and the preparatory gospel, which gospel is the gospel of repentance and of baptism and the remission of sins and the law of carnal commandments, which the Lord, in his wrath, caused to continue with the house of Aaron among the children of Israel until John, whom God raised up, being filled with the Holy Ghost from his mother's womb: for he was baptised while he was yet in his childhood, and was ordained by the angel of God at the time he was eight days old unto this power: to overthrow the kingdom of the Jews, and to make straight the way of the Lord before the face of his people, to prepare them for the [p. 113]