Doctrine and Covenants, 1844
Source Note

The Doctrine and Covenants of the Church of Jesus Christ of Latter Day Saints; Carefully Selected from the Revelations of God. By Joseph Smith, President of Said Church.

2nd ed. Nauvoo, IL: John Taylor, 1844; 3–448; includes typeset signature marks and copyright notice. The copy presented herein is held at CHL; includes marginalia and archival markings.

All but the final gathering of this book was printed in octodecimo format on thirteen sheets that were cut and folded into thirteen gatherings of eighteen leaves (thirty-six pages) each. The final gathering comprises eight leaves (sixteen pages). The text block measures 5⅞ × 3⅝ inches (15 × 9 cm).

The copy of the book presented herein is in a presentation binding of red sheepskin with gilt edges. The volume measures 6 × 3⅞ × 1 inches (15 × 10 × 3 cm). The spine is stamped with gilt ornamental panels and "Doctrine | and | Covenants" and "J. Glenn." in gilt. The front and back pastedowns, the front flyleaf, and the back flyleaf are single-sided marbled leaves featuring a shell pattern with brown body and veins of red and white. In this copy, the first leaf of the first gathering, which is blank in other extant copies, is missing. The verso of the front flyleaf has two inscriptions, the first in graphite and the second in ink: "RN 69025 | Vault | Book Area | M223.1 | D632 | 1844" and "Jane Glenn | from her friend | Leonora Taylor | Nauvoo Oct 27th | 1844". The handwriting of the first inscription is unknown; Leonora Taylor inscribed the second.

As the aforementioned ink inscription indicates, Leonora Taylor, wife of early church leader and printer

John Taylor

1 Nov. 1808–25 July 1887. Preacher, editor, publisher, politician. Born at Milnthorpe, Westmoreland, England. Son of James Taylor and Agnes Taylor, members of Church of England. Around age sixteen, joined Methodists and was local preacher. Migrated from England...

View Full Bio

, presented this book to Jane Glenn. The book came into the possession of the Historical Department of The Church of Jesus Christ of Latter-day Saints circa 1983.

Historical Introduction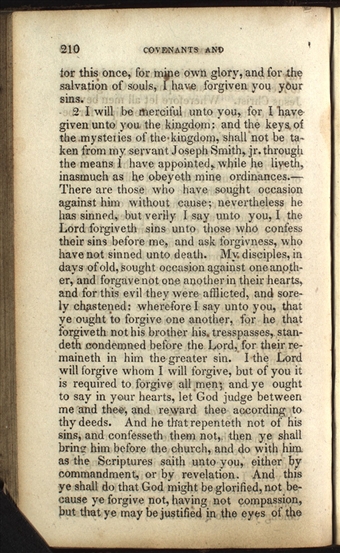 for this once, for mine own glory, and for the
salvation of souls, I have forgiven you your
sins.
2 I will be merciful unto you, for I have
given unto you the kingdom: and the keys of
the mysteries of the kingdom, shall not be ta
ken from my servant Joseph Smith, jr. through
the means I have appointed, while he liveth,
inasmuch as he obeyeth mine ordinances.—
There are those who have sought occasion
against him without cause; nevertheless he
has sinned, but verily I say unto you, I the
Lord forgiveth sins unto those who confess
their sins before me, and ask forgivness, who
have not sinned unto death. My disciples, in
days of old, sought occasion against one anoth
er, and forgave not one another in their hearts,
and for this evil they were afflicted, and sore
ly chastened: wherefore I say unto you, that
ye ought to forgive one another, for he that
forgiveth not his brother his tresspasses, stan
deth condemned before the Lord, for their re
maineth in him the greater sin. I the Lord
will forgive whom I will forgive, but of you it
is required to forgive all men; and ye ought
to say in your hearts, let God judge between
me and thee, and reward thee according to
thy deeds. And he that repenteth not of his
sins, and confesseth them not, then ye shall
bring him before the church, and do with him
as the Scriptures saith unto you, either by
commandment, or by revelation. And this
ye shall do that God might be glorified, not be
cause ye forgive not, having not compassion,
but that ye may be justified in the eyes of the [p. 210]
for this once, for mine own glory, and for the salvation of souls, I have forgiven you your sins.
2 I will be merciful unto you, for I have given unto you the kingdom: and the keys of the mysteries of the kingdom, shall not be taken from my servant Joseph Smith, jr. through the means I have appointed, while he liveth, inasmuch as he obeyeth mine ordinances.— There are those who have sought occasion against him without cause; nevertheless he has sinned, but verily I say unto you, I the Lord forgiveth sins unto those who confess their sins before me, and ask forgivness, who have not sinned unto death. My disciples, in days of old, sought occasion against one another, and forgave not one another in their hearts, and for this evil they were afflicted, and sorely chastened: wherefore I say unto you, that ye ought to forgive one another, for he that forgiveth not his brother his tresspasses, standeth condemned before the Lord, for their remaineth in him the greater sin. I the Lord will forgive whom I will forgive, but of you it is required to forgive all men; and ye ought to say in your hearts, let God judge between me and thee, and reward thee according to thy deeds. And he that repenteth not of his sins, and confesseth them not, then ye shall bring him before the church, and do with him as the Scriptures saith unto you, either by commandment, or by revelation. And this ye shall do that God might be glorified, not because ye forgive not, having not compassion, but that ye may be justified in the eyes of the [p. 210]