Doctrine and Covenants, 1844
Source Note

The Doctrine and Covenants of the Church of Jesus Christ of Latter Day Saints; Carefully Selected from the Revelations of God. By Joseph Smith, President of Said Church.

2nd ed. Nauvoo, IL: John Taylor, 1844; 3–448; includes typeset signature marks and copyright notice. The copy presented herein is held at CHL; includes marginalia and archival markings.

All but the final gathering of this book was printed in octodecimo format on thirteen sheets that were cut and folded into thirteen gatherings of eighteen leaves (thirty-six pages) each. The final gathering comprises eight leaves (sixteen pages). The text block measures 5⅞ × 3⅝ inches (15 × 9 cm).

The copy of the book presented herein is in a presentation binding of red sheepskin with gilt edges. The volume measures 6 × 3⅞ × 1 inches (15 × 10 × 3 cm). The spine is stamped with gilt ornamental panels and "Doctrine | and | Covenants" and "J. Glenn." in gilt. The front and back pastedowns, the front flyleaf, and the back flyleaf are single-sided marbled leaves featuring a shell pattern with brown body and veins of red and white. In this copy, the first leaf of the first gathering, which is blank in other extant copies, is missing. The verso of the front flyleaf has two inscriptions, the first in graphite and the second in ink: "RN 69025 | Vault | Book Area | M223.1 | D632 | 1844" and "Jane Glenn | from her friend | Leonora Taylor | Nauvoo Oct 27th | 1844". The handwriting of the first inscription is unknown; Leonora Taylor inscribed the second.

As the aforementioned ink inscription indicates, Leonora Taylor, wife of early church leader and printer

John Taylor

1 Nov. 1808–25 July 1887. Preacher, editor, publisher, politician. Born at Milnthorpe, Westmoreland, England. Son of James Taylor and Agnes Taylor, members of Church of England. Around age sixteen, joined Methodists and was local preacher. Migrated from England...

View Full Bio

, presented this book to Jane Glenn. The book came into the possession of the Historical Department of The Church of Jesus Christ of Latter-day Saints circa 1983.

Historical Introduction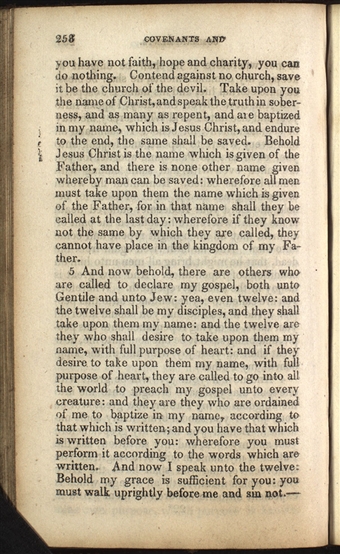 you have not faith, hope and charity, you can
do nothing. Contend against no church, save
it be the church of the devil. Take upon you
the name of Christ, and speak the truth in sober
ness, and as many as repent, and are baptized
in my name, which is Jesus Christ, and endure
to the end, the same shall be saved. Behold
Jesus Christ is the name which is given of the
Father, and there is none other name given
whereby man can be saved: wherefore all men
must take upon them the name which is given
of the Father, for in that name shall they be
called at the last day: wherefore if they know
not the same by which they are called, they
cannot have place in the kingdom of my Fa
ther.
5 And now behold, there are others who
are called to declare my gospel, both unto
Gentile and unto Jew: yea, even twelve: and
the twelve shall be my disciples, and they shall
take upon them my name: and the twelve are
they who shall desire to take upon them my
name, with full purpose of heart: and if they
desire to take upon them my name, with full
purpose of heart, they are called to go into all
the world to preach my gospel unto every
creature: and they are they who are ordained
of me to baptize in my name, according to
that which is written; and you have that which
is written before you: wherefore you must
perform it according to the words which are
written. And now I speak unto the twelve:
Behold my grace is sufficient for you: you
must walk uprightly before me and sin not.— [p. 258]
you have not faith, hope and charity, you can do nothing. Contend against no church, save it be the church of the devil. Take upon you the name of Christ, and speak the truth in soberness, and as many as repent, and are baptized in my name, which is Jesus Christ, and endure to the end, the same shall be saved. Behold Jesus Christ is the name which is given of the Father, and there is none other name given whereby man can be saved: wherefore all men must take upon them the name which is given of the Father, for in that name shall they be called at the last day: wherefore if they know not the same by which they are called, they cannot have place in the kingdom of my Father.
5 And now behold, there are others who are called to declare my gospel, both unto Gentile and unto Jew: yea, even twelve: and the twelve shall be my disciples, and they shall take upon them my name: and the twelve are they who shall desire to take upon them my name, with full purpose of heart: and if they desire to take upon them my name, with full purpose of heart, they are called to go into all the world to preach my gospel unto every creature: and they are they who are ordained of me to baptize in my name, according to that which is written; and you have that which is written before you: wherefore you must perform it according to the words which are written. And now I speak unto the twelve: Behold my grace is sufficient for you: you must walk uprightly before me and sin not.— [p. 258]