Doctrine and Covenants, 1844
Source Note

The Doctrine and Covenants of the Church of Jesus Christ of Latter Day Saints; Carefully Selected from the Revelations of God. By Joseph Smith, President of Said Church.

2nd ed. Nauvoo, IL: John Taylor, 1844; 3–448; includes typeset signature marks and copyright notice. The copy presented herein is held at CHL; includes marginalia and archival markings.

All but the final gathering of this book was printed in octodecimo format on thirteen sheets that were cut and folded into thirteen gatherings of eighteen leaves (thirty-six pages) each. The final gathering comprises eight leaves (sixteen pages). The text block measures 5⅞ × 3⅝ inches (15 × 9 cm).

The copy of the book presented herein is in a presentation binding of red sheepskin with gilt edges. The volume measures 6 × 3⅞ × 1 inches (15 × 10 × 3 cm). The spine is stamped with gilt ornamental panels and "Doctrine | and | Covenants" and "J. Glenn." in gilt. The front and back pastedowns, the front flyleaf, and the back flyleaf are single-sided marbled leaves featuring a shell pattern with brown body and veins of red and white. In this copy, the first leaf of the first gathering, which is blank in other extant copies, is missing. The verso of the front flyleaf has two inscriptions, the first in graphite and the second in ink: "RN 69025 | Vault | Book Area | M223.1 | D632 | 1844" and "Jane Glenn | from her friend | Leonora Taylor | Nauvoo Oct 27th | 1844". The handwriting of the first inscription is unknown; Leonora Taylor inscribed the second.

As the aforementioned ink inscription indicates, Leonora Taylor, wife of early church leader and printer

John Taylor

1 Nov. 1808–25 July 1887. Preacher, editor, publisher, politician. Born at Milnthorpe, Westmoreland, England. Son of James Taylor and Agnes Taylor, members of Church of England. Around age sixteen, joined Methodists and was local preacher. Migrated from England...

View Full Bio

, presented this book to Jane Glenn. The book came into the possession of the Historical Department of The Church of Jesus Christ of Latter-day Saints circa 1983.

Historical Introduction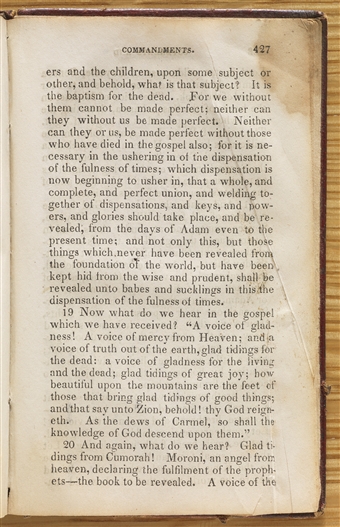 ers and the children, upon some subject or
other, and behold, what is that subject? It is
the baptism for the dead. For we without
them cannot be made perfect; neither can
they without us be made perfect. Neither
can they or us, be made perfect without those
who have died in the gospel also; for it is ne
cessary in the ushering in of the dispensation
of the fulness of times; which dispensation is
now beginning to usher in, that a whole, and
complete, and perfect union, and welding to
gether of dispensations, and keys, and pow
ers, and glories should take place, and be re
vealed, from the days of Adam even to the
present time; and not only this, but those
things which never have been revealed from
the foundation of the world, but have been
kept hid from the wise and prudent, shall be
revealed unto babes and sucklings in this the
dispensation of the fulness of times.
19 Now what do we hear in the gospel
which we have received? "A voice of glad
ness! A voice of mercy from Heaven; and a
voice of truth out of the earth, glad tidings for
the dead: a voice of gladness for the living
and the dead; glad tidings of great joy; how
beautiful upon the mountains are the feet of
those that bring glad tidings of good things;
and that say unto Zion, behold! thy God reign
eth. As the dews of Carmel, so shall the
knowledge of God descend upon them."
20 And again, what do we hear? Glad ti
dings from Cumorah! Moroni, an angel from
heaven, declaring the fulfilment of the proph
ets—the book to be revealed. A voice of the [p. 427]
ers and the children, upon some subject or other, and behold, what is that subject? It is the baptism for the dead. For we without them cannot be made perfect; neither can they without us be made perfect. Neither can they or us, be made perfect without those who have died in the gospel also; for it is necessary in the ushering in of the dispensation of the fulness of times; which dispensation is now beginning to usher in, that a whole, and complete, and perfect union, and welding together of dispensations, and keys, and powers, and glories should take place, and be revealed, from the days of Adam even to the present time; and not only this, but those things which never have been revealed from the foundation of the world, but have been kept hid from the wise and prudent, shall be revealed unto babes and sucklings in this the dispensation of the fulness of times.
19 Now what do we hear in the gospel which we have received? "A voice of gladness! A voice of mercy from Heaven; and a voice of truth out of the earth, glad tidings for the dead: a voice of gladness for the living and the dead; glad tidings of great joy; how beautiful upon the mountains are the feet of those that bring glad tidings of good things; and that say unto Zion, behold! thy God reigneth. As the dews of Carmel, so shall the knowledge of God descend upon them."
20 And again, what do we hear? Glad tidings from Cumorah! Moroni, an angel from heaven, declaring the fulfilment of the prophets—the book to be revealed. A voice of the [p. 427]