Doctrine and Covenants, 1844
Source Note

The Doctrine and Covenants of the Church of Jesus Christ of Latter Day Saints; Carefully Selected from the Revelations of God. By Joseph Smith, President of Said Church.

2nd ed. Nauvoo, IL: John Taylor, 1844; 3–448; includes typeset signature marks and copyright notice. The copy presented herein is held at CHL; includes marginalia and archival markings.

All but the final gathering of this book was printed in octodecimo format on thirteen sheets that were cut and folded into thirteen gatherings of eighteen leaves (thirty-six pages) each. The final gathering comprises eight leaves (sixteen pages). The text block measures 5⅞ × 3⅝ inches (15 × 9 cm).

The copy of the book presented herein is in a presentation binding of red sheepskin with gilt edges. The volume measures 6 × 3⅞ × 1 inches (15 × 10 × 3 cm). The spine is stamped with gilt ornamental panels and "Doctrine | and | Covenants" and "J. Glenn." in gilt. The front and back pastedowns, the front flyleaf, and the back flyleaf are single-sided marbled leaves featuring a shell pattern with brown body and veins of red and white. In this copy, the first leaf of the first gathering, which is blank in other extant copies, is missing. The verso of the front flyleaf has two inscriptions, the first in graphite and the second in ink: "RN 69025 | Vault | Book Area | M223.1 | D632 | 1844" and "Jane Glenn | from her friend | Leonora Taylor | Nauvoo Oct 27th | 1844". The handwriting of the first inscription is unknown; Leonora Taylor inscribed the second.

As the aforementioned ink inscription indicates, Leonora Taylor, wife of early church leader and printer

John Taylor

1 Nov. 1808–25 July 1887. Preacher, editor, publisher, politician. Born at Milnthorpe, Westmoreland, England. Son of James Taylor and Agnes Taylor, members of Church of England. Around age sixteen, joined Methodists and was local preacher. Migrated from England...

View Full Bio

, presented this book to Jane Glenn. The book came into the possession of the Historical Department of The Church of Jesus Christ of Latter-day Saints circa 1983.

Historical Introduction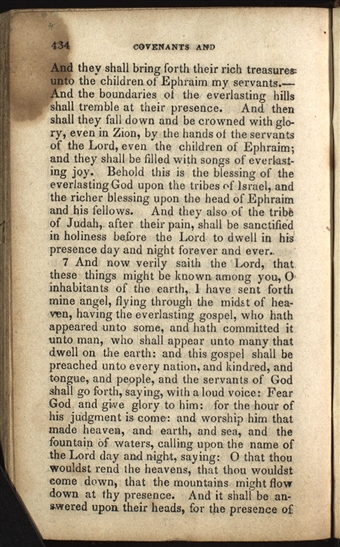 And they shall bring forth their rich treasures
unto the children of Ephraim my servants.—
And the boundaries of the everlasting hills
shall tremble at their presence. And then
shall they fall down and be crowned with glo
ry, even in Zion, by the hands of the servants
of the Lord, even the children of Ephraim;
and they shall be filled with songs of everlast
ing joy. Behold this is the blessing of the
everlasting God upon the tribes of Israel, and
the richer blessing upon the head of Ephraim
and his fellows. And they also of the tribe
of Judah, after their pain, shall be sanctified
in holiness before the Lord to dwell in his
presence day and night forever and ever.
7 And now verily saith the Lord, that
these things might be known among you, O
inhabitants of the earth, I have sent forth
mine angel, flying through the midst of hea
ven, having the everlasting gospel, who hath
appeared unto some, and hath committed it
unto man, who shall appear unto many that
dwell on the earth: and this gospel shall be
preached unto every nation, and kindred, and
tongue, and people, and the servants of God
shall go forth, saying, with a loud voice: Fear
God and give glory to him: for the hour of
his judgment is come: and worship him that
made heaven, and earth, and sea, and the
fountain of waters, calling upon the name of
the Lord day and night, saying: O that thou
wouldst rend the heavens, that thou wouldst
come down, that the mountains might flow
down at thy presence. And it shall be an
swered upon their heads, for the presence of [p. 434]
And they shall bring forth their rich treasures unto the children of Ephraim my servants.— And the boundaries of the everlasting hills shall tremble at their presence. And then shall they fall down and be crowned with glory, even in Zion, by the hands of the servants of the Lord, even the children of Ephraim; and they shall be filled with songs of everlasting joy. Behold this is the blessing of the everlasting God upon the tribes of Israel, and the richer blessing upon the head of Ephraim and his fellows. And they also of the tribe of Judah, after their pain, shall be sanctified in holiness before the Lord to dwell in his presence day and night forever and ever.
7 And now verily saith the Lord, that these things might be known among you, O inhabitants of the earth, I have sent forth mine angel, flying through the midst of heaven, having the everlasting gospel, who hath appeared unto some, and hath committed it unto man, who shall appear unto many that dwell on the earth: and this gospel shall be preached unto every nation, and kindred, and tongue, and people, and the servants of God shall go forth, saying, with a loud voice: Fear God and give glory to him: for the hour of his judgment is come: and worship him that made heaven, and earth, and sea, and the fountain of waters, calling upon the name of the Lord day and night, saying: O that thou wouldst rend the heavens, that thou wouldst come down, that the mountains might flow down at thy presence. And it shall be answered upon their heads, for the presence of [p. 434]