Doctrine and Covenants, 1844
Source Note

The Doctrine and Covenants of the Church of Jesus Christ of Latter Day Saints; Carefully Selected from the Revelations of God. By Joseph Smith, President of Said Church.

2nd ed. Nauvoo, IL: John Taylor, 1844; 3–448; includes typeset signature marks and copyright notice. The copy presented herein is held at CHL; includes marginalia and archival markings.

All but the final gathering of this book was printed in octodecimo format on thirteen sheets that were cut and folded into thirteen gatherings of eighteen leaves (thirty-six pages) each. The final gathering comprises eight leaves (sixteen pages). The text block measures 5⅞ × 3⅝ inches (15 × 9 cm).

The copy of the book presented herein is in a presentation binding of red sheepskin with gilt edges. The volume measures 6 × 3⅞ × 1 inches (15 × 10 × 3 cm). The spine is stamped with gilt ornamental panels and "Doctrine | and | Covenants" and "J. Glenn." in gilt. The front and back pastedowns, the front flyleaf, and the back flyleaf are single-sided marbled leaves featuring a shell pattern with brown body and veins of red and white. In this copy, the first leaf of the first gathering, which is blank in other extant copies, is missing. The verso of the front flyleaf has two inscriptions, the first in graphite and the second in ink: "RN 69025 | Vault | Book Area | M223.1 | D632 | 1844" and "Jane Glenn | from her friend | Leonora Taylor | Nauvoo Oct 27th | 1844". The handwriting of the first inscription is unknown; Leonora Taylor inscribed the second.

As the aforementioned ink inscription indicates, Leonora Taylor, wife of early church leader and printer

John Taylor

1 Nov. 1808–25 July 1887. Preacher, editor, publisher, politician. Born at Milnthorpe, Westmoreland, England. Son of James Taylor and Agnes Taylor, members of Church of England. Around age sixteen, joined Methodists and was local preacher. Migrated from England...

View Full Bio

, presented this book to Jane Glenn. The book came into the possession of the Historical Department of The Church of Jesus Christ of Latter-day Saints circa 1983.

Historical Introduction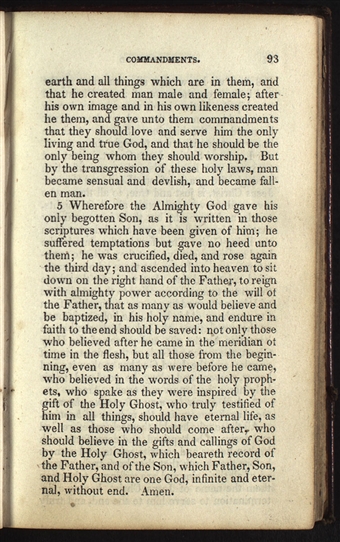 earth and all things which are in them, and
that he created man male and female; after
his own image and in his own likeness created
he them, and gave unto them commandments
that they should love and serve him the only
living and true God, and that he should be the
only being whom they should worship. But
by the transgression of these holy laws, man
became sensual and devlish, and became fall
en man.
5 Wherefore the Almighty God gave his
only begotten Son, as it is written in those
scriptures which have been given of him; he
suffered temptations but gave no heed unto
them; he was crucified, died, and rose again
the third day; and ascended into heaven to sit
down on the right hand of the Father, to reign
with almighty power according to the will of
the Father, that as many as would believe and
be baptized, in his holy name, and endure in
faith to the end should be saved: not only those
who believed after he came in the meridian of
time in the flesh, but all those from the begin
ning, even as many as were before he came,
who believed in the words of the holy proph
ets, who spake as they were inspired by the
gift of the Holy Ghost, who truly testified of
him in all things, should have eternal life, as
well as those who should come after, who
should believe in the gifts and callings of God
by the Holy Ghost, which beareth record of
the Father, and of the Son, which Father, Son,
and Holy Ghost are one God, infinite and eter
nal, without end. Amen. [p. 93]
earth and all things which are in them, and that he created man male and female; after his own image and in his own likeness created he them, and gave unto them commandments that they should love and serve him the only living and true God, and that he should be the only being whom they should worship. But by the transgression of these holy laws, man became sensual and devlish, and became fallen man.
5 Wherefore the Almighty God gave his only begotten Son, as it is written in those scriptures which have been given of him; he suffered temptations but gave no heed unto them; he was crucified, died, and rose again the third day; and ascended into heaven to sit down on the right hand of the Father, to reign with almighty power according to the will of the Father, that as many as would believe and be baptized, in his holy name, and endure in faith to the end should be saved: not only those who believed after he came in the meridian of time in the flesh, but all those from the beginning, even as many as were before he came, who believed in the words of the holy prophets, who spake as they were inspired by the gift of the Holy Ghost, who truly testified of him in all things, should have eternal life, as well as those who should come after, who should believe in the gifts and callings of God by the Holy Ghost, which beareth record of the Father, and of the Son, which Father, Son, and Holy Ghost are one God, infinite and eternal, without end. Amen. [p. 93]