Home

>

Joseph Smith Papers Conference, 2020
Joseph Smith Papers Conference, 2020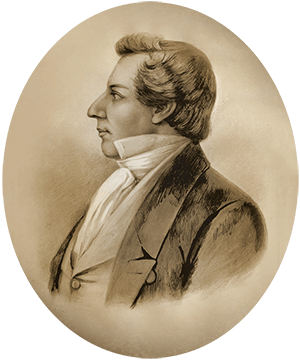 Joseph Smith's Connections and Networks
On Friday, September 18, 2020, the Joseph Smith Papers Project held the fourth annual Joseph Smith Papers Conference. Due to the ongoing global pandemic, the event was held online.
Presentations explore aspects of Joseph Smith's interrelated worldviews, including race, politics, finance, and theology. Papers engage with themes found in volumes 10 and 11 of the Documents series of The Joseph Smith Papers.
Proceedings from the conference are found below. Each participant has graciously shared a video of his or her presentation online. Links to view the presentations below are provided as a convenience. As with other academic conferences, speakers are responsible for the contents of their presentations. No endorsement is stated or implied.
---
Panel 1 ― Interpreting Joseph Smith's Networks: A Joseph Smith Papers Roundtable
Remarks by Spencer McBride
Spencer W. McBride, Joseph Smith Papers
Spencer W. McBride is a historian for the Joseph Smith Papers. He earned his PhD in history at Louisiana State University and specializes in the intersections of religion and politics in United States history. He is the author of Pulpit and Nation: Clergymen and the Politics of Revolutionary America (University of Virginia Press, 2016) and the coeditor of Contingent Citizens: Shifting Perceptions of Latter-day Saints in American Political Culture (Cornell University Press, 2020). His new book on Joseph Smith's presidential campaign will be published by Oxford University Press in spring 2021.
Remarks by Shannon Kelly Jorgensen
Shannon Kelly Jorgensen, Joseph Smith Papers
Shannon Kelly Jorgensen is an editor for the Church Historian's Press. She previously worked as an editorial assistant for the Joseph Smith Papers. She received a BA in humanities with a minor in editing from Brigham Young University, where she wrote and edited for Stowaway magazine and served as an editorial assistant for BYU Studies.
Remarks by Stephanie Steed
Stephanie Steed, Joseph Smith Papers
Stephanie Steed is an editor for the Church Historian's Press. She graduated from Brigham Young University with a BA in English language and a minor in editing. She is currently obtaining an MA in English from Arizona State University. She has worked for the Joseph Smith Papers for six years, during which time she also helped with source checking for the first two volumes of Saints: The Story of the Church of Jesus Christ in the Latter Days.
Remarks by Brett D. Dowdle
Brett D. Dowdle, Joseph Smith Papers
Brett D. Dowdle is a historian with the Joseph Smith Papers. He holds a BA and an MA in history from Brigham Young University and a PhD in American history from Texas Christian University. He has been a volume editor for Documents, Volumes 8, 11, and 15 and has provided research assistance for several other volumes. He currently lives in Orem with his wife and daughter.
Remarks by Nathan N. Waite
Nathan N. Waite, Joseph Smith Papers
Nathan Waite is an editor on the Joseph Smith Papers and an associate editorial manager for the Church Historian's Press. He received a BA in English from Brigham Young University, an MA in American studies from the University of Utah, and a graduate certificate in digital human ities from the University of Victoria. He is coeditor of A Zion Canyon Reader (University of Utah Press, 2014) and Settling the Valley, Proclaiming the Gospel: The General Epistles of the Mormon First Presidency (Oxford, 2017).
Remarks by Angela M. Thompson,
Angela M. Thompson, Joseph Smith Papers
Angela Thompson is an editor for the Church Historian's Press. She received a BS in human development and an MA in English, with an emphasis in Victorian literature, from Brigham Young University. Prior to joining the project, she worked as an editorial lead for ProQuest, where she managed the elementary editions of CultureGrams―a leading reference database of cultural information on countries of the world.
---
Panel 2 ― Power Networks: Race, Hostility, and Politics
"'I Dug the Graves': Isaac Lewis Manning, Joseph Smith, and Racial Connections in Two Latter Day Saint Traditions"
W. Paul Reeve, University of Utah
W. Paul Reeve is the Simmons Professor of Mormon Studies in the history department at the University of Utah, where he serves as chair of the Mormon Studies Initiative. Reeve's book, Religion of a Different Color: Race and the Mormon Struggle for Whiteness (Oxford, 2015), received three best book awards. He is project manager and general editor of a digital database, Century of Black Mormons, designed to name and identify all known black Mormons baptized into the faith between 1830 and 1930. The database is live at CenturyofBlackMormons.org.
"Joseph Smith and Warsaw, Illinois: A Network of Conflict"
Brian Stutzman, Independent Scholar
Brian Stutzman authored the first history of Warsaw, Illinois. Warsaw was the nemesis of Nauvoo during the 1840s. Stutzman lives in Idaho Falls, Idaho, where he and his wife, Alane, are the parents of four sons. Stutzman has spoken at John Whitmer Historical Association, twice at BYU–Idaho Education Week, and several times at the Warsaw Historical Association. He enjoys teaching Hancock County residents about their past. He holds a degree in economics from Brigham Young University, where he served as president of an honor society. He is very active in local and state politics and enjoys sports, traveling, and church service.
"The Cadre for the Kingdom: The Lasting Connections and Networks Forged by Joseph Smith's Electioneers"
Derek R. Sainsbury, Brigham Young University
Derek R. Sainsbury holds a PhD in American history from the University of Utah and is the author of Storming the Nation: The Unknown Contributions of Joseph Smith's Political Missionaries. He has taught for twenty-five years in the Church Educational System of The Church of Jesus Christ of Latter-daySaints. Currently, he is an instructor in Brigham Young University's religion department.
---
Panel 3 ― Financial Networks: Untapped Scholarly Sources and a New Joseph Smith Papers Series
"Was Joseph Smith Bad at Business?: Evaluating and Contextualizing Joseph Smith's Business Practices and Networks of Debt"
Elizabeth A. Kuehn, Joseph Smith Papers
Elizabeth Kuehn received her BA in history from Arizona State University and her MA in history from Purdue University. She became a PhD candidate in history at the University of California, Irvine, in 2011. Since 2013, she has worked as a documentary editor and historian for the Joseph Smith Papers. She is a coeditor of several volumes of the Joseph Smith Papers, including Documents, Volumes 5, 6, and 10. She is also the lead editor of the new Financial Records online series for the Joseph Smith Papers.
"The Red Brick Store Daybooks: Just Financial Transactions?"
Sharalyn D. Howcroft, Joseph Smith Papers
Sharalyn Howcroft is project archivist for the Joseph Smith Papers. She has been a member of the Academy of Certified Archivists (ACA) since 2015 and serves on the ACA Exam Development Committee (2019–21). She is coeditor of Foundational Texts of Mormonism: Examining Major Early Sources (Oxford, 2018)
"'Submit Patiently to Their Economy': Labor Disputes and the Building of the Nauvoo Temple"
Jeffrey D. Mahas, Joseph Smith Papers
Jeffrey Mahas is a historian with the Joseph Smith Papers. His work appears in the Documents, Administrative Records, Legal, and Financial Records series of the project. He received his MA from the University of Utah in history.
---
Panel 4 ― Theological Networks: Salvation and Revelation as Communal Experiences
"Temporal Contexts and Eternal Connections in Joseph Smith's Nauvoo Teachings"
Jordan T. Watkins, Brigham Young University
Jordan Watkins received a PhD in American history from the University of Nevada, Las Vegas. His current book manuscript, Slavery and Sacred Texts: The Bible, the Constitution, and the Antebellum Confrontation with History, is under contract at Cambridge University Press. Before taking a job at Brigham Young University, he had the great privilege of working for the Joseph Smith Papers, where he contributed to volume 10 of the Documents series.
"The Liturgies of Connection"
Jonathan A. Stapley, Independent Scholar
Jonathan Stapley is a historian and scientist. His book The Power of Godliness received the 2019 Best Book Award from the Mormon History Association.
"Collaborative Revelation in the Early Restoration"
Samuel M. Brown, University of Utah
Samuel Brown is an associate professor of medical ethics and humanities at the University of Utah and a physician scientist studying life-threatening infection. He has written several books. His latest book is Joseph Smith's Translation (Oxford, 2020). His talk will be drawn from an intellectual biography of William Phelps, to be published by University of Illinois Press.