Home

>

Documents, Volume 1: July 1828–June 1831
Documents, Volume 1: July 1828–June 1831

Purchase: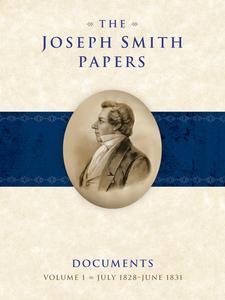 This volume, published in 2013, inaugurates the core series of The Joseph Smith Papers, the Documents series. It includes the first three years of what survives of Joseph Smith's papers, including letters he sent and received, revelations, minutes of meetings he participated in, deeds and other financial papers, and records of ecclesiastical administration such as priesthood licenses. This collection of documents covers key events from Latter-day Saint history, including the translation and publication of the Book of Mormon, the establishment of a church, and the mission by Oliver Cowdery and others to preach to American Indians on the western frontier of the United States. ISBN-13: 978-1-60907-577-4
Volume Editors
Michael Hubbard MacKay and Gerrit J. Dirkmaat are historians for the Church History Department, The Church of Jesus Christ of Latter-day Saints. Grant Underwood is a professor of history at Brigham Young University. Robert J. Woodford is a retired instructor at the Latter-day Saint Institute of Religion at the University of Utah. William G. Hartley is an emeritus associate professor of his­tory at Brigham Young University.
Additional Content
Volume Maps
Video 
About This Volume
This volume marks the beginning of the Documents series of The Joseph Smith Papers. While other series of the Papers include the large, multiple-entry documents—such as journals and the Book of Mormon manuscripts—that are not assignable to a single date, the Documents series presents in chronological order the core of Joseph Smith's documentary record.
When complete, the Documents series will publish more than a thousand documents created, authorized, or owned by Joseph Smith, including each of his revelations in its earliest form, reports of his discourses, and correspondence. Also found in the series are articles and editorials he wrote for newspapers, minutes of meetings in which he participated, and records of his ecclesiastical administration. The series begins with a revelation dictated in July 1828 in response to the loss of dozens of manuscript pages of the translation made from the gold plates and ends with a letter Joseph Smith wrote to Illinois lawyer Orville Browning just hours before he was killed on June 27, 1844.
This first volume of the Documents series consists of documents written from July 1828 to June 1831. The records transcribed here provide the reader with the earliest textual insights into Joseph Smith and the founding of what was then called the Church of Christ. Though disparate in nature and sometimes separated from one another by months for which no documents have survived, these texts offer glimpses into the religious leader's thoughts, concerns, and initiatives in a crucial early period of the religious movement he started. This book allows the reader not only to study Joseph Smith but also to gain a greater understanding of his followers and the millenarian movement they participated in during the Second Great Awakening.
Many of Joseph Smith's sacred texts appear among the contents of this volume. Found here are more than five dozen revelations, or communica­tions presented in the first-person voice of Jesus Christ. Included are texts later published in the Doctrine and Covenants, the expansive "visions of Moses" (now found in the Pearl of Great Price), and revelations never canonized. These revelations treat mundane matters like farming and financial trans­actions alongside sweeping theological expositions.
Several documents trace the process of trans­lating and printing the Book of Mormon, as well as early efforts to evangelize using the book and its message. Foremost among these activities was an 1830–1831 mission by Oliver Cowdery and oth­ers to preach to American Indians. That mission laid the groundwork for two major milestones of early Latter-day Saint history—the church's migration to Ohio and an effort to establish the New Jerusalem in western Missouri, in expectation of the second coming of Jesus Christ.
Appendixes to the volume present important documents such as Oliver Cowdery's "Articles of the Church of Christ" and several copies of charac­ters said to be taken from the gold plates. Also in­cluded is extensive reference material—biographical and geographical directories, a chronology of im­portant events, and a "calendar" listing all known Joseph Smith documents for this period, including those no longer extant.
Excerpts
Revelation to the Three Witnesses of Gold Plates, June 1829 [D&C 17]
Behold I say unto you that you must rely upon my word which if you do with full purpose of heart you shall have a view of the plate[s] and also the brestplate the sword of Laban the Urim and Thumim which was given to the brother of Jared upon the mount when he talked with the Lord face to face and the marveelus directors which was given to Lehi while in the wilderness on the borders of the red sea and it is by your faith that you shall obtain a view of them even by that faith which was had by the prophets of old and after that you have obtained faith and have seen them with your eyes you shall testify of them by the power of God and this you shall do that my servant Joseph Smith Jr may not be distroyed that I may bring about my righteous purposes unto the children of men in this work and ye shall testify that ye have seen them even as my servant Joseph Smith jr has seen them for it is by my power that he has seen them and it is because he had faith and he has translated them even that part which I have commanded him.
Letter on Gathering to Ohio, Joseph Smith to Hyrum Smith, 3–4 March 1831
We arived here [Kirtland, Ohio] safe and are all well I hav[e] been ingageed in regulating the Churches here as the deciples are numerous and the devil had made many attempts to over throw them it has been a Serious job but the Lord is with us and we have overcome and have all things regular the work is brakeing forth on the right hand and on the left and there is a great Call for Elders in this place. . . . I have had much Concirn about you but I always remember you in my prayers Calling upon god to keep you Safe in spite of men or devils I think you had better Come into this Country immediately for the Lord has Commanded us that we Should Call the Elders of this Chursh to gether unto this plase as soon as possable[.]
Reviews
"Well researched, scrupulously proofread, and expertly annotated, these volumes, and this edition, will surely stand as the definitive one for many generations."
—Kenneth P. Minkema, Review of The Joseph Smith Papers, ed. by Dean C. Jessee, Ronald K. Esplin, Richard Lyman Bushman, and Matthew J. Grow; Documents, Volume 1: July 1828–June 1831, ed. by Michael Hubbard McKay, Gerrit J. Dirkmat, Grant Underwood, Robert J. Woodford, and William G. Hartley; and Documents, Volume 2: July 1831–January 1833, ed. by Matthew C. Godfrey, Mark Ashurst-McGee, Grant Underwood, Robert J. Woodford, and William G. Hartley, Journal of the Early Republic 35, no. 1 (Spring 2015), 157–159.
"The volumes [of the Joseph Smith Papers] published thus far represent the high-water mark for LDS documentary editing. . . . The editors should be commended for their painstaking attention to detail and the overall quality of the publications."
—Thomas A. Wayment, "Review: The Joseph Smith Papers, Documents, Volumes 1–2," Religious Educator 15, no. 3 (2014): 129–131.
"The Project in general and the editors of D1, in particular, have marshaled an unparalleled effort to ferret out even the most obscure references to people, places, and chronology and critically assess them. As a result D1 offers sometimes surprisingly novel insights into the documents which it contains, and in several cases radically alters our understanding. D1 is the starting point for any serious study of early Mormonism."
—J. Stapley, "Review: Documents, Volume 1, 1829–1831 of the JSPP," By Common Consent (blog), 16 June 2014, http://bycommonconsent.com/2014/06/16/review-documents-volume-1-1829-1831-of-the-joseph-smith-papers-project.
"This [Documents] series is where the 'trickle down' effect of the Papers in the hands of future historians and biographers will probably be most powerful. As has come to be expected, these volumes feature painstaking precision and a primary source focus. A fine achievement and a welcome addition to any library, either for a researcher or interested reader."
—Bryan Buchanan, "Review: The Joseph Smith Papers: Documents, vol. 1: July 1828–June 1831 and The Joseph Smith Papers: Documents, vol. 2: July 1831–January 1833," Association for Mormon Letters Discussion Board, 25 January 2014.