Home

>

Documents, Volume 10: May–August 1842
Documents, Volume 10: May–August 1842

Purchase: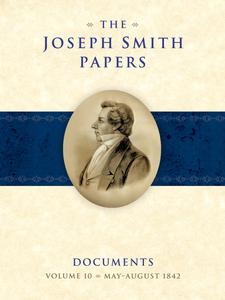 The tenth volume in the Documents series, published in May 2020, features over one hundred letters, revelations, meeting minutes, deeds, sermon accounts, and other documents from May 1842 through August 1842. These documents chronicle important developments in the church, Joseph Smith's personal life, and the community of Nauvoo, Illinois, during these months. The rich documentary record from this period details Joseph Smith's attempts to avoid extradition from Illinois to Missouri, efforts to build a temple, and challenges posed by John C. Bennett's immorality and disaffection from the church. This book offers an extraordinary portrait of the breadth of Joseph Smith's daily activities as he served as a military leader and mayor of Nauvoo, continued as editor of the church's newspaper, attempted to secure financial relief under the nation's new bankruptcy law, and instructed Latter-day Saints near and far through discourses and correspondence. Readers will come away from this volume with an increased understanding of Joseph Smith's life and of this pivotal period in Nauvoo.
Volume Editors
Elizabeth A. Kuehn and Matthew C. Godfrey are historians for the Church History Department, The Church of Jesus Christ of Latter-day Saints. Jordan T. Watkins is an assistant professor of church history at Brigham Young University. Mason K. Allred is an assistant professor of communication and media studies at Brigham Young University–Hawaii.
Additional Content
Volume Maps
Video
About This Volume
In the summer of 1842, Joseph Smith continued to direct the affairs of a growing church. He introduced new religious rituals, oversaw missionary work, encouraged the construction of a temple, served as editor of the church newspaper Times and Seasons, and struggled to help the hundreds of converts gathering to Nauvoo, Illinois. In May, he was elected mayor, adding new municipal responsibilities to his busy schedule. Financial concerns were yet another matter that required Smith's attention. He had filed a bankruptcy application in mid-April 1842 and over the summer of 1842 had his first hearing and corresponded with his attorney and creditors regarding that bankruptcy. The demands on his time were so great that Wilford Woodruff wrote in June that he had "never seen Joseph as full of business as of late," noting that "he hardly gets time to sign his name."
Joseph Smith's documentary output from May through August 1842 reflects these many roles and concerns. Documents, Volume 10 features 105 documents, including correspondence, editorials, reports of discourses, minutes of meetings, municipal and legal documents, military records, financial records and notices, as well as a revelation on conducting a plural marriage sealing.
Intense opposition from John C. Bennett, a respected leader in both the community and the church, consumed much of Joseph Smith's attention during this period. Bennett was excommunicated in May as a result of sexual impropriety. He left Nauvoo the next month, threatening to expose Joseph Smith as a fraud. Smith and other Latter-day Saints marshaled evidence outlining Bennett's perfidy. In turn, Bennett's published letters and public lectures condemning Joseph Smith resulted in a firestorm of controversy in the eastern United States.
In July 1842, Joseph Smith was accused of being an accessory to the attempted murder of Lilburn W. Boggs, former governor of Missouri. Knowing his life would be imperiled if he were extradited to Missouri, he went into hiding near his home in Illinois and across the river in Iowa Territory. While in isolation, he wrote letters to his wife Emma, giving counsel and seeking her advice; to friends, asking them to visit him surreptitiously; and to Wilson Law, the acting commander of the Nauvoo Legion, directing him to be prepared for potential mobs from Missouri. During the same period, he dictated a series of heartfelt blessings praising those who had supported and protected him and pronouncing eternal blessings on their heads.
The months documented in this volume were times of dramatic change and increasing anxiety for Joseph Smith and the community of Nauvoo as they weathered the allegations of Bennett and Boggs. The texts presented here, with their detailed historical annotation, make this volume a crucial resource for those seeking a deeper understanding of Joseph Smith as prophet of the Church of Jesus Christ of Latter-day Saints, as mayor of Nauvoo, as leader of the Nauvoo Legion, and as a man who, despite the constant pressure of events, continued to faithfully lead his people.
Excerpts
Joseph Smith's Condemnation of John C. Bennett
Letter to the Church, 23 June 1842
"It becomes my duty to lay before the Church of Jesus Christ of Latter Day Saints, and the public generally, some important facts relative to the conduct and character of Dr JOHN C. BENNETT, who has lately been expelled from the aforesaid church; that the honorable part of community may be aware of his proceedings and be ready to treat him and regard him as he ought to be regarded, viz: as an impostor and base adulterer."
Latter-day Saint Perspective on the Attempt to Extradite Joseph Smith to Missouri
Poem from Eliza R. Snow, 20 August 1842
"O, how strange, in this boasted, republican land,
Where all claim to be happy and free;
That a prophet of God is forbidden to stand,
And is forced like a culprit to flee!"
Reviews
"[A]s always, the footnotes and editorial information on each document make the book well worth having. Some of the items featured in the book are Nauvoo city scrip signed by Joseph Smith, a poem written by Eliza R. Snow for Joseph Smith, and the only known revelation giving instructions for performing a plural marriage. . . . There are many other interesting documents contained in the book, along with explanatory introductions providing historical context and provenance, and copious footnotes. As always with this series, the book is well worth having in your library for the additional information it provides beyond what is currently available on the Joseph Smith Papers website."
—Trevor Holyoak, "Book Review: The Joseph Smith Papers, Documents, Vol. 10: December 1841–April 1842," FairMormon (blog), 14 October 2019, https://www.fairmormon.org/blog/2020/05/18/book-review-the-joseph-smith-papers-documents-vol-10-may-august-1842?