Home

>

Documents, Volume 12: March–July 1843
Documents, Volume 12: March–July 1843

Purchase: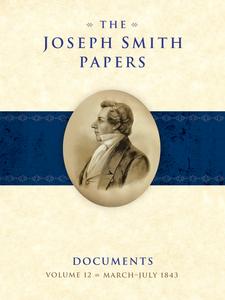 The twelfth volume in the Documents series, published in April 2021, features ninety-six documents including Joseph Smith's correspondence, accounts of his discourses, and his last major written revelation. The volume also features a representative selection of his more routine documents such as deeds, ecclesiastical authorizations, and financial and legal records.
Volume Editors
David W. Grua, Brent M. Rogers, Matthew C. Godfrey, Robin Scott Jensen, and Jessica M. Nelson are historians for the Church History Department, The Church of Jesus Christ of Latter-day Saints. Christopher James Blythe is a research associate at the Neal A. Maxwell Institute at Brigham Young University.
Additional Content
Volume Maps
Video
About This Volume
Thousands of Latter-day Saints lined the streets of Nauvoo, Illinois, on 30 June 1843, anxiously awaiting the arrival of Joseph Smith, president and prophet of the Church of Jesus Christ of Latter-day Saints. Earlier that month, Smith and his family were visiting relatives near Dixon, Illinois, approximately one hundred and thirty miles northeast of Nauvoo, when two law officers pretending to be Latter-day Saint missionaries seized Smith, verbally and physically abused him, and announced that they were authorized to extradite him to Missouri to stand trial for allegedly committing treason in 1838. With the aid of local attorneys, however, Smith found himself traveling not to Missouri, but to Nauvoo, where he was enthusiastically greeted by his family and thousands of his followers. On 1 July, the Nauvoo Municipal Court discharged him from custody on a writ of habeas corpus, to the chagrin of his captors.
Documents, Volume 12 includes a selection of Joseph Smith's papers produced from March through July 1843. The documents in this volume illuminate not only Smith's ongoing legal struggles with Missouri but also his civic responsibilities as mayor, justice of the peace, and commander of the city's militia, the Nauvoo Legion. During these months, Joseph Smith attended city council meetings and signed ordinances that regulated the economy. In March 1843, as a justice of the peace in the Nauvoo mayor's court, he adjudicated a medical malpractice suit, Charles Dana v. William Brink, which drew a great deal of public interest and resulted in the only judicial decision by Smith that was published during his lifetime.
Despite the demands of his civic roles, Joseph Smith continued to oversee the administration of the church in Nauvoo. Addressing the Saints at the church's April 1843 special conference, he emphasized the importance of the city's two primary building projects: the Nauvoo House, a hotel that would accommodate prestigious visitors, and the Nauvoo temple, where church members would receive sacred ordinances. Plans for the church's future growth as well as the challenges of leading a rapidly growing church are revealed in Smith's correspondence with church leaders and missionaries operating in scattered congregations in the eastern United States and Great Britain.
Joseph Smith also devoted himself to instructing the Saints. During the months documented in this volume, he delivered numerous public discourses on a variety of subjects ranging from the mundane to the sublime. Privately, he taught faithful church members about the eternity of the marriage covenant when sealed by priesthood authority. On 12 July 1843, he dictated his final major revelation, on eternal and plural marriage.
Documents, Volume 12 features transcriptions of Joseph Smith documents produced from March through July 1843 and includes detailed introductions and extensive annotation that place the featured texts in their historical and religious context. The volume provides an illuminating glimpse of Smith as he led the church, governed the bustling city of Nauvoo, and used the legal tools at his disposal to challenge his extradition to Missouri.
Excerpts
Reflections on Religious Liberty
Discourse, 9 July 1843, as Reported by Willard Richards
"'Why is it this babler gains so many followers. & retains them'? because I possess the principle of love, All I can offer the world [is] a good heart & a good hand. Mormons can testify whether I am willing to lay down my life for a mormon; If it has been demonstrated that I am have been willing to die for a Mormon I am bold to declare befo[r]e heaven that I am just as ready to die for a presbytiran. a baptist or any other denomination.— It is a love of libe[r]ty which inspires my soul. civil and religious liberty— were diffused into my soul by my grandfathers. while they dandld me on their knees.— and shall I want friends? no!"
Comments on His Treatment of the Arresting Officers after the June 1843 Extradition Attempt
Discourse, 30 June 1843, as Reported by Wilford Woodruff
"By the power of God & generalship & I have brought them to Nauvoo & treated them kindly I have had the privilege of rewarding them good for evil, they took me unlawfully treated me rigorously, strove to deprive me of my rights & would have run me to Missouri to have been murdered if providence had not interposed: but now they are in my hands, I took them to my house set them at the head of my table & set the best before them my house afforded & they were waited upon by my wife whom they deprived of seeing me when I was taken. I shall be discharged by the Municipal Court of Nauvoo."