Home

>

Documents, Volume 13: August–December 1843
Documents, Volume 13: August–December 1843

Purchase: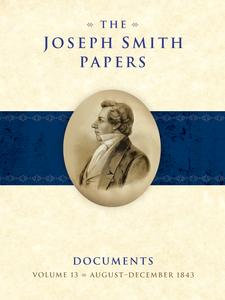 The thirteenth volume in the Documents series, to be published in June 2022, features ninety-eight documents including Joseph Smith's correspondence, accounts of his discourses, and petitions seeking redress from the federal government. The volume also features pay orders, militia commands, and an interview with a newspaper editor from Pittsburgh, Pennsylvania.
Volume Editors
Christian K. Heimburger, Jeffrey D. Mahas, Brent M. Rogers, and J. Chase Kirkham are historians for the Church History Department, The Church of Jesus Christ of Latter-day Saints. Matthew S. McBride is the director of the Publications Division, Church History Department. Mason K. Allred is an assistant professor of communications, media, and culture at Brigham Young University–Hawaii.
Additional Content
Volume Maps
About This Volume
On 21 December 1843, the city council of Nauvoo, Illinois, approved an extraordinary petition asking the United States Congress to grant Nauvoo the rights and powers of a federal territory. The petition also sought authorization for mayor Joseph Smith to mobilize federal troops to "repel the invasion of mobs, keep the public peace, and protect the innocent from the unhallowed ravages of lawless banditti." These bold requests were a response to years of persecution and violence against Latter-day Saints. The petition was also a more immediate reaction to the violent threats issued by Hancock County's Anti-Mormon Party in September and the abduction of two Hancock County residents by church opponents in November and December 1843. Fearing that these events portended increased violence, Joseph Smith and other city leaders took drastic action in December, including passing an ordinance that suspended legal processes originating outside of the city, creating a full-time police force, mobilizing the local militia, and asking Congress to empower the mayor to, if necessary, "call to his aid a sufficient number of United States forces."
Documents, Volume 13, covering the period from 1 August to 31 December 1843, details these momentous events as well as Joseph Smith's ongoing efforts to lead, teach, and minister to the growing number of Latter-day Saints in the United States and abroad. Nauvoo was humming with activity in August 1843 as migrants continued to pour into the city and surrounding towns from the eastern United States and Great Britain and as civic and church leaders worked to develop the infrastructure of the "corner-stone of Zion." As the Latter-day Saints constructed the Nauvoo temple, Smith elucidated key religious principles associated with the temple, such as priesthood and the sealing power, in public discourses and private meetings.
Meanwhile, the Anti-Mormon Party's pronouncement that they would resist the Latter-day Saints "forcibly if we must" and suspicions that Smith's counselor Sidney Rigdon sought to betray him to Missouri authorities rekindled memories of past violence and incarceration. Though Smith apprised Illinois governor Thomas Ford of these developments, Ford took no concrete action. In November, church leaders renewed their efforts to seek redress for the Latter-day Saints' property losses in Missouri during the 1830s by submitting another memorial to Congress; they also wrote letters to five presumptive presidential candidates seeking clarity regarding potential policies toward the Latter-day Saints. Tensions in the city only increased after news of the kidnappings of church member Daniel Avery and his son reached Nauvoo in early December. Though external tensions eased by late December, Joseph Smith hinted at another internal threat during a 29 December discourse when he referred to certain "friends who have betrayed me."
The ninety-eight documents featured in Documents, Volume 13 chronicle this tumultuous period in church history and provide necessary context for understanding the explosive events that unfolded during the final six months of Joseph Smith's life.
Excerpts
Funeral Sermon for Elias Higbee
Discourse, 13 August 1843, as Reported by Martha Jane Knowlton Coray
"There is a thought more dreadful than that of total annihilation, That is the thought that we shall never again meet with those we loved here on earth suppose I had some Idea of a resurection and Glory beyond the grave which God and angels had secured and yet had not any knowledge (intelligence) of any Law or any order by which it is to be obtained Well you lose a friend you come up in the resurection hoping to [see] him again but find yourself separated from them to all eternity and become aware of the fact that through ignorance of the principles of the resurection (and reunion) you will never behold that dear friend nor ever enjoy his society this thought (I say) of being disappointed in meeting my friend in the resurection is to me more dreadful than of ceasing to suffer by a cessation of being."
Letter to Presidential Candidate John C. Calhoun
4 November 1843
"In vain, we have Sought redress, by all constitutional, legal and honorable means, in her [Missouri's] courts, her Executive councils, and her Legislative Halls; and as we have petitioned Congress to take cognizance of our sufferings without effect, we have judged it wisdom to address you this communication, and Solicit an immediate, Specific, & candid reply to What will be your rule of action, relative to us, as a people, should fortune favor your ascension to the Chief Magistracy."