Home

>

Journals, Volume 3: May 1843–June 1844
Journals, Volume 3: May 1843–June 1844

Purchase: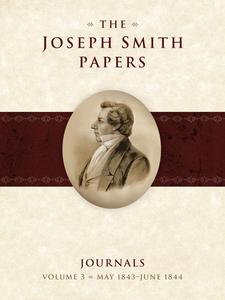 The third and final volume of the Journals series features journal entries from the last year of Joseph Smith's life. Published in 2015, the volume covers May 1843 through June 1844 and discusses topics including Joseph Smith's teaching on humanity's potential to become like God, the establishment of the Council of Fifty, Joseph Smith's candidacy for United States president, and the escalating conflict against Smith and the church. Appendixes include detailed, contemporary accounts from Willard Richards and William Clayton of the murder of Joseph Smith and his brother Hyrum. ISBN-13: 978-1-62972-147-7
Volume Editors
Andrew H. Hedges is an associate professor of church history and doctrine at Brigham Young University. Alex D. Smith and Brent M. Rogers are historians for the Church History Department, The Church of Jesus Christ of Latter-day Saints.
Additional Content
Volume Maps
Video
About This Volume
The last year of Joseph Smith's life was both turbulent and incredibly productive. He served as the highly visible and determined leader of one of the largest cities in Illinois and of a church with members spread throughout the United States and other countries. With his influence at its peak, he balanced roles as church president and prophet, mayor, judge, and militia leader, all while responding to escalating conflict. The journal entries reproduced in this volume of The Joseph Smith Papers illuminate Joseph Smith's varied activities and his aspirations and struggles in the months leading to his violent death.
Covering May 1843 through June 1844, this volume features the conclusion of Joseph Smith's second Nauvoo journal, kept by scribe Willard Richards. During these months, Joseph Smith was often preoccupied with legal and political matters, particularly in his role as mayor of Nauvoo, Illinois, and chief justice of Nauvoo's municipal court. Because of continued political struggles and conflict with their neighbors, Smith and his advisers contemplated relocating the church to Oregon or the Republic of Texas. The Council of Fifty, also known as "the Kingdom of God," was formed in part to lead this effort. At the same time, church leaders grew frustrated that their petitions to the nation's leaders for redress of losses earlier suffered in Missouri continued to prove fruitless. In response, Smith declared his candidacy for president of the United States.
Joseph Smith gave more than sixty public addresses during this time, many of which are documented in this volume. The discourses covered topics such as salvation, resurrection, baptism for the dead, priesthood ordinances, a multitiered heaven, and humanity's potential to become like God. At times, the teachings pushed the boundaries of what Smith's listeners were prepared to believe. Smith also continued to introduce temple ordinances, including eternal and plural marriage ceremonies, to a growing number of people.
Controversial teachings, the practice of plural marriage, Joseph Smith's growing political power, and other factors led to loud criticism of Smith and other church leaders, by both disaffected church members and prominent opponents in surrounding communities. Growing tensions resulted in threats and violence. The journal refers, for instance, to conspiracies against Joseph Smith's life, led by those who were once friends. After Nauvoo civic leaders declared the antagonistic newspaper the Nauvoo Expositor a public nuisance and destroyed its press, Smith and several of his associates were arrested. On the afternoon of 27 June 1844, a mob swarmed the jail in Carthage, Illinois, where Joseph Smith and his brother Hyrum were being held, and killed both men.
This volume includes as appendixes two additional sources that shed light on the final two weeks of Joseph Smith's life: an excerpt from Willard Richards's journal for 23–27 June and an account of Smith's 10–22 June activities made by William Clayton. Given these scribes' proximity to Smith, their records provide invaluable primary source material for studying the events leading to his death.
The accounts in this volume allow readers to study Smith's daily activities and personality as well as to better situate him and the faith he founded within nineteenth-century American history. Because of Richards's idiosyncratic handwriting, many passages of this journal have been misread and misunderstood in the past. To provide the most accurate reading possible, experts in Richards's handwriting have meticulously transcribed Smith's journal according to the highest standards of documentary editing. Aided by comprehensive annotation, this final installment of Joseph Smith's journals constitutes an essential primary source for research into the life of the first leader of The Church of Jesus Christ of Latter-day Saints.
Excerpts
Teachings from a Funeral Sermon, 9 October 1843
"All men know that all men must die.— What is the object of our coming into existence. then dying and falling away to be here no more? This is a subject we ought to study more than any other, which we ought to study day and night.— If we have any claim on our heavenly father for any thing it is for knowledge on this important subject— could we read and comprehend all that has been writtn from the days of Adam on the relation of man to God & angels. and the spirits of Just men in a future state. we should know very little about it. could you gaze in heaven 5 minute. you would know more— than you possibly would can know by read[ing] all that ever was writtn on the subject."
A Conspiracy to Murder Joseph Smith, 27 May 1844
"Joseph [H.] Jackson F[rancis] M. Higbee. & C[hauncey] L. Higbee were in A. Hamiltns [Artois Hamilton's] Hotel when we [Joseph Smith and others] arrived. soon after our arrival Chas A. Foster took me in a private room & told me there was a conspiracy again[s]t my life. R[obert] D. Foster. told some of the breth[r]en there was evil determ[ine]d aga[in]st me. (& that with tears in his eyes.)— and that there were those who were determ[ine]d I should not go out of the village [Carthage, Illinois] alive. &c— Jackson was seen Loading his pistol— and swore he would have satisfaction of me and Hiram [Hyrum Smith]—"
Reviews
"The great value of the Journals series is not always in the daily entries themselves but in the outstanding work of the editors, who provide extensive additional information about what was going on. . . .
"Such editorial comments comprise the bulk of both volumes [Journals, vols. 2 and 3] and, together with the ability to see exact transcriptions of the original journals, make these volumes of exceptional value to students of history, whether professional or otherwise. . . .
"If the editors of these journals had gone no further than providing great transcriptions along with exceptional editorial work, these would be valuable and worthwhile publications. But they have gone further by adding important reference material that is of inestimable value to scholars and others seeking to know more about the Prophet and his experiences."
—James Allen, BYU Studies 57, no. 4 (2018): 194–202, https://byustudies.byu.edu/content/journals-volume-2-december-1841-april-1843-journals-volume-3-may-1843-june-1844.
"Skousen and Jensen's editorial work on these two facsimile volumes of the printer's manuscript offer both scholars and lay readers alike wonderfully researched and beautifully executed volumes that make accessible each page of the handwritten manuscript that served as the source text for the earliest printed volumes of the Book of Mormon. . . . These types of scholarly volumes make such manuscript pages (with vitally informative marginal commentary) accessible to a wider readership, a readership that reaches far beyond the specialist scholars who most often have sole access to such delicate and treasured archival material. In this sense, facsimile editions such as these volumes are a move toward democratizing knowledge, and there are few textual projects that make this move as well as The Joseph Smith Papers."
—Paul Gutjahr, Review of Revelations and Translations, Volume 3, in Mormon Studies Review 4 (2017): 163–167.
"Reading the third and final volume of the journals of Joseph Smith is a lot like watching a documentary about the Titanic: you know how it ends, but you cannot help but be enthralled. . . . Those interested in the history of early Mormonism, both professional historians and informed lay readers, will find Journals, Volume 3 to be an invaluable resource and an impressive compilation of information. Once again, the editorial staff of the Joseph Smith Papers Project delivers a top-quality scholarly edition of documents pertaining to the founder of the Church of Jesus Christ of Latter-day Saints."
—Michael Pasquier, Review of Journals, Volume 3, in Mormon Studies Review 4 (2017): 159–162.
"All of the volumes in the Joseph Smith Papers series are beautifully presented, with important photographic and excellent typographic versions of the texts. . . . These volumes are an essential resource, and are both more elegant and ultimately more usable than Skousen's previous transcriptions, which were until now the most important resource for scholars interested in the text of the Printer's Manuscript."
—Brant A. Gardner, "Beauty Way More Than Skin Deep," Interpreter: A Journal of Mormon Scripture 20 (2016): 345–347.
"The newest volume in the Revelations and Translations series of The Joseph Smith Papers (JSP) follows the high level of quality that has come to be expected of the JSP in both the quality craftsmanship of the hardcover book itself and the contents on each page. This volume in particular is exciting for those interested in studying Mormonism for either an academic or devotional perspective (or both). . . . This new volume complements and strengthens the other volumes already published in the series, and gives me great hope for the future volumes yet to come out."
—Hans Rosekat, "Review: Royal Skousen and Robin Scott Jensen, eds., The Joseph Smith Papers, Revelations and Translations, Volume 3: Parts 1–2, Printer's Manuscript of the Book of Mormon," Rational Faiths (blog), 14 Aug. 2015, http://rationalfaiths.com/review-royal-skousen-and-robin-scott-jensen-eds-the-joseph-smith-papers-revelations-and-translations-volume-3-parts-1-2-printers-manuscript-of-the-book-of-mormon/.
"Serious students of Mormon history and theology, as well as those who value print resources, will want a copy of this book on their shelves because it is one of the most significant reference books with regard to our current understanding of Mormon history. . . . I think that most seminary and institute teachers, as well as any professional researchers or faculty with an interest in Mormonism, would do well to seriously consider picking up a copy of this book to have on hand. This book is the strongest history on the last year of Joseph Smith's life written thus far."
—Greg Seppi, "Review: Hedges, et al, 'The Joseph Smith Papers: Journals, Volume 3: May 1843–June 1844,'" Dawning of a Brighter Day (Association for Mormon Letters Blog), http://associationmormonletters.org/blog/reviews/older-reviews/hedges-et-al-the-joseph-smith-papers-journals-volume-3-may-1843-june-1844-reviewed-by-greg-seppi/.
"This concluding volume of the Journals series was worth the wait. With all of this information being made available, this is truly a great time to be studying the origins of the Church. While these volumes are primarily intended for scholars to use as primary sources, they should be of interest to anyone who wants to learn more about Joseph Smith and the Restoration."
—Trevor Holyoak, "Book Review: 'The Joseph Smith Papers: Journals: Volume 3: May 1843–June 1844,'" FairMormon (blog), 24 Jan. 2016, http://blog.fairmormon.org/2016/01/24/book-review-the-joseph-smith-papers-journals-volume-3-may-1843-june-1844/.
Journals, Volume 3 in the News