Home

>
Bill of Costs, 10 August 1844 [F. M. Higbee v. JS–B]
Source Note

Bill of Costs, , Hancock Co., IL, 10 Aug. 1844,

F. M. Higbee v. JS–B

(Hancock Co., IL, Circuit Court 1844); in Transcript of Proceedings, [5, 7–8]; handwriting of ; certification printed with manuscript additions in handwriting of , 10 Aug. 1844; certified by , 10 Aug. 1844; docket by , [, Hancock Co., IL, 10 Aug. 1844]; notation by James M. Campbell, [, McDonough Co., IL], 12 Aug. 1844; McDonough County Circuit Court Files, Illinois Regional Archives Depository vault, Archives and Special Collections, Leslie F. Malpass Library, Western Illinois University, Macomb. Includes seals.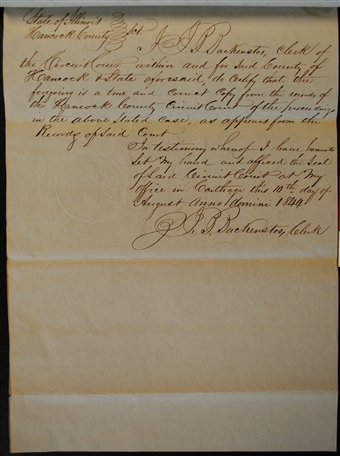 State of Illinois)
Sc[ilice]t.
)
I , clerk of the Circuit Court within and for said County of & State aforesaid, do certify that the foregoing is a true and correct copy from the records of the Circuit Court of the proceedings in the above Stated case, as appears from the Records of said Court
In testimony whereof I have hereunto Set my hand and affixed the seal of Said Circuit Court at my office in this 10
th.
day of August Anno domini 1844
, Clerk [
1/2 page blank
] [p. [7]]
State of Illinois)
Scilicet.
)
I , clerk of the Circuit Court within and for said County of & State aforesaid, do certify that the foregoing is a true and correct copy from the records of the Circuit Court of the proceedings in the above Stated case, as appears from the Records of said Court
In testimony whereof I have hereunto Set my hand and affixed the seal of Said Circuit Court at my office in this 10th. day of August Anno domini 1844
, Clerk [
1/2 page blank
] [p. [7]]