Home

>
Copies of Egyptian Characters, circa Summer 1835–C
Source Note

Copies of Egyptian Characters, [, Geauga Co., OH, ca. Summer 1835]; unidentified handwriting; includes pasted scraps of papyrus; one page; Egyptian Papyri, CHL.

Single leaf, measuring 10⅞–12½ × 3–7¾ inches (28–32 × 8–20 cm). An unknown scribe made copies of characters and of a part of a vignette. Afterward, someone pasted scraps of papyrus on the lower portion of the leaf. When the sheet was then folded in half, parts of the papyrus scraps adhered to the portion of the leaf that contains the copied characters, thereby obscuring some of the characters. The derivation or meaning of the characters is unknown. The verso is blank. This leaf, also known to scholars as fragment IX or the Historian's Office fragment, bears similar wear and damage to other documents held by the Church of Jesus Christ of Latter-day Saints. In the late 1960s, two staff members of the Historian's Office remembered this document being in the church's possession for much of the twentieth century, if not longer.

Footnotes

2

One Egyptologist described these characters as "only words and signs jumbled and even reversed." (Ritner, Joseph Smith Egyptian Papyri, 152n10.)  

Ritner, Robert K. The Joseph Smith Egyptian Papyri: A Complete Edition, P. JS 1–4 and the Hypocephalus of Sheshonq. Salt Lake City: Smith-Pettit Foundation, 2011.

3

Todd, "Background of the Church Historian's Fragment," 40-A.  

Todd, Jay M. "Background of the Church Historian's Fragment." Improvement Era 71, no. 2 (Feb. 1968): 40–41.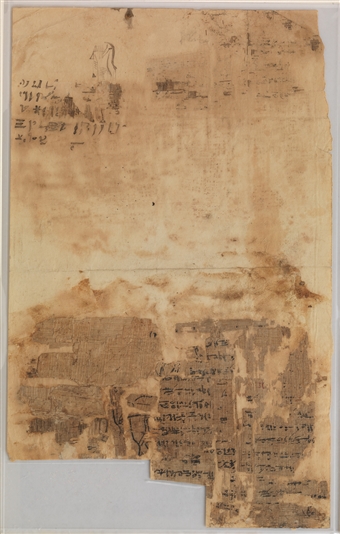 [
5 lines of hieratic characters
] [p. [1]]
[
5 lines of hieratic characters
] [p. [1]]