Home

>
Declaration, circa 7 July 1837 [Eaton v. JS and O. Cowdery]
Source Note

Andrews & Foot on behalf of , Declaration, , OH, [ca. 7 July 1837],

Eaton v. JS and O. Cowdery

(Geauga Co., OH, Court of Common Pleas 1837). Copied [ca. 27 Oct. 1837] in Transcript of Proceedings, Geauga County Court of Common Pleas, Common Pleas Record, vol. U, pp. 277–278; handwriting of Charles H. Foot; Geauga County Archives and Records Center, Chardon, OH.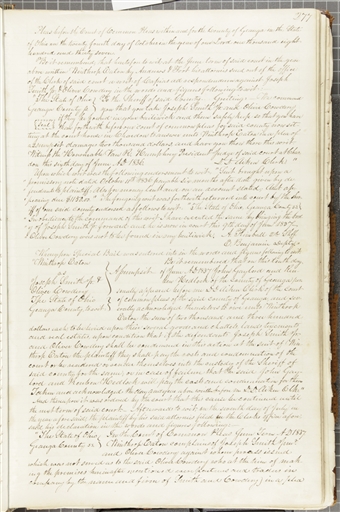 The State of Ohio)
ss. [scilicet])
In the Court of Common Pleas June Term AD 1837. complains of Joseph Smith Jun
r

.
and against whom process issued which was not served as to the said who at the time of making the premises herein after mentioned were partners and traders in company by the name and firm of Smith and Cowdery) in a plea [p. 277]
The State of Ohio)
ss. scilicet)
In the Court of Common Pleas June Term AD 1837. complains of Joseph Smith Jun
r
. and against whom process issued which was not served as to the said who at the time of making the premises herein after mentioned were partners and traders in company by the name and firm of Smith and Cowdery) in a plea [p. 277]