Home

>
Docket Entry, Judgment, 6 June 1837 [Kelley v. Rigdon, Smith & Cowdery]
Source Note

Docket Entry, Judgment, [, Geauga Co., OH], [6 June 1837],

Kelley v. Rigdon, Smith & Cowdery

(Geauga Co., OH, Court of Common Pleas 1837); Geauga County Court of Common Pleas, Journal, vol. N, p. 193; handwriting of Charles H. Foot and ; Geauga County Archives and Records Center, Chardon, OH.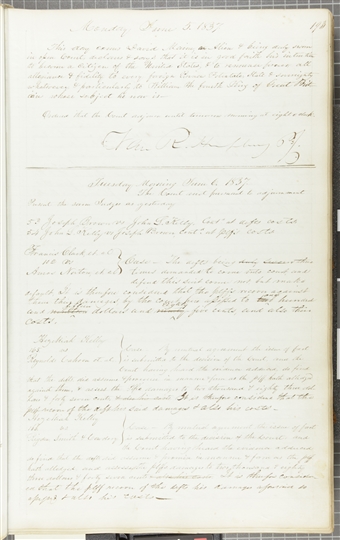 By mutual agreement the issue of fact is submitted to the decision of the Court, and the Court having heard the evidence adduced do find that the def[endan]ts did assume & promise in manner & form as the . hath alledged, and assessed the s. damages to two thousand & eighty three dollars & forty seven cents
& also his costs.
It is therefore considered that the recover of the defts his damages aforesaid so assessed & also his costs— [p. 193]
By mutual agreement the issue of fact is submitted to the decision of the Court, and the Court having heard the evidence adduced do find that the defendants did assume & promise in manner & form as the . hath alledged, and assessed the s. damages to two thousand & eighty three dollars & forty seven cents It is therefore considered that the recover of the defts his damages aforesaid so assessed & also his costs— [p. 193]