Home

>
Docket Entry, Motion Set Aside, 24 May 1844 [F. M. Higbee v. JS–B]
Source Note

Docket Entry, Motion Set Aside, [, Hancock Co., IL, 24 May 1844],

F. M. Higbee v. JS–B

(Hancock Co., IL, Circuit Court 1844); Hancock County Circuit Court Record, vol. D, p. 126; handwriting of ; Hancock County Courthouse, Carthage, IL; microfilm at FHL.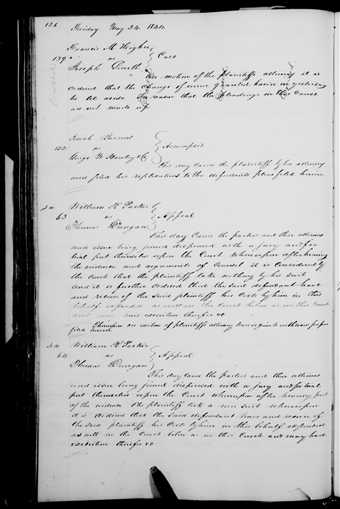 139.
On motion of the s attorney it is ordered that the change of venue granted herein on yesterday be set aside For reason that the pleadings in this cause are not made up
Erased Erased Erased Erased [p. 126]
139.
On motion of the s attorney it is ordered that the change of venue granted herein on yesterday be set aside For reason that the pleadings in this cause are not made up
Erased Erased Erased Erased [p. 126]