Home

>
Docket Entry, Removal Orders, 11 April 1839, Copy [State of Missouri v. JS et al. for Riot]
Source Note

Docket Entry, Removal Orders, Honey Creek Township, Daviess Co., MO, 11 Apr. 1839,

State of MO v. JS et al. for Riot

(Boone Co., MO, Circuit Court 1839). Copied 26 June 1839, in "Copy of Record," 6–7, 11; handwriting of ; certified by , 26 June 1839; original destroyed. Photocopy at State Historical Society of Missouri, Columbia. Includes seal.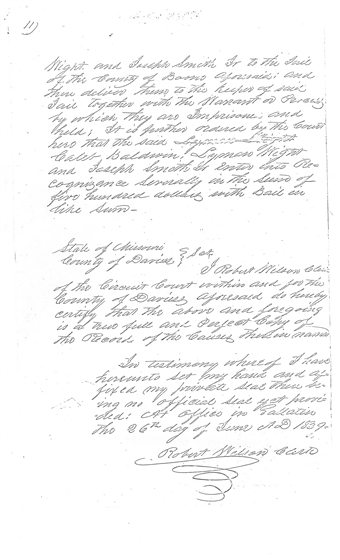 State of Missouri)
Sct [scilicet]
County of )
I Clerk of the Circuit Court within and for the County of aforesaid do hereby certify that the above and foregoing is a true full and Perfect Copy of the Record of the Causes therein named
In testimony whereof I have hereunto set my hand and affixed my private seal there being no official seal yet provided: At office in the 26
th
day of June A D 1839—
Clerk [p. 11]
State of Missouri)
Sct [scilicet]
County of )
I Clerk of the Circuit Court within and for the County of aforesaid do hereby certify that the above and foregoing is a true full and Perfect Copy of the Record of the Causes therein named
In testimony whereof I have hereunto set my hand and affixed my private seal there being no official seal yet provided: At office in the 26th day of June A D 1839—
Clerk [p. 11]