Home

>
Docket Entry, Witness Payments, 9 April 1834 [State of Ohio v. D. P. Hurlbut]
Source Note

Docket Entry, Witness Payments, , Geauga Co., OH, [9 Apr. 1834],

State of OH v. D. P. Hurlbut

(Geauga Co., OH, Court of Common Pleas 1834); in Order Book, 1831–1844, p. [50]; unidentified handwriting; Geauga County Archives and Records Center, Chardon, OH; microfilm at FHL. The microfilm copy of the text transcribed herein was filmed by the Genealogical Society of Utah of Salt Lake City, UT, in 1971.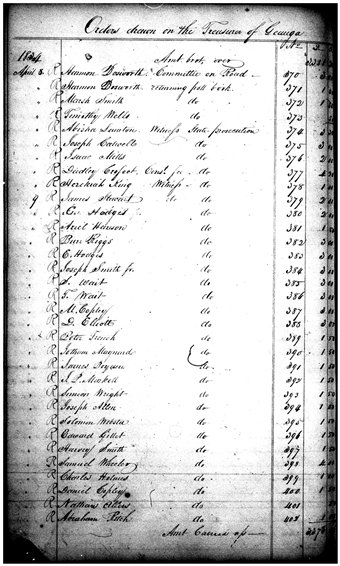 Orders drawn on the Treasurer of
N

o

D.— C.
1834
Amt. brot. over
3,311 21
April 8. R
Harmon Bosworth.
Committee on Road.
370
3

◊◊

" R
Harmon Bosworth.
returning poll book.
371
1 00
" R
Marsh Smith
do
372
1 00
" R
Timothy Wells
do
373

50

" R
Abisha Lawton.
Witness State prosecution
374
3 30
" R
Joseph Calwell
do
375
3 00
" R
Isaac Mills
do
376
2 00
" R
Dudley Crofoot.
Cons

t.

fee do
377
4 20
" R
Hezekiah King
Witness do
378
1 00
9 R
James Stewart
do do
379
2 00
" R

Joseph Smith Jr.

<​C[urtis] Hodges​>
do
380
2 00
" R
do
381
1 50
" R
do
382
3 00
" R
E. Hodges
do
383
3 00
" R
Joseph Smith Jr.
do
384
3 00
" R
S[arah] Wait
do
385
3 00
" R
do
386
3 00
" R
M[ary] Copley
do
387
3 00
" R
do
388
3 00
" R
do
389
1 50
" R
Jotham Maynard
do
390
1 50
" R
James Boyden
do
391
1 50
" R
J[ohn] P. Markell
do
392
1 50
" R
Simeon Wright
do
393
1 50
" R
Joseph Allen
do
394
1 50
" R
Solomon Webster
do
395
1 50
" R
Edward Gillett
do
396
1 50
" R
Harvey Smith
do
397
1 50
" R
Samuel Wheeler
do
398
4 00
" R
Charles Holmes
do
399
1 00
" R
do
400
1 50
" R
Nathan Allen
do
401
00
" R
Abraham Ritch
do
402
1 00
Amt Carried up—
3,378

◊◊
[p. [1]]
Orders drawn on the Treasurer of
N

o

D.— C.
1834
Amt. brot. over
3,311 21
April 8. R
Harmon Bosworth.
Committee on Road.
370
3
" R
Harmon Bosworth.
returning poll book.
371
1 00
" R
Marsh Smith
do
372
1 00
" R
Timothy Wells
do
373

50

" R
Abisha Lawton.
Witness State prosecution
374
3 30
" R
Joseph Calwell
do
375
3 00
" R
Isaac Mills
do
376
2 00
" R
Dudley Crofoot.
Const. fee do
377
4 20
" R
Hezekiah King
Witness do
378
1 00
9 R
James Stewart
do do
379
2 00
" R
Curtis Hodges
do
380
2 00
" R
do
381
1 50
" R
do
382
3 00
" R
E. Hodges
do
383
3 00
" R
Joseph Smith Jr.
do
384
3 00
" R
Sarah Wait
do
385
3 00
" R
do
386
3 00
" R
Mary Copley
do
387
3 00
" R
do
388
3 00
" R
do
389
1 50
" R
Jotham Maynard
do
390
1 50
" R
James Boyden
do
391
1 50
" R
John P. Markell
do
392
1 50
" R
Simeon Wright
do
393
1 50
" R
Joseph Allen
do
394
1 50
" R
Solomon Webster
do
395
1 50
" R
Edward Gillett
do
396
1 50
" R
Harvey Smith
do
397
1 50
" R
Samuel Wheeler
do
398
4 00
" R
Charles Holmes
do
399
1 00
" R
do
400
1 50
" R
Nathan Allen
do
401
00
" R
Abraham Ritch
do
402
1 00
Amt Carried up—
3,378
[p. [1]]