Home

>
Invoice, Bailey, Keeler & Remsen to Rigdon, Smith & Cowdery, 12 October 1836
Source Note

C. A. Heary on behalf of , & , Invoice, , New York Co., NY, to , [, Geauga Co., OH], 12 Oct. 1836; printed form with manuscript additions in handwriting of C. A. Heary; insertions in handwriting of ; dockets in handwriting of Marcellus Cowdery; two pages; JS Office Papers, CHL. Include endorsements.

Bifolium measuring 12 ¾ x 7 ⅞ inches (30 x 22 cm) when folded. The fold is uneven, with the top leaf hanging past the right edge of the bottom leaf. The first page is lined with 33 horizontal blue lines (now faded); the other pages 36 lines. Left and right margins each contain two manually inscribed vertical brown lines forming ledger columns. Printed in black ink in the top right corner of the first page is the date line, business logo, and address for Bailey, Keeler, & Remsen in several font types. Two horizontal lines inscribed in black ink separate the business logo from the items listed on the invoice. The third page is blank. Graphite redactions appear throughout the invoice in the handwriting of . The document was folded twice horizontally (creating four panels) and endorsed. There are fingerprints on the first page and marked fly specks on the second page and wrapper. The document remained in a folded state for some time, evidenced by heavy soiling on the wrapper. Light and/or heat exposure caused a chemical reaction in the paper, darkening the gutter of pages two and three and the wrapper.

This document was in the possession of church agents purchasing goods from Bailey, Keeler, & Remsen in New York City. It was subsequently given to Newel K. Whitney, who compared the contents of the invoice with the purchased goods shipped to Kirtland, OH. It is unknown when the invoice came into Smith's possession. Presumably it was retained in JS's office in Nauvoo, suggesting continuous institutional custody.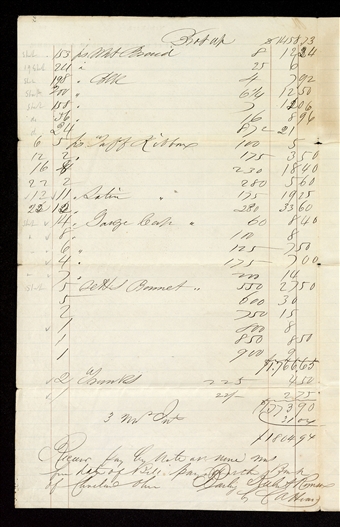 Bro[ugh]t up
$1,458.73
<​Sho[r]t​> 153 p[iece]s Wht [White] Braid
8

12.34

12.24
<​19 Sho[r]t​> 24 [ps]
25
6.00
<​Sho[r]t​> 198 [ps] Blk
4
7.92
<​Short​> 200 [ps]
6¼
12.50
<​Sho[r]t​> 158 [ps]
7

12.06

<​11.06​>
<​[Short]​> 56 [ps]
16
8.96
<​[Short]​> 24
87

2

21.00
6 5 ps Taff[eta] Ribbon
1.00
5.00
12 2 [ps]
1.75
3.50
16

4

<​8​>
2.30
18.40
22 2
2.80
5.60
12 11 [ps] Satin [Ribbon]
1.75
19.25

26

<​22​>

6

<​12 ​> [ps]
2.80
33.60
<​Short​> 14 [ps] Gauze Cap [Ribbon]
60
8.40
<​[Short]​> 8 [ps]
1.00
8.00
<​[Short]​> 6 [ps]
1.25
7.50
<​[Short]​> 4 [ps]
1.75
7.00
<​[Short]​> 7 [ps]
2.00
14.00
<​Shot​> 5 setts Bonnet [Ribbon]
5.50
27.50
5
6.00
30.00
2
7.50
15.00
1
8.00
8.00
1
8.50
8.50
1
9.00

9.00

$1,766.65
2 Trunks
2.25
4.50
1
22/—

2.75

$1,773.90
3 Mo[nth]

s

In[teres]

t

31.04

$1,804.94
Recievd pay[ment] by Note at nine mo
s
from date of Bill payable at the Bank of Ohio
&
by C A Heary [p. [2]]
| | | | |
| --- | --- | --- | --- |
| | | Brought up | $1,458.73 |
| Short 153 pieces Wht White Braid | | 8 | 12.24 |
| 19 Short 24 [ps] | | 25 | 6.00 |
| Short 198 ps Blk | | 4 | 7.92 |
| Short 200 [ps] | | 6¼ | 12.50 |
| Short 158 [ps] | | 7 | 11.06 |
| [Short] 56 [ps] | | 16 | 8.96 |
| [Short] 24 | | 872 | 21.00 |
| 6 5 ps Taffeta Ribbon | | 1.00 | 5.00 |
| 12 2 [ps] | | 1.75 | 3.50 |
| 16 8 | | 2.30 | 18.40 |
| 22 2 | | 2.80 | 5.60 |
| 12 11 [ps] Satin [Ribbon] | | 1.75 | 19.25 |
| 22 12 [ps] | | 2.80 | 33.60 |
| Short 14 ps Gauze Cap [Ribbon] | | 60 | 8.40 |
| [Short] 8 [ps] | | 1.00 | 8.00 |
| [Short] 6 [ps] | | 1.25 | 7.50 |
| [Short] 4 [ps] | | 1.75 | 7.00 |
| [Short] 7 [ps] | | 2.00 | 14.00 |
| Shot 5 setts Bonnet [Ribbon] | | 5.50 | 27.50 |
| 5 | | 6.00 | 30.00 |
| 2 | | 7.50 | 15.00 |
| 1 | | 8.00 | 8.00 |
| 1 | | 8.50 | 8.50 |
| 1 | | 9.00 | 9.00 |
| | | | $1,766.65 |
| 2 Trunks | | 2.25 | 4.50 |
| 1 | | 22/— | 2.75 |
| | | | $1,773.90 |
| 3 Months Interest | | | 31.04 |
| | | | $1,804.94 |
Recievd payment by Note at nine mos from date of Bill payable at the Bank of Ohio
&
by C A Heary [p. [2]]