Home

>
Invoice, M. H. Birge to Rigdon, Smith & Cowdery, 17 June 1836
Source Note

M. H. Birge, Invoice, , Erie Co., NY, to , [, Geauga Co., OH], 17 June 1836; unidentified handwriting; three pages; JS Office Papers, CHL. Includes dockets and endorsements.

Single bifolium measuring 12 ⅜ x 8 inches (31 x 20 cm) when folded. Leaves are lined with 40 horizontal blue lines (now completely faded). The document was folded twice horizontally, forming four panels. The invoice was docketed twice. docketed the verso of the second panel: "M. H. Birge | Bill | 1334 79/100 Dolls." A second docket below the first reads, "Dry Goods". Graphite and ink insertions are throughout the invoice in the handwriting of , ca. 1836, and an unidentified scribe. The top edge of the document is folded back. Marked ink stains are on the wrapper.

This document was in the possession of church agents who purchased dry goods from Birge in . It was subsequently given to , who compared the contents of the invoice with the dry goods received. Based on the docket by , the invoice was in church possession from its reception, suggesting continuous institutional custody.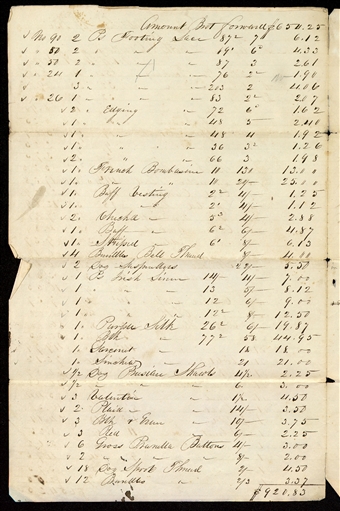 Amount Bro[ugh]t forward
$654.25
No [Number] 90 2 P[iece]s Footing Lace
87

2

7
6.12
[No]

81

50 2 [Ps Footing Lace]
69

1

6

d

4.33
[No] 50 2 [Ps Footing Lace]
87
3
2.61
[No] 24 1 [Ps Footing Lace]
76
2

2

<​do​>
1.90
3 [Ps Footing Lace]
203
2
4.06
[No] 26 1 [Ps Footing Lace]
83
2

2

2.07
2 [Ps] Edging [Lace]
72
6

d

1.62
1 [Ps] Edging [Lace]
48
5
2.40
1 [Ps] Edging [Lace]
48
4
1.92
1 [Ps] Edging [Lace]
36
3

2

1.26
2 [Ps] Edging [Lace]
66
3
1.98
1 [Ps] French Bombasine
10
130
13.00
1 [Ps French Bombasine]
10
20/—
25.00
1 [Ps] Buff Vesting
2

2

4/—
1.25
1 [Ps Vesting]
2

1

4/—
1.12
2 [Ps] Checkd [Vesting]
5

3

4/—
2.88
1 [Ps] Buff [Vesting]
6

2

6/—
4.87
1 [Ps] Striped [Vesting]
6

1

8/—
6.13
4 Bundlles Ball Thread
8/—
4.00
2 Doz Suspenders
22/—
5.50
1 Ps Irish Linen
14/—
4/—
7.00
1 [Ps Irish Linen]
13
5/—
8.12
1 [Ps Irish Linen]
12
6/—
9.00
1 [Ps Irish Linen]
12

2

8/—
12.50
1 [Ps] Purple Silk
26

2

6/—
19.87
1 [Ps] Blk [Silk]
77

2

58
44.95
1 [Ps] Sarcenet [Silk]
18.00
18.00
1 [Ps] Sinchew [Sinchaw] [Silk]
21.00
21.00
1/2 Doz Prusian Shawls
4½.
2.25
1/2 [Doz Prusian Shawls]
6.00
3.00
3 Valentia [Shawls]
1½.
4.50
2 Plaid [Prussian Shawls]
14/—
3.50
3 Blk & Green [Shawls]
10/—
3.75
3 Red [Shawls]
6/—
2.25
6 Gross Prunella Buttons
4/—
3.00
2 [Gross Prunella Buttons]
8/—
2.00
18 Doz Spools Thread
2/—
4.50
12 Bundlles [Thread]
2/3

3.37

$920.83
[p. [2]]
| | | | |
| --- | --- | --- | --- |
| | | Amount Brought forward | $654.25 |
| No Number 90 2 Pieces Footing Lace | 872 | 7 | 6.12 |
| [No] 50 2 [Ps Footing Lace] | 691 | 6d | 4.33 |
| [No] 50 2 [Ps Footing Lace] | 87 | 3 | 2.61 |
| [No] 24 1 [Ps Footing Lace] | 76 | 22 do | 1.90 |
| 3 [Ps Footing Lace] | 203 | 2 | 4.06 |
| [No] 26 1 [Ps Footing Lace] | 83 | 22 | 2.07 |
| 2 [Ps] Edging [Lace] | 72 | 6d | 1.62 |
| 1 [Ps] Edging [Lace] | 48 | 5 | 2.40 |
| 1 [Ps] Edging [Lace] | 48 | 4 | 1.92 |
| 1 [Ps] Edging [Lace] | 36 | 32 | 1.26 |
| 2 [Ps] Edging [Lace] | 66 | 3 | 1.98 |
| 1 Ps French Bombasine | 10 | 130 | 13.00 |
| 1 [Ps French Bombasine] | 10 | 20/— | 25.00 |
| 1 Ps Buff Vesting | 22 | 4/— | 1.25 |
| 1 [Ps Vesting] | 21 | 4/— | 1.12 |
| 2 [Ps] Checkd [Vesting] | 53 | 4/— | 2.88 |
| 1 [Ps] Buff [Vesting] | 62 | 6/— | 4.87 |
| 1 [Ps] Striped [Vesting] | 61 | 8/— | 6.13 |
| 4 Bundlles Ball Thread | | 8/— | 4.00 |
| 2 Doz Suspenders | | 22/— | 5.50 |
| 1 Ps Irish Linen | 14/— | 4/— | 7.00 |
| 1 [Ps Irish Linen] | 13 | 5/— | 8.12 |
| 1 [Ps Irish Linen] | 12 | 6/— | 9.00 |
| 1 [Ps Irish Linen] | 122 | 8/— | 12.50 |
| 1 Ps Purple Silk | 262 | 6/— | 19.87 |
| 1 [Ps] Blk [Silk] | 772 | 58 | 44.95 |
| 1 Ps Sarcenet [Silk] | | 18.00 | 18.00 |
| 1 [Ps] Sinchew Sinchaw [Silk] | | 21.00 | 21.00 |
| 1/2 Doz Prusian Shawls | | 4½. | 2.25 |
| 1/2 [Doz Prusian Shawls] | | 6.00 | 3.00 |
| 3 Valentia [Shawls] | | 1½. | 4.50 |
| 2 Plaid [Prussian Shawls] | | 14/— | 3.50 |
| 3 Blk & Green [Shawls] | | 10/— | 3.75 |
| 3 Red [Shawls] | | 6/— | 2.25 |
| 6 Gross Prunella Buttons | | 4/— | 3.00 |
| 2 [Gross Prunella Buttons] | | 8/— | 2.00 |
| 18 Doz Spools Thread | | 2/— | 4.50 |
| 12 Bundlles [Thread] | | 2/3 | 3.37 |
| | | | $920.83 |
[p. [2]]