License for Pleasant Ewell, 20 April 1840
Source Note

License, , IL, for Pleasant Ewell, 20 Apr. 1840; in Far West and Nauvoo Elders' Certificates, 35; handwriting of ; CHL. First license on sheet of four licenses.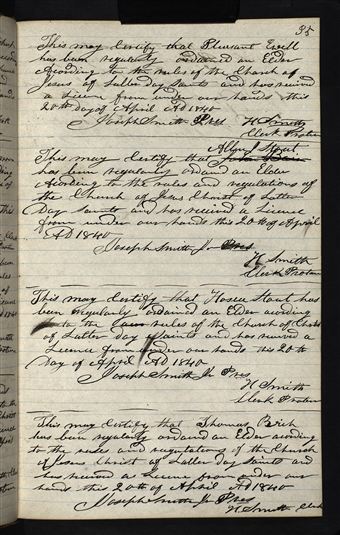 This may Certify that Pleasant Ewell has been regularly ordained an Elder according to the rules of the Church of Jesus of Latter day Saints and has received a Licence from under our hands this 20
th
Day of April AD 1840
Joseph Smith
Jr
P
res

.
Clerk Protem [p. 35]
This may Certify that Pleasant Ewell has been regularly ordained an Elder according to the rules of the Church of Jesus of Latter day Saints and has received a Licence from under our hands this 20th Day of April AD 1840
Joseph Smith P
res
. Clerk Protem [p. 35]