Home

>
Lucien Sanger, Affidavit, 10 May 1844 [JS v. Reynolds and Wilson–A]
Source Note

Lucien Sanger, Affidavit, before Charles Chase, [], Lee Co., IL, 10 May 1844,

JS v. Reynolds and Wilson–A

(Lee Co., IL, Circuit Court 1844); printed form with manuscript additions probably in handwriting of Charles Chase; signature presumably of Lucien Sanger; signature of Charles Chase; notation by Charles Chase, [, Lee Co., IL], 10 May 1844; two pages; microfilm of photostat in JS v. Joseph H. Reynolds and Harmon T. Wilson, 1843–1845, CHL.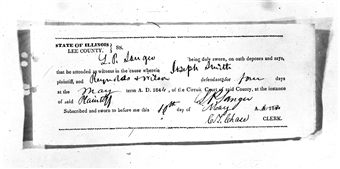 STATE OF ILLINOIS)
SS. [scilicet]
.)
L[ucien] P. Sanger
being duly sworn, on oath deposes and says, that he attended as witness in the cause wherein
Joseph Smith
plaintiff, and
&
defendant
s
for
four
days at the
May
term A. D. 184
4
, of the Circuit Court of said , at the instance of said
Plaintiff
Subscribed and sworn to before me this
10

th
day of
May
A.
A
<​d​>
. 184
4
C[harles] T. Chase
CLERK. [p. [1]]
STATE OF ILLINOIS)
SS. [scilicet]
.)
Lucien P. Sanger being duly sworn, on oath deposes and says, that he attended as witness in the cause wherein Joseph Smith plaintiff, and & defendants for four days at the May term A. D. 1844, of the Circuit Court of said , at the instance of said Plaintiff
L P Sanger
Subscribed and sworn to before me this 10th day of May A. d. 1844
Charles T. Chase CLERK. [p. [1]]