Home

>
Special Bail, 10 June 1837 [Eaton v. JS and O. Cowdery]
Source Note

and , Special Bail, before , [], Geauga Co., OH, 10 June 1837,

Eaton v. JS and O. Cowdery

(Geauga Co., OH, Court of Common Pleas 1837). Copied [ca. 27 Oct. 1837] in Transcript of Proceedings, Geauga County Court of Common Pleas, Common Pleas Record, vol. U, p. 277; handwriting of Charles H. Foot; Geauga County Archives and Records Center, Chardon, OH.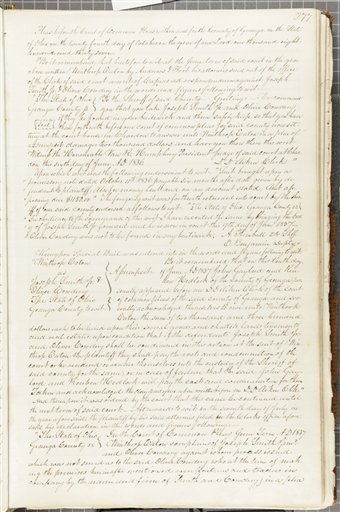 | | |
| --- | --- |
| ) | |
| vs) | — |
| Joseph Smith Jr. &) | |
| ) | |
The State of Ohio)
, to wit:)
Be it remembered that on this tenth day of June AD 1837 and of the county of personally appeared before me Clerk of the Court of common pleas of the said county of , and severally acknowledged themselves to owe unto the sum of two thousand and three hundred dollars each, to be levied upon their several goods and chattels, lands tenements and real estates, upon condition that if the defendants Joseph Smith Jr. and shall be condemned in this action at the suit of the plaintiff they shall pay the costs and condemnation of the court or be rendered or render themselves into the custody of the of said for the same; or in case of failure that the said and will pay the costs and condemnation for them. Taken and acknowledged the day and year above written before me
Cl[er]k. [p. 277]
| | |
| --- | --- |
| ) | |
| vs) | — |
| Joseph Smith Jr. &) | |
| ) | |
The State of Ohio)
, to wit:)
Be it remembered that on this tenth day of June AD 1837 and of the county of personally appeared before me Clerk of the Court of common pleas of the said county of , and severally acknowledged themselves to owe unto the sum of two thousand and three hundred dollars each, to be levied upon their several goods and chattels, lands tenements and real estates, upon condition that if the defendants Joseph Smith Jr. and shall be condemned in this action at the suit of the plaintiff they shall pay the costs and condemnation of the court or be rendered or render themselves into the custody of the of said for the same; or in case of failure that the said and will pay the costs and condemnation for them. Taken and acknowledged the day and year above written before me
Clerk. [p. 277]